(Right: Dennis Faulkner with Mike LeFevre)
I had the pleasure of meeting the Nelons and the LeFevres at Tutnall Auditorium in Vidalia, Ga., in December of 2011. My pastor, R.E. Mays, has been friends with all of them for years and when he told me we had the opportunity to attend the concert AND meet them backstage, I was beside myself with excitement. I have been a fan of the Nelons for almost 30 years, going back to the time when Rex was singing and I saw them at a church in my area. I also was familiar with the LeFevres from when they would come to The Joyful Noise in East Point, Georgia. Back then, Eva Mae and her group were together and I just loved hearing Miss Eva play the piano. So, when I heard that the LeFevres were going to be in Vidalia, I was doubly excited!
We had a chance to meet with everyone backstage before the concert and they were all so nice and down to earth. It was like they were just regular people who could sing. No illusions of grandeur or anything like that. To me, though, it was like meeting a bunch of superstars! I couldn't get over how nice and friendly everyone was.
Then came time for the concert. What can I say, it was beyond awesome! The LeFevre Quartet was up first and the harmony was outstanding. Their voices blended in praise and worship so beautifully. Then, it was time for the Nelons. WOW! I was absolutely blown away! Both groups were wonderful, thrilling my soul with their music and their great sense of humor. I can't remember the last time I enjoyed myself so much.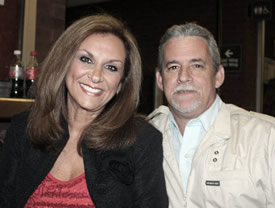 After the show, my pastor approached me and asked what I thought about getting the Nelons to come to our church. Well, what was I going to do, say no? I hardly think so! They were so gracious to accept our invitation and they came that Sunday morning and it was fantastic! The Nelons and the LeFevres are outstanding people and I feel privileged to be counted among their friends. We are all now friends on Facebook and I really enjoy their updates.
(Left: Dennis Faulkner with Kelly Nelon)

Oh! How could I possibly tell you all this without mentioning D-Wayne Richardson? D-Wayne is a talented pianist and I really enjoyed hearing him play for the Nelons that evening. His sense of humor is a little twisted, but that's what makes him special. He is one of a kind and I'm so glad I got to know him as well.
I look forward to the next time I can see any of these wonderful people! We may have the Nelons back at Sardis in August for our Homecoming if nothing happens to prevent it. I so hope that they can come. It has been a real pleasure to meet such high quality singers that only want to bring honor and glory to our Heavenly Father. May God continue to bless them all richly!
— Dennis L. Faulkner
McDonough, Georgia


Click for more about Homecoming tour favorites, the Nelons!
Click for more about Homecoming friends the LeFevres!