On the evening of April 10, an unsuspecting Michael English walked into the private dining room of a trendy Nashville eatery when dozens of his friends and family suddenly appeared and yelled, "SURPRISE!" He froze in his tracks, his eyes widening and his jaw dropping as the crowd burst into loud cheers and applause. Weeks of careful planning and sneaky skullduggery by his wife Marcie and close family friend Missy Council completely paid off — Michael got the surprise of his life!
The party felt like a cross between a redcarpet event and old home week, as dozens of Michael's friends greeted each other with hugs and posed for pictures in front of the big "Michael English's 50th" sign. The guest list included many familiar faces — William Golden of the Oak Ridge Boys, Jay DeMarcus of Rascal Flatts, Bill and Gloria Gaither, Mark Lowry, David Phelps, Wes Hampton, Russ Taff, Jason Crabb, Joy and Landy Gardner, Tim Duncan, Barry and Suzanne Jennings, Gene McDonald, Benjy Gaither, Jim Brady, Michael Booth, the Martins, Reggie and Ladye Love Smith, Ben Isaacs and Ryan Seaton.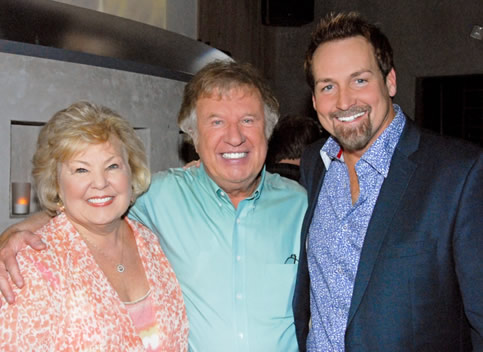 [ Bill and Gloria with Michael ]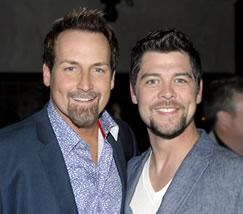 (Pictured left: Michael with Jason Crabb)
After mingling and helping themselves to the hors d'oeuvre buffet, the evening's festivities got underway as Pastor Stan Mitchell greeted the crowd, shared a few heartfelt thoughts about his relationship with Michael and Marcie, and ended with a prayer. A beautifully crafted video montage of scenes from Michael's life and career was presented by friend and fan Tim McClung, and served as a backdrop for a series of musical performances honoring the birthday boy. Some of Michael's signature songs were performed by his friends, who just happen to be worldclass singers: Jason Crabb sang "In Christ Alone"; Russ Taff sang "Believe in Love"; the Booth Brothers with Steve Ladd sang "Bowed On My Knees"; the Martins sang "Not a Crown Without a Cross"; and songwriters Tony Tolliver and Jim Martin sang "The Prodigal." Michael's daughter Megan ended with a moving song she wrote with her husband Keith Cook called, "I'm the One."
As Michael stood to thank everyone, he was joined by his close friend, Topper Council, who recently recovered from a lifethreatening illness. Tears flowed freely as Michael stood surrounded by his family, struggling to fully express his gratitude by saying, "The fact that you all went to so much time and trouble just to be a part of this unforgettable night means more to me than I can ever tell you."
Michael's new solo CD,
Waking Up the Dawn
, will be released on October 18, and he is also featured on the Curb Records soundtrack to the Benjamin Gaitherproduced film,
The Last Ride
.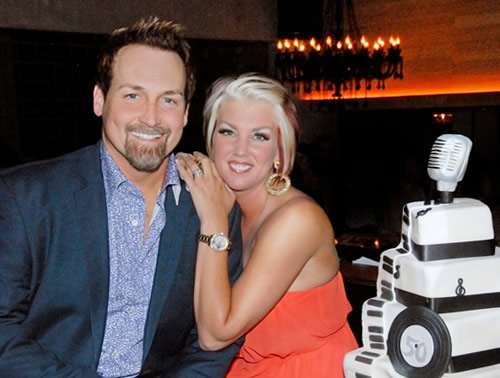 [Michael and his wife Marcie]
Visit facebook.com/MichaelEnglishOfficial to see exclusive video from Michael's party.
Click to see more articles featuring Michael English.