It has been a joy and passion of mine to share in music ministry with my family, the Browns, for the past 12 years. Right alongside my love for music is my love for cooking. I began cooking at a young age, encouraged by my mom and grandmas. It was a dream of mine to one day study cooking in Paris, France. After high school, my dream came true and I studied for a period of time at Le Cordon Bleu Culinary Institute in Paris! While pursuing my love for both music and cooking, my first cookbook,
From the Stage to the Stove
, was born. The name says it all! In the past two years I have produced a violin solo album and songbook as well as this cookbook.
From the Stage to the Stove
debuted this past October at the Gaither Fall Festival, during two cooking shows I did in the recording-studio-turned-kitchen! What great fun!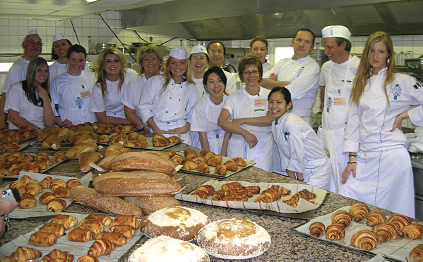 This layered cake is from a collection of family recipes that my Great Grandma Brown put together for her family years ago. It is so flavorful and beautiful to serve! One of my favorite things to cook or bake is a recipe that has been handed down from generations before and has already proved to be a favorite in the Brown house! I hope you will brew a hot cup of coffee, sit, relax and enjoy a piece of Cherry Cake Supreme as much as I do!
Michaela Brown's CHERRY CAKE SUPREME
Ingredients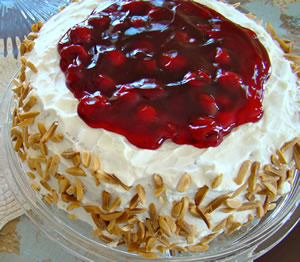 • 11 beaten egg yolks
• 2 cups sugar
• 1 cup milk, scalded
• 1 teaspoon vanilla
• 2¼ cups cake flour
• 2 teaspoons baking powder
• ½ cup melted butter
• 1 can cherry pie filling
• 1 cup whipping cream
• ½ cup powdered sugar
• 1 teaspoon almond flavoring
• ½ teaspoon vanilla
• 1 cup slivered almonds, toasted

Directions
Beat egg yolks with sugar until light in color and fluffy.
Add slightly cooled milk and ½ teaspoon vanilla.
Then add sifted dry ingredients.
Fold in butter and bake in two waxed-paper-lined round layer pans in a 350° oven for 40 minutes.
Cool.
Spread half of the can of cherry pie filling between layers and the other half on top.
Whip together the whipping cream, powdered sugar, almond flavoring and ½ tsp. vanilla.
Beat until stiff; spread on the sides of the cake.
Place slivered almonds on the sides of cake and serve.
For more information on the Browns' music, visit thebrownsmusic.com. For more recipes and to order Michaela's cookbook, visit stagetothestove.com or call 888-202-2712.