We are excited for
Homecoming Magazine
columnist and bestselling author
Andy Andrews
, who is celebrating a career milestone with his groundbreaking book,
The Noticer.
Since its original release in May 2009,
The Noticer
has impacted readers across the globe, and HarperCollins Christian Publishing has recently shipped the 500,000th copy of the acclaimed title out into the marketplace.
The Noticer
, which blends fiction, allegory and inspiration, is based on a remarkable true story. It provides simple, yet powerful distinctions about love, relationships, values and integrity and will inspire readers to take that first step towards a major life change.
When things look the darkest, a mysterious old man named Jones has a miraculous way of showing up. A white-haired man of indiscriminate age and race, wearing blue jeans and a white T-shirt and carrying a battered old suitcase, Jones is a unique soul with near-angelic qualities. Communicating what he calls "a little perspective," Jones explains that he has been given a gift of noticing things about life that others miss. In his simple interactions, Jones speaks to that part in everyone that is yearning to understand why things happen and what they can do about it.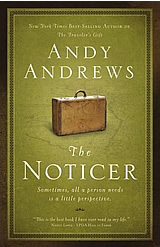 "I remember well the night on which the manuscript and proposal for
The Noticer
came to me while I was on the road," says Matt Baugher, Senior Vice President of Thomas Nelson and Publisher of W Publishing Group. "I was so taken with the first two chapters that I canceled my evening appointment and proceeded to read it all that night. The next morning, I was on the phone to Andy's manager, saying, 'This book has already changed my life, and I absolutely have to publish it!' He and Andy graciously agreed, and here we are. This is one of those books that stands out as a highlight to all who come in contact with it. Andy Andrews is a brilliant man, and this book will be a classic for years to come."
About Andy:
Andy Andrews currently resides in Orange Beach, Alabama, with his wife and two sons. His combined works have sold millions of copies worldwide, and
The Traveler's Gift
landed on The New York Times, Wall Street Journal, USA Today and Publishers Weekly bestseller lists. For more information, visit
AndyAndrews.com
.