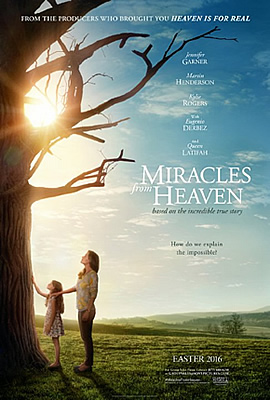 Arriving in theaters on March 16 is
Miracles From Heaven
, a remarkable story inspired by true events in the life of young Annabel Beam. The story was originally told by Annabel's mother, Christy Wilson Beam, in her book
Miracles From Heaven
, published in April 2015.
At age 5, Annabel was diagnosed with two incurable disorders, causing her to spend much of her childhood in and out of hospitals. She struggled with agonizing pain, and it seemed that her chances of living a normal, healthy life were slim to none.
Then, at 9, tragedy struck again when she plummeted 30 feet, headfirst, down the inside of a hollow tree. Dreading the worst as they watched rescue workers struggle for hours, Annabel's family clung to each other and cried out to God. Then, instead of the tragic outcome they feared, they watched a series of miracles unfold that surpassed anything they could have imagined.
The film
Miracles From Heaven
stars Jennifer Garner, Kylie Rogers, Martin Henderson and Queen Latifah. Garner shares that working on this movie had a powerful impact in her life, prompting her to return to church. She told
USA Today
that upon arriving home after filming, she discussed the idea with her children and was surprised to hear that they wanted to go to church. "We went there next Sunday, and it turned out to be the perfect environment. We've gotten so much from it; it's like a gift Christy [Beam] gave me."
Click here for more information about
Miracles From Heaven.