Monroe Hopper
graduated to his heavenly home in the morning hours of Friday, May 17, 2013 at 86 years of age. In 1957, Mr. Hopper was a founding member of the Hoppers, then known as The Hopper Brothers.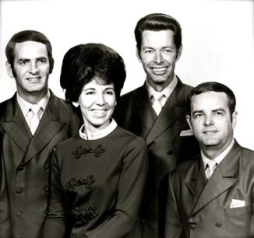 Mr. Hopper was born on December 26, 1926 in Rockingham County, North Carolina. In addition to helping form the Hoppers, he was a U.S. Navy Veteran and a pioneer in establishing the Hopper Heritage Foundation, which assists young men and women in pursuing their educational goals.

"Monroe was my best friend," said brother Claude Hopper. "Anytime I needed anything – on the farm, on the road, at the house – my first call was always to Monroe. He took care of things back home while the Hoppers were traveling. I will miss my brother, my best friend."

Monroe made his last public appearance in mid-2012 when the Hoppers were inducted into the GMA Gospel Music Hall of Fame. He leaves behind his wife of 39 years, Joyce, their five children, eight grandchildren and nine great-grandchildren.