Morgan Easter, in many ways, is your typical teenage girl, which is actually quite an accomplishment considering the fact that she is also a seasoned performer who stepped into the professional spotlight as a member of one of gospel music's most famous groups at the tender age of 14!
Jeff and Sheri Easter's middle child entered the world on September 30, 1994, in the sleepy little Southern town of Lincolnton, Georgia. "I think my parents brought me onstage as soon as I was born," Morgan laughs, "and I started singing as soon as I could talk." Morgan's musical pedigree is indeed impressive: her mother came from the "First Family of Bluegrass Gospel," the Lewis Family, and Jeff's dad was a member of the Easter Brothers group. Having spent most of their lives on the road, it seemed only natural that their children would grow up on a bus, too — but Jeff and Sheri were determined to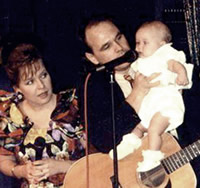 give their kids a well-rounded childhood. "I may have seen more of the world than a lot of people my age," Morgan re ects, "but Momma and Daddy always made sure that I had a very normal life at home. I've gone to public school from kindergarten through 12th grade and been in all of the usual activities like 4-H club, theater, tennis team, even cheerleading. Then on the weekends we'd go out on the road, and that was always fun because I wasn't just surrounded by grown-ups; I'd get to hang out with all the other artists' kids too. I feel really blessed to have had the best of both worlds."
Morgan's musical talent was nurtured as well, beginning with piano at age 5. "I went to Ben Speer's Stamps-Baxter School of Music for about four years and took private singing lessons at home for about a year, too," she says. "I didn't want to sound 'opera-ish'; I wanted to develop my own style, but the training really helped me with my breathing and stuff. My mom was a big help with that too. If I was trying to sing one note a certain way and it wasn't happening, she'd say, 'Maybe if you try to open the sound up like this it'll come easier.' And it would work!" Morgan shakes her head. "I'd be like, 'Seriously? How did you even know to do that?' She's amazing!"
When Charlotte Ritchie left to pursue a solo career four years ago, the Easters made the bold decision to move young Morgan into her position. "I wanted to do it," she says enthusiastically. "It's funny, because one time a lady complained to my parents and said, 'You shouldn't force your children onto the stage,' and I said, 'Hey, nobody's forcing me to do anything — they have to push me OFF the stage!' I guess she thought I was getting cheated out of my childhood, or something, which was just not the case. Half the time I'd be playing in the hotel pool with my friends right up until it was time to go sing in front of everybody!"
The first year or so was a bit of a trial by fire, as Morgan's onthe- job training played out in front of thousands of people on a national stage. "It was hard, because there were some people writing things like, 'Well, she's … not Charlotte Ritchie.' That really hurt, because Charlotte is a magni cent vocalist who's in her 30s, and I was just 14, but expected to fill these great big shoes. Sometimes I think maybe those writers didn't realize I could read! But I had a great support system with my family and friends, including Charlotte and Greg. I finally just decided not to focus on the negatives, and that a few people's opinions were not going to get me down."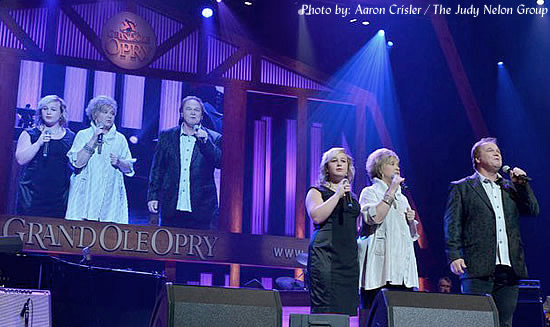 Four years later, the naysayers have been roundly silenced. A recent article by a Southern Gospel concert reviewer reports "Morgan Easter has transformed into an exceptional vocalist with strong communication and confidence." As she continues to grow in her position with the family group, she has also branched out with a solo CD.
Not Without Love
, released in October 2011, is actually Morgan's third project — her first two were recorded at ages 5 and 9. "Yeah, when I made that first one I couldn't even say my r's," she grins. "So at least this time I don't have a speech impediment! I'm really happy with how it turned out. I like all different kinds of music; if you listened to my iPod right now, it would go from the Gaither Vocal Band to Carrie Underwood to Katy Perry, just completely random. I can't pick just one favorite genre, but I do sincerely love Southern Gospel — it's such a part of me." She continues, "When people bring their grandkids to our concerts, I can always spot them sitting there on the front row looking like, 'Ugh, get me out of here.' I can't wait to start singing and let them know that hey, this music is cool — there are all kinds of Southern Gospel music, and there's something for everyone."
Picking material for
Not Without Love
proved harder than Morgan had anticipated. "My brother Madison, my mom and Greg Cole were the producers of this album, and I really could not have done it without any of them. Greg has such an amazing ear for production, my mom really knows how to give power to a song so it can make the greatest impact, and my brother's range of music is way wider than mine, so he made everything so much cooler!" Asked to name her favorite song on the album, Morgan hesitates, then says, "Right now I think Jimmy Yeary's song 'God Knows What He's Doing' is my favorite, followed by the one I sing with Wes Hampton, called 'Broken.' I tried to find topics and songs that really spoke to me, because I knew then that other people would be able to relate to them too. I'm only 18, but I've had my share of heartbreak, I know what it feels like to hurt. Sooner or later we all face hard times, and we need to be reminded that there is hope and God is always there. That's really what I wanted this CD to say — just keep your head held high and He'll see you through, no matter what."
Morgan's immediate plans for the future have her brimming with excitement. "I've been accepted at the Savannah College of Art and Design, and I'm going for my graphic design degree. They have this award-winning online studies program, so I can continue to travel and sing with Momma and Daddy. I'm really looking forward to it; I can't wait to see what the next few years bring!" As we wind up our conversation, I ask Morgan if there's any last thought she wants to share. "Actually there is," she tells me. "I think I'm just now realizing how big of an impact my parents and grandparents have made on this industry. They're a part of gospel music history, which is a lot to live up to. I hope I can, because that's sure what I'm aiming for."
Click for more about Gaither Homecoming friend Morgan Easter.