"This isn't a book for Christians . It's a book for people who need Jesus."
— Mylon Le Fevre
(Pictured right: Mylon and his wife Christi)
In his new autobiographical coffeetable book,
Live Forever
, singer-songwriter Mylon Le Fevre traces his darkness-to-light journey across the landscape of American popular music. The Mississippi-born, Georgia-reared child prodigy was introduced to the big wide world by Elvis Presley. Mylon launched a very public, royalty-fueled excursion from the 1963 National Quartet Convention in Memphis to New York City's top record labels, through the Beatles' studio in London to a heroin overdose in Paris, France — which his mother, Eva Mae Le Fevre, prayed him through over the phone. And that just takes the story into the early '70s.
Of course Mylon survived the '70s; we watched him blaze new (and controversial) trails in Christian music during the '80s. And he can only be releasing a pictorial memoir because he's alive and well and living in Ft. Worth, Texas today. "My life is like a storybook … a country boy whose dreams all came true. But what I thought was a party ended up being … a pit of oppression and discouragement and depression." Ouch. So that's why the cover of his book is so dark. Thankfully, Mylon tags that harrowing cover image with the letters "BC," and then on the back he labels a current photo — taken beside his beautiful bride Christi — with the letters "AD." Got it. So what's the rest of the story?
It's complicated.
Mylon Rae LeFevre was born October 6, 1944, in the U.S. Naval Base Hospital at Gulfport. His dad, Urias, was away in the war until Mylon was 2 years old … a harbinger of things to come. That distance between father and son would become a recurring theme — geographically, emotionally and spiritually — until just before Urias' death in 1979. Though Le Fevre cherishes his childhood memories of idyllic family holidays on Aunt Maude's farm outside McMinnville, Tenn., the tone he strikes in describing his youth is one of alienation. From inexplicable sights and mixed messages at church. From what he felt was his folks' grim and joyless family life. And from classmates and teachers at boarding schools—one of them a famed Christian institution.
But wait — wasn't Mylon embedded deeply in the culture of Southern Gospel music? Hadn't he been singing in church with his famous musical family, the Le Fevres, since before he could read? Wasn't his mom crowned "Queen" of the genre while Mylon was still a lad? What happened?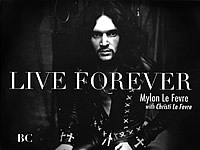 What happened was Mylon's wildest dreams came true. The rebellious young Le Fevre had enlisted in the U.S. Army and was based in Fort Jackson, South Carolina. He finagled a weekend pass to join his family at the big Memphis NQC, but lacking money for bus fare, stuck out a thumb and hitchhiked 600 miles. He arrived just minutes before the Le Fevres were due to perform; no time to change clothes. Mylon recalls that "no one in the auditorium knew Elvis Presley was sitting in the booth that his manager, Colonel Tom Parker, had built to the side of the stage and equipped with two-way mirrors." Elvis was instantly taken by the teenager in wrinkled Army fatigues — and impressed by the first song that kid ever wrote: "Without Him."
The world's biggest recording star added that song to his gospel album, making young Mylon a suddenly wealthy — and worldwide famous — songwriter. A songwriter with a chip on his shoulder. Repeatedly fired from the family group, Mylon's last split came over the length of his sideburns, and convinced him it was time to start his own band. In 1969 the group called "Mylon" released the LP
We Believe
— on Atlantic Records' Cotillion label. It has been widely cited as the first Christian rock album released by a major secular label.
But as it had been from the beginning for Mylon, singing about Jesus didn't necessarily mean living for Jesus. It would be more than 10 years after this first record that Mylon would finally invite Jesus into his heart. In between is a legendary decade — a rock-and-roll saga of bright lights, big cities, designer drugs, private jets, famous friends, sold-out concerts, recording studios and parties. It is a compelling tale of Southern Gospel's original prodigal son.
Billy Graham has said there are two great tragedies: the first is never achieving what you set out to get in life. And the other is achieving it. Mylon came early to that second tragedy and it nearly killed him. Only God's mercy kept him alive long enough to finally, at a Christian concert, see the light — admitting that he truly could not live
Without Him
.