Christian artist
Natalie Grant
appreciates all the prayers that have gone up for her daughter
Gracie
, who has now returned home from the hospital. Eight-year-old Gracie suffers from asthma and
was hospitalized
just after Christmas with pneumonia, a partially collapsed lung, and respiratory syncytial virus (RSV). She stayed in the pediatric ICU for several days, as Natalie and her husband Bernie switched shifts staying with her.
Natalie was amazed and humbled by all of the prayers for their family. On Dec. 31, she posted, "Literally millions of you have approached God's throne right along with me on behalf of my Gracie in the last few days. At last check, the reach on the posts asking for prayer was at 13.5 MILLION PEOPLE. Mind blowing. Truly. The encouragement this has been to our family is deeper than words can express. We have felt so incredibly loved and carried these last few days. Thank you.
"Let's continue with this same type of boldness - coming to the throne of God with CONFIDENCE on behalf of our families, marriages, communities ... let's pray for our pastors in this way. For our leaders in this way. For our children in this way.
Prayer. Works."
In a later post, she expressed admiration for other parents with sick children ... especially single moms and dads. "As I passed by so many rooms in the pediatric ICU, I thought about all the precious lives who have been here for weeks, some even months. I also wondered about those who would never leave here.
"And as I saw so many blurry-eyed parents, I found myself wondering how many are single. Statistics tell me many are. I paused for a moment and thanked God for my amazing husband, who is a partner in every way. I then prayed for every little life in this pediatric unit. And I prayed for the parents — that they would be infused with strength and peace. I prayed that God would give me opportunity to minister to some while we are here. And I prayed for the single parents — that they would discover they DO have a Help Mate available. Perspective is everything. ... If you are a single parent you are an EVERY DAY HERO. Period."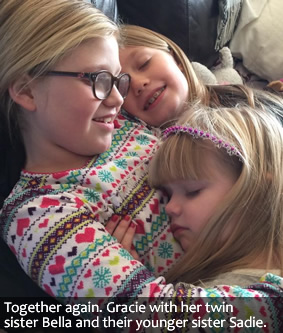 On Dec. 31, Natalie joyfully shared, "We are headed HOME!!! We are thanking God for the miraculous recovery Gracie has had. When we took her to the emergency room, doctors said she was at an 11 out of 12, with 12 being the absolute worst it can get on the respiratory scale. She shouldn't have been able to still walk. Yet here she is, 5 days in the ICU and now headed home. She is such a strong little girl and our God is such a faithful Father. She is still not 100%, and will be fighting pneumonia for awhile. But we are believing she will get stronger everyday. Thank you again for all of your prayers and concern."
As Gracie arrived home, her sisters, Bella and Sadie, welcomed her. Bella (Gracie's twin) said, "No more tears for me ... finally!" Well said, Bella.