Kelly Nelon Clark
was notified by the Gospel Music Association that
the Nelons
will be inducted into the GMA's Gospel Music Hall Of Fame. The GMA Honors banquet will be held on May 10, 2016, in Nashville, Tennessee. Kelly was sitting in a restaurant at Disney when she received the news, bringing her to tears. Kelly shares, "I'm so proud for my father, Rex Nelon, and all his hard work. I am thankful."
Rex Nelon
, founder and patriarch of the Nelons, was one of the senior statesmen in the field of Southern Gospel music, with a career spanning more than 40 years. Rex was also an outstanding music publisher. His publishing catalog is a timeless collection of gospel music's all-time favorite songs like, 'O What a Savior,' 'Come Morning,' 'The Love of God,' 'The Old Country Church,' 'Hide Me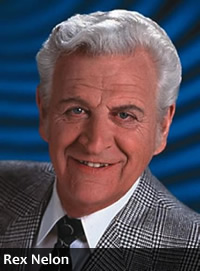 Rock of Ages,' 'Sweeter As The Days Go By' and 'If We Never Meet Again.'
As a young man, Rex traveled with a few regional groups before he was hired to sing bass with the Homeland Harmony Quartet in 1955. In 1957, he joined the LeFevres, a legendary family group of Southern Gospel Music. In 1973, he assumed ownership of the LeFevres, which eventually became known as the Rex Nelon Singers and then later, the Nelons. The group's first No. 1 song was "Come Morning" on the Singing News chart, and it was awarded the "Southern Gospel Song of the Decade for the 1980s."
Rex, along with his group, recorded over 25 projects and received five Dove Awards, three Grammy nominations and many Singing News Fan Awards. They appeared on "The Grand Ole Opry," "Music City Tonight" and "The 700 Club," along with other national television programs. They were credited with over 13 Top Five radio singles. In 1987, the Nelons received the "Short Form Music Video of the Year Award" for "Famine in the Land," as well as winning the New York Film Festival Award that same year. In 1997, the Mayor of Atlanta declared May as "Nelons Appreciation Month." Later that year, they were presented the Silver Angel Award for "Glad You're Here" by Excellence in Media.
Rex died on January 24, 2000, of a massive heart attack at the age of 68, the night prior to Gaither's London Homecoming Sing.
Rex mentored his daughter, Kelly Nelon, who continues to carry on the family tradition by heading the group, the Nelons. In addition to Kelly, the Rex Nelon Singers helped launch the careers of Todd Nelon, Janet Paschal, Karen Peck Gooch, Charlotte Ritchie, Jeff Stice and Stan Whitmire.
Standing on the legacy of founder and patriarch Rex Nelon, Kelly, Jason, Amber and Autumn continue the family tradition with unparalleled vocal excellence, incomparable harmonies and stunning live performances. The group has recorded more than 35 albums with chart-topping Southern Gospel classics like "We Shall Wear a Robe and Crown," "Come Morning," and "O For a Thousand Tongues."
Today their awards and accolades include three Grammy Nominations, six Dove Awards, 14 Singing News Fan Awards and a People's Choice Silver Telly Award for the concept video "Excuse Me, Are You Jesus?" They are frequently featured on the Gaither Homecoming recordings and videos and have performed at numerus historic venues. However, it's their heart for people and uncanny gift to communicate God's love that has helped to expand the audience for Gospel music around the world.
Kelly reflects on the countless nights she shared the stage with her father. "I can remember people saying, 'I wish you could see your father when you sing.' I didn't understand it then but now as I watch my girls sing, I glow with pride and totally understand it."
Kelly's husband, Jason Matthew Clark is a triple threat as a singer, songwriter and producer while Kelly is an accomplished actress of both television and film, appearing in movies like
His Love Is Blind
,
The Cardinal Rule
and
Losing Faith
. Amber is signed to Daywind Records as a solo artist and recently released her first adult solo album,
Just Sing
. Her powerhouse soprano vocals earned her the coveted "Favorite Female Singer" win at the Absolutely Gospel Music Awards. She has a Bachelor's degree in Christian Counseling and is working on her Master's. Autumn joined the group full-time just two years ago and has been wowing audiences ever since with her crystal clear soprano sound and musical talent on both the mandolin and banjolin. When she leaves the stage, Autumn is hard at work studying. She's a freshman at Baptist College of Florida.
Visit
thenelons.com
.