Congratulations to Legacy Five's bass singer, Matthew Fouch, and his wife, Candice, who welcomed a new baby boy on July 19. "We are happy to announce the birth of our second child, Kingston David Fouch," said Matt.

"Mommy and baby are doing great! Kingston's big brother, Greyson (4), decided to celebrate by telling everyone he saw that 'The baby is out.' Just one more boy and I can start my male quartet, haha!!" Baby Kingston weighed in at 7 lbs., 6 oz. and measured 19.5 inches.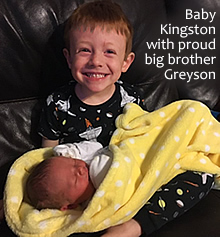 Matt joined Legacy Five in August 2012, following eight years with Soul'd Out Quartet. He is also known for his fun, upbeat Southern Gospel video series, "On the Couch with Fouch," which features interviews with artists such as Jeff Easter, Mark Trammell, Cana's Voice, Jim Brady and many others.