The award-winning duo
Wilburn & Wilburn
recently welcomed a new member to the family! Brayden Allen Wilburn made his entrance on February 5, 2016, weighing 7 lbs., 3 oz.
Baby Brayden, Mom Lauren and big sister Marley are doing fine, but Daddy Jordan had a bit of a rough beginning. "When I put another car seat in the car headed to the hospital, I almost fainted," he jokes.
The baby's name holds special significance for the Wilburns. "Sin is No Match for Grace" is a single on Wilburn & Wilburn's new project,
Shoulders
, and it shares a very personal family story.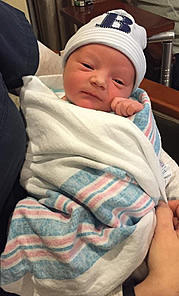 The song tells of the night Jonathan's grandmother lost her oldest son, Allen, who tragically passed away in his teen years following an automobile accident. His name has been passed down in the family, starting with Jonathan Allen Wilburn, then with Jorden Allen, and continuing today with Brayden Allen. Jonathan Wilburn comments, "Our family is honored that God would entrust this young life to us. The name continues as our family honors life and all God has done for each of us."
"I can't wait to see what God has planned for this little guy," said Jordan, when asked how soon fans would see Brayden on stage. "We will let him start singing whenever he wants!" Granddaddy Jonathan adds "Well, ,fans have asked if we will ever do a trio. Yes we will,when these kids get old enough to sing. Who knows, we may even make it to a quartet!"
Visit wilburn2.com
.