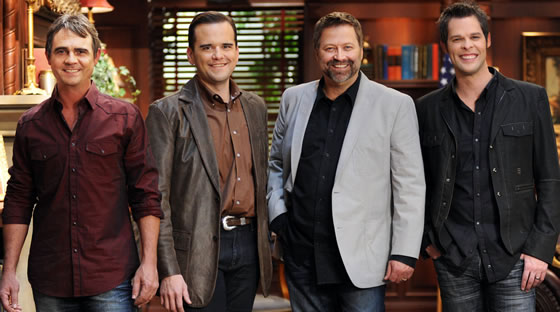 [Canton Junction: Tim Duncan, Matthew Hagee, Michael Sykes and Aaron Crabb]
As is the case with many renowned singing groups,
Canton Junction
started out with a few friends harmonizing together. Matthew Hagee, son of pastor John Hagee, and the Crabb Family's Aaron Crabb approached music industry veteran Michael Sykes about starting a trio. The three performed "At the Cross" at a Cornerstone Church service one Sunday in San Antonio, and it was a hit. "There was this instant blend in the three voices," says Hagee. The group decided that adding a great bass singer would really round out their sound, so Sykes approached seasoned performer Tim Duncan during the videotaping of Homecoming Tent Revival. Duncan went to Texas to sing with the three men during another church service, and says of the experience, "I think it was a God thing." After years of performing with Poet Voices, Signature Sound and other groups, Duncan had recorded and released his first solo album in the fall of 2011. But after taking some time to pray and discuss it with his wife, he was very excited to add his voice to the Canton Junction mix, as he is a self-described "quartet man to the bone." A former student of the beloved bass legend London Parris, Duncan brings a depth and fullness to the group.
Indeed, if the trio sound was great, the new blend was "magical," according to Hagee. Lead singer Aaron Crabb adds, "Canton Junction is four parts that create a big sound. And I'm very excited about what God is doing." He describes the musical and creative synchronicity: "It's easy to sing with them — it's effortless. When we get together and start singing, we start arranging and coming up with stuff — it just happens." The specific genre of the group may be debatable by some, according to Hagee. "Canton Junction would be considered gospel music. Some would say Southern Gospel, and we'll take that title. Others would say contemporary, and we'd be glad to take that title. What we like to say is 'great music.'"
Each of the four vocalists already had a fairly full plate before the group's inception, with Hagee serving as executive pastor for the Cornerstone congregation; Crabb leading worship at the church, performing with his wife Amanda and touring intermittently with the Crabb Family; Sykes as the in-house producer for Difference Media Group's recording studios; and Duncan, with solo tour dates and Gaither Homecoming projects. However, the men are committed to this new creative venture, which is only gaining momentum. Canton Junction recently raised their voices in the Holy Land during a 10-day tour with pastor John Hagee and fellow Difference Media artists including Tanya Goodman Sykes and Amanda Crabb. Among many highlights, they enjoyed harmonizing on the banks of the Jordan River, at the Garden Tomb and at the Inbal Jerusalem Hotel before a speech by Israeli Prime Minister Benjamin Netanyahu. They are also in the midst of recording an album releasing later in the spring, and a limited touring schedule is planned beginning in late spring or early summer.
Matthew Hagee sums up his thoughts about the experience thus far: "I can't say for certain why God brought the four of us together, but I know that He did. I truly look forward to His plan unfolding and enjoying every step of the journey. It is an honor to be associated with three amazing talents — Michael Sykes, Aaron Crabb and Tim Duncan. Sometimes I wonder if I am dreaming. If I am, I hope I never wake up!"
Click for more about Southern Gospel group Canton Junction.