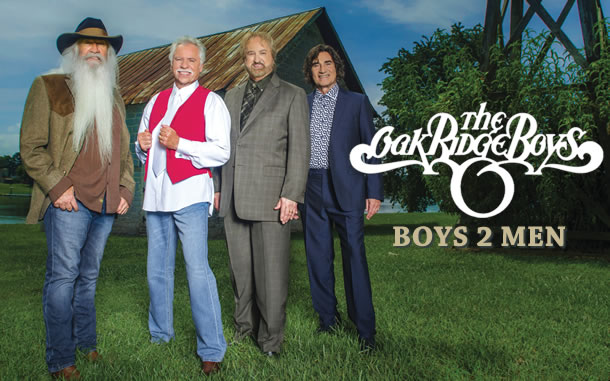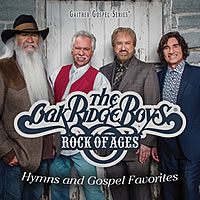 The venerable quartet that took its name from its most frequented venue during World War II, Tennessee's Oak Ridge nuclear research facility, is now comprised of men who were either in diapers, or not yet born when Pearl Harbor was bombed. With the release of
Rock Of Ages: Hymns and Gospel Favorites
, the formerly controversial group revisits — again — their sacred roots.
If you're among the many whose first exposure to "cool gospel" music arrived courtesy of the Pennsylvania-based Couriers, then take a seat beside Joe Bonsall. "We drove out to Ardmore, Pennsylvania, one Saturday night, and there in a high-school auditorium I heard the Blackwood Brothers and the Couriers sing live for the first time. Even though I had not had a real relationship with Jesus Christ since earlier days, I knew in my heart that night that I would someday sing in a great quartet."
The man entering his 42nd year singing tenor for the Oak Ridge Boys was a somewhat wayward 15- year-old, targeted by a local Christian youth group using the concert as a lure. "They told me if I would go with them and did NOT enjoy the show they would never bother me again. Had I got on my tough-guy high horse and told them to kiss off and leave me alone, only God knows where I might be today. But instead, I said 'yes.'"
Whew
. That was close.
There are, of course, some among us whose first exposure to "cool gospel" music arrived courtesy of the Knoxville-based Oak Ridge Boys. This particular interviewer saw the quartet for the first time in Edmonton's Jubilee Auditorium, following a terrific opening act called the Downings. This takes Joe back. "Oh man, what year was that —'73? '74? I was a brand new Oak in those days. You know we made an album called
The Lighthouse
based on that Downings song?"
Well, if you were more attuned to the Couriers and the Downings, that bit of Oaks history may have escaped you. You'd be forgiven though, considering that after the Downings left the stage, the first thing the Oaks did when taking the microphone was announce they'd just gotten a phone call backstage from Johnny Cash, and agreed to join him and June in their upcoming Las Vegas engagement. For the next decade-plus the Oaks would be seen under bright lights in big cities; on "The Merv Griffin Show," "The Mike Douglas Show" and "The Dukes of Hazzard"; on tour with Roy Clark ("Hee Haw") and backing up Paul Simon on his multi-platinum
Greatest Hits
("Slip Slidin' Away"). And that, ladies and gentlemen, is exactly what a lotta gospel fans figured the Oaks were doing in those days — slip slidin' away.
"Yes, we left the gospel music industry, but that didn't mean we'd left the Lord!" Joe gets a tad warmed-up on this point. After they'd played Las Vegas, their gospel date book was empty and the money was running out. "Once … another group urged the audience to walk out on us when we came on stage and several hundred did — we knew that was it. It wasn't goodbye, gospel music; it sure wasn't goodbye, Jesus, because He stayed with us. But it was evermore goodbye to trying to make a living in that business, so we left."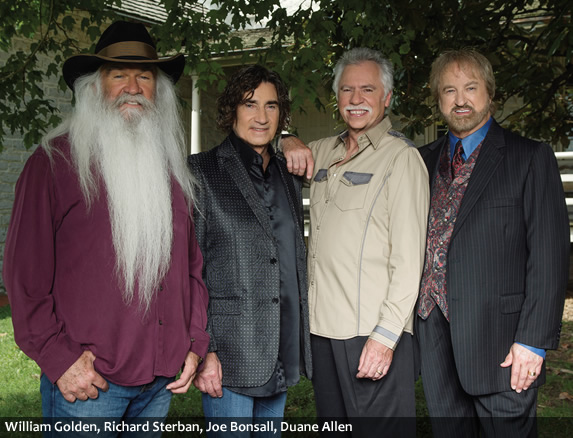 But they had long been — and still are today — a
quartet
. They'd always sung the gospel, continued to do so in their country concerts, on almost all of their recordings, and have released several gospel-only CDs in the years since. To use the word "current" in listing the four active members is surely superfluous, since Joe Bonsall is the new kid, having joined the group in 1973. Along with Texan Duane Allen, Alabamian William Lee Golden, and New Jerseyan Richard Sterban, the foursome may not be the first to perform "Oh Come, Angel Band," "Blessed Assurance" and "I Love to Tell the Story" on the same CD. But none of those other recordings has also included "Sweet Jesus" sung by Merle Haggard. And though we all know "There's Power in the Blood," none of us will be ready for the ending of "Peace Within," which closes out this set. Even Bonsall was taken aback. "I didn't see that coming. Ben Isaacs put that on after we'd finished our part. That ending just floored me."
That Bill Gaither reaches out to unexpected voices for Homecoming events, recordings and videos can't possibly be a surprise to any reader of these pages. But the impact of those invitations reverberates deeply with those singers. Joe sums it up: "Bill has brought us back into the fold with an open heart and open arms, and we love him and his wife, Gloria, dearly. We so appreciate not only all he has done for the Oak Ridge Boys, but for all he has done to keep gospel music alive and vibrant and forward-thinking in this present day and age!"
The first word you'll find under the letter "O" in your
Strong's Concordance
is oak. The tree has a — let's say
checkered
history in the pages of scripture. While the oak figures in some unfortunate biblical scenes, we are also told that the Angel of the Lord sat waiting for young Gideon under an oak tree. And at long last, for those of us who have waited patiently since the Jubilee, we too can meet the Lord under the Oaks.
Visit
OakRidgeBoys.com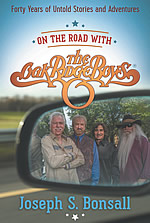 For more "road stories" pick up Joe Bonsall's latest book,
On the Road with the Oak Ridge Boys—Forty Years of Untold Stories and Adventures
. (Harvest House)
Click here to read more articles about The Oak Ridge Boys.