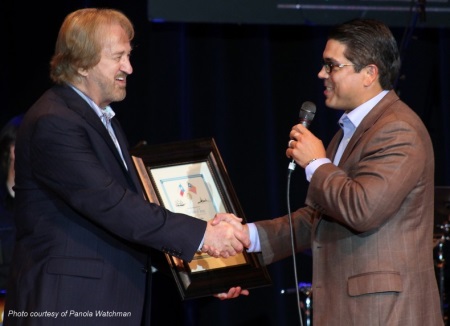 [Duane Allen with Texas State Representative Chris Paddie]
Oak Ridge Boys
lead singer
Duane Allen
has received high honors from his native Lone Star State. The award-winning singer/songwriter/producer has been inducted into the
Texas Country Music Hall of Fame
and named an honorary Admiral in the Texas Navy. Oak Ridge Boys members
Joe Bonsall, William Lee Golden
and
Richard Sterban
shared the spotlight by being proclaimed as honorary Texans.
The 17th annual celebration was held in Carthage, Texas, and included a special concert by the Oak Ridge Boys along with free tours of the Hall of Fame museum which features an exhibit on Duane Allen's extraordinary life and musical journey with the Oaks. Texas Country Music Hall of Fame founder Tommie Ritter Smith describes the inclusion of all four Oaks members into the induction ceremony as a reflection of Allen's heart and East Texas roots. "He's the one that was being inducted. But, he wanted all of the other members to be honored right along with him. So, the Oak Ridge Boys were proudly named honorary Texans," she explains.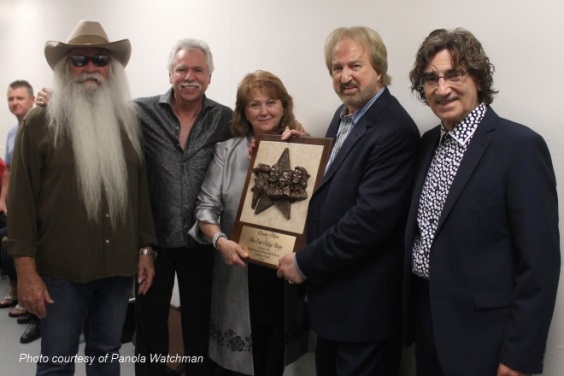 [The Oaks and Tommie Ritter Smith]
Duane Allen says, "I am still in the afterglow of a very overwhelming event in my life. It is a huge honor, and I am humbled to the core of my soul with this induction. My first emotional moment was when I walked into the Texas Country Music Hall of Fame. Less than a few feet inside, I had to just stop and gather my feelings. Every emotional fiber of my body was saying, 'WOW!'" He adds, "Then, I was walked around to my exhibit. I had no idea what would be there. I'd requested that it be a total surprise, and it was my wife, Norah Lee, Kathy Harris, in our office, and Jim Halsey, our manager, who supplied all of the memories for my exhibit. Rusty Summerville organized all of the items. I was emotionally overcome when I saw it all."
To get the latest updates on the Oaks, please visit oakridgeboys.com.