Twenty-five years ago, as the voice of Ariel, Disney's "Little Mermaid", Jodi Benson enchanted millions with her crystalline voice and sweet spirit. Today, she's a home-schooling mom and active voice actor who continues to inspire her family and her world through a career she sees as her own personal mission field. Gloria catches up with Jodi to find out where she is headed next...
GLORIA:
Hello, Jodi. We're so happy to have you in this issue of our magazine. The Vocal Band just finished a new children's album, so we decided to do the whole issue on children and childhood. Of course we thought of you and your influence on children and your wonderful heart for God.The movies you've been in that have become favorites of kids all over the world have been pretty impressive — Ariel in
The Little Mermaid,
and
Thumbelina
, then
Toy Story 2
and
Toy Story 3
. You were Barbie in both of those, I think!
JODI:
Right.
GLORIA:
Then
Lady in Lady and the Tramp 2
,
101 Dalmatians 2
, Barbie again in
Hawaiian Vacations
— you're going to get a Barbie complex, I'm afraid! Kids have fallen in love with your voice, and whether you like it or not, you've become a heroine to them. How has that shaped your life, or has it? How have you used this favorite character role to relate to kids and use your influence for good as I know you do?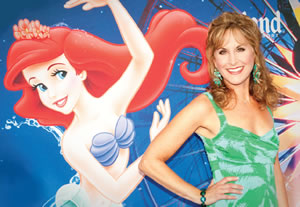 JODI:
Well, I think when I auditioned for
The Little Mermaid
, it was kind of a fluke, and I thought, "Well this will just be a really neat experience." But a year later when I actually got the job and started working on it, I thought, "This is a GREAT experience — just to get to be light and salt and get to meet people. Once the movie came out in November of 1989, I realized it was going to change the face of animation for our studio forever; this was going to be a job that I was going to be entwined with for the rest of my life. So I'm pretty much at the 25-year mark now, and it has become a whole mission field for me that God had in mind. I had no idea! It was a wonderful surprise, and the way God crafted the whole journey has been quite miraculous, and I do realize now, when I travel, that this film has a huge impact on people's lives. It's kind of one of those moments that marks their child's or their grandchild's life, and the stories upon stories that I get from people who tell me what the movie means to them just help me to understand the bigger scope of it. Rather than just being an animated film, it's kind of like a marker for people in their lives. So as a role model, I do take it very seriously, and I do feel my heart is for family entertainment and that God has really used my gifts to be light and salt in the area that I'm most passionate about — children. It's been an incredible journey, and it still is — it really is.
GLORIA:
I'm curious. Do children run up to you when they find out that you are the voice of the character that they love? Are there some stories that come to mind that have happened between you and children?
JODI:
When kids see me at the airport, they'll run up and say, "Where are your fins?" or "Why isn't your hair red?" So I look at the parent to see, and I can tell what their age is, and I'll say, "Oh, I'm on land now, so I have my feet, and my hair is red when I'm under water." The kids kind of work with you on that, because they want to have that level of belief in this incredible kind of magical story. The best stories are about kids who are now in their 20s. People come up to me and say, "You know, my child was a victim of low-functioning autism or Asperger's disease and was not able to speak until he watched this movie; and those were his first words, and we used this movie as a learning tool." We've come across several children with that delightful news. Children who are wheelchair-bound and have no use of their lower extremities make a connection with this character, wanting to be part of a world that they can't be in, can't run or walk in, and so they identify with the character. And another area in which the film is welcomed is with cancer patients and burn victims. When they're having those painful treatments, the children watch these movies over and over again, and it sort of dispels some of the pain and helps them to escape the difficult procedures that they're experiencing. Their families want to let me know that it's more than just a cartoon; it's a form of a life-giving source for their child or their grandchild, and that's just amazing to see how God can take a little film and do that in a child's life.
GLORIA:
All of these films that I've mentioned have a major moral story, a moral point for children. Do you have a favorite?
JODI:
I think I'm going to say Ariel from
The Little Mermaid
, just because that's the one that I've been most involved with over the last 25 years, and of course it's near and dear to my heart because I've been doing the character and still do the character weekly.
GLORIA:
Well, I hope you never get sick of the song, because people never get tired of hearing it!
JODI:
You know, I don't get sick of singing it. It's such a great story song, and it's a beautiful song that means a lot to me. Of course that character is the one into whom I have poured the last 25 years of my life and the one with which I am most connected.
GLORIA:
I think that particular movie is so universal with kids because so many kids, at some time or another, don't feel like they belong in their world. Every kid feels left out, or even when they're not, they may feel like they are not accepted like other kids — or they feel, "My home is different from other kids," or "I'm not as pretty as other kids," so I think you really hit a fabulous nerve with the way your voice sings its way into the hearts of kids — all who feel like that at some time or another. You have this magical giggle in your voice that I think has shaped these characters. Has that kept you from getting other roles?
JODI:
I would say no, because it is a voice character, and it's not an on-camera or a film character. I can still do roles on Broadway, and then in the recording studio, I do get to play other types of characters. Rather than the typical ingenue, I can play the difficult or villainous. I'm really content and have enjoyed the journey that this particular character has started with the company, and working at Disney and Pixar is like home for me and I love it. I think what we do is making a difference in children's lives. Getting the opportunity to do the iconic character of Barbie has been really fun because I did Barbie's first voice back in '81, with a little workout video— the first time in nearly 50 years that Mattel had ever given her a voice. And so, getting to do
Toy Story
and have this iconic character which is so opposite of who I am as a person is very fun to play again. I tell my daughter who is 9, practically every day, that God really isn't concerned about the outside package; He's really looking on the inside at your heart. And getting to play this character as a believer, I think I can bring some of that reasoning to her — that people don't just look at the outside package. Let's face it, Barbie is perfect, and nobody is ever going to look like that. And so I enjoyed getting to tackle that character and trying to bring some vulnerability and some reality to her, and for a little girl like my daughter, it's fun for her to realize that the outside package doesn't matter. My 81-year-old mother, Audrae, who was visiting from Illinois, said something like, "My hair doesn't look pretty today. I wish it looked better to go to church." My daughter says to her, "Neena, God doesn't care about the outside package. He cares about your heart on the inside, so just let it go about your hair!" And that's my 9-yearold; she's getting that message. So in small ways, within these little characters, hopefully we're demonstrating to them, like you said, some kind of character of moral value.
GLORIA:
You have two kids of your own. I'm curious to know — how do your kids teach you to talk to kids?
JODI:
First of all, they're fantastic lights of our lives, and we have such a great friendship and relationship with them.
GLORIA:
And your daughter is 9, and how old is your son?
JODI:
Yes, Delaney is 9 and a half, soon to be 10, just finishing 4th grade, and my son, McKinley is 12 and finishing 6th grade. I know it's hard to believe, but I've been a home-school teacher for eight years, and that's always been the running joke. When people find out that I'm a home-school mom, they don't understand that I learn with the kids and they teach me so much. We have a blast. We're learning together, so I learn from them — just how to keep my child-like faith. For instance, on Sunday my son was playing in the afternoon for his soccer team, and there was a big storm coming, and he said, "Mom, I just want you to know, I really asked God if the thunder and the lightning could blow over, so my grandmother could watch me play soccer today. And I said, "I'm gonna jump on board with that," and so we prayed. Then we looked out at the beginning of the game, and all the clouds blew away, and he looked over at me like, "See? You know, God cares about big things and He cares about little things, and He cares about me playing soccer for my grandmother." I learn so much from them about having the faith to believe that God cares. Now had the storm come, would it have changed our faith? No, but I felt for McKinley at that moment in time, it was really important for him to be able to show his grandmother what he likes to do and what he's passionate about. So I feel I have really learned how to keep my faith simple and strong.
GLORIA:
When did you come to know the Lord? Was it as a child? Were you from a Christian home?
JODI:
I was born and raised in a Catholic environment. I would say it was a little more cultural than spiritual — a little bit more religious than relational. And I was drawing toward the Lord in middle school, but I didn't quite know how to have that personal relationship at the time. When I started dating my husband at 18, he introduced me to Christ, and asked, "Do you have a relationship with Jesus?" And I said, "I love Him, and I know He's the Son of God, but I don't think I have a relationship with Him — like I can talk to Him by myself without going through the priest and stuff." And so, I had a really big conversion when I was 19, and Ray is responsible for opening that relationship for me.
GLORIA:
You have done several Christian projects including Max Lucado's
The Crippled Lamb
. Do you enjoy doing things where you can express your faith?
JODI:
Yes, I do. Sometimes I think how awesome it would be to go to work every single day in that kind of environment, surrounded by believers — working continually at a place like Sparrow Records, doing Guideposts, doing more
Beginner's Bibles
or things like
The Crippled Lamb
which were all amazing; but for some reason, God has me being light and salt in the more secular environment. As I travel around with symphonies and with Disney and Pixar, I can share my faith. No one at my company has ever, ever said anything other than, "Jodi, get on stage, do what you do." They give me the freedom, and they know beyond a shadow of a doubt where my walk is. They've known that since day one, and they've kept that door open. When the Southern Baptist Association, back in the mid-'90s, boycotted Disney, I was doing a press tour for Disney and I came under tremendous attack. I kept hearing from different people, "How can you work for this company when they do this, and they do this, and they do this?" And I said, "Guys, all I know to tell you is that this is where God has called me. I know that God has me in a more secular place because I think that's where He feels my influence would be the strongest for His kingdom."
GLORIA:
Do you think that one of the things that is most powerful is when Christians are placed in places where the light is needed most?
JODI:
Right. The older I get, the more simple my faith is in some ways. Not simple as in näive, but not so complicated. I'm trying to get rid of all of the complications and just get down to the basics, to Christ's words: "Love your neighbor as yourself. Love the Lord your God with all your heart and all your mind and all your soul." He's the vine, I'm the branch. Apart from Him I can do nothing. If I can just keep it very simple, then I'm going to be able to "join Him in His work" as Henry Blackaby says in
Experiencing God
. And if that means in a dark place or a difficult place, then that's great. I want to be able to radically make a difference for the kingdom.
GLORIA:
Well maybe that's why He said, "Unless you become as a little child, you should not enter the kingdom of God." I agree with you. A great theologian once said, "I'm believing fewer and fewer things, but I'm believing them with greater and greater intensity." I think when we first find the Lord we have this long list of stuff — the do's and don'ts and all the things that we want to shape other people into — but I think the more you study the words of Jesus, the more simple it becomes, and probably that's exactly why He said, "A little child shall lead us."
JODI:
I guess you get all this — the years of faith and knowledge — but I don't want to be this person with this big bucket of knowledge that's completely useless and not practical in touching someone's life. I pray for wisdom. I know He gives us wisdom when we ask. I think for Ray and me and for our kids, we're trying to create white space — margin — to be able to join Him in His work, so that when the phone rings and there's a need to be met, we can meet it. I don't want to miss that. That's kind of where our family is in this transition. One of the reasons we moved from Los Angeles is that we felt God call us to the country, to get off the spinning wheel, take a deep breath and listen to Him." And I feel we are right in the center of His will by doing that.
Now He sends us out, but we feel a little bit more well-equipped because we're not so burned out that we can't be used by Him. So, that's a challenge for Ray and me. And we feel like God is just directing our paths. Disney and Pixar have been a great place where He has used us, and it's in that passion of children and family.
GLORIA:
Who were the greatest influences on your life?
JODI:
Besides our Savior, I'm going to say my husband. My husband has been the one who saved me. God used him to save me in so many different ways — literally. A long time ago, when I was going through a very bad time — I was going to take my life — God used Ray as a vessel of pouring life into me when it wasn't a place that I wanted to live. So I would have to say that he was the greatest influence.
GLORIA:
That's beautiful. That's why your biggest mission field, no matter where else God has put you, is your husband and your children, and then together, because you're strong, you can branch out wherever He leads you. I really enjoyed meeting him. He is a sweet-spirited, wonderful man…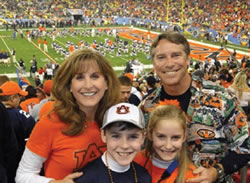 JODI:
Yes, he's an amazing person, and I tell people that when I grow up, I want to be like him — I really do. I admire him so much, and I think that he is the number one influential person in the flesh here on earth who has shaped me to be whatever I'm supposed to be right now. But he's silent, and he's in the background. He was a performer when I met him. He has an amazing, gifted tenor voice, and he's a beautiful dancer and actor, but once we decided to have children and God provided children for us after dealing with infertility and everything, God just made it very clear that my work was going to provide the paychecks, and then Ray runs the ship. Ray took over as manager, and he can oversee our family and direct and guide us in that way, and so it's a good team. He is so strong and supportive, but he knows that it's a ministry that takes the two of us, so it's not like I have a career: it's our ministry. It just so happens that I'm sometimes the one out in front, but believe me, I can't be out there without him on the sidelines.
GLORIA:
That was obvious when we met you. Thanks so much, Jodi. I do like to talk to you, and I hope sometime we get to be together when we can have coffee and don't have to rush!
JODI:
I would love to do that! God bless you guys and all the wonderful ministry and beautiful music and just the way that you bring people closer to Christ; it's just really awesome.
GLORIA:
Well, you're a sweetheart. Thank you so much, Jodi. This was delightful.