We celebrated our 50th anniversary last September. We live on Lookout Mountain, Ga., right outside of Chattanooga, and we think that's about as close to heaven as we can get here on earth. Our son Wes lives next door and our daughter Jackie lives about eight miles away. She and Keith (Harling) were married nearly 13 years before Samantha was born, and she's almost 12 now. So our little family is all very close, and that's such a blessing!
I usually do this recipe in a pizza pan, but for a special patriotic picnic like Memorial Day or the Fourth of July, I like to use a small cookie sheet pan and decorate it like a flag. Our granddaughter Samantha loves to help us make this. We only have the one grandchild, so she's very special to us and loves to be a part of all the "fun things" we do. This recipe is one of my favorites because it's so versatile. Thanks for letting us share our favorite recipe with the readers of our favorite magazine!
— Calvin and Joyce Newton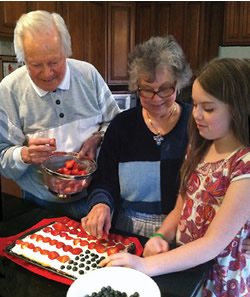 Patriotic Fruit Pizza
Ingredients
• 1 regular-sized roll of sugar-cookie dough
• 2 8-ounce packs low-fat cream cheese, softened
• 1 cup Greek yogurt
• 1 tablespoon vanilla
• 2 cups confectioners sugar


Directions
1. Keep sugar cookie dough at room temperature for at least an hour to let it soften, then pat it out to cover the bottom of a pan that's been greased or sprayed with baking spray.
2. Bake at 350° for 10 to 12 minutes. It needs to solidify, but not get too brown.
3. Let it cool completely. (I often do the crust the day before.)
4. Cream together cream cheese, yogurt and vanilla until smooth. Add confectioners sugar half a cup at a time, beating until smooth each time.
5. Spread this evenly over the cookie crust. It must be refrigerated after frosting.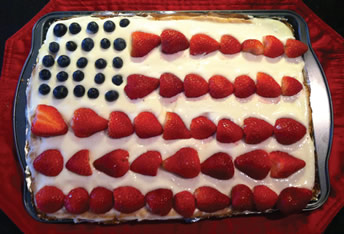 Decorating
For a rectangular crust, I like to make a flag — blueberries in the top left corner for the stars, and stripes made with halved strawberries.
For round pizza-style crust, there are lots of options — puree strawberries in blender and spread over crust, then put some well-drained crushed pineapple on top of that to look like a pizza. It's also delicious with toasted coconut and almond slivers on top and chocolate syrup drizzled over that. Or, spread drained peach halves and mandarin orange slices over it. To serve, cut with a pizza-cutting wheel and serve with a small spatula.
You might not need to use all the frosting, depending on the size of your pan. Refrigerate the remainder and use as a delicious dip for any kind of fruit.
Enjoy!