If one were to suggest that the Gaither Vocal Band is out of control, the group's five members would not be offended in the least. In fact, they'd probably take it as a compliment.
As they near the end of a hang-on-tight year filled with the addition of two new members — bass/baritone Todd Suttles and lead vocalist Adam Crabb — joining Bill Gaither, David Phelps and Wes Hampton; a brisk tour schedule; and a bold new album that bends genres with its diverse blend of styles and arrangements, it's tempting to conclude that the GVB is, in fact, stretching itself in ways that test the limits of human capacity.
But guess what? They're loving every minute of it.
You see, when it comes to control — or a lack thereof — the group's latest album,
Sometimes It Takes a Mountain
, is anchored by a soaring title song about the circumstances in life that often strip away the myth of control, reminding us of the only place where our true peace, strength and security lie.
"That song has an important message that I believe many folks out there can relate to," says Bill Gaither, because it "shakes the very foundation of all of us controlling types who think we have everything under control."
Crabb, one of the two newest members, echoes the sentiment. "We've all come to that place in life where we had to face a mountain," he says. "Sometimes we're stubborn. We try to fix problems ourselves. And sometimes God will put that mountain in our way to show us that — you know what? — He's in control, to reveal Himself to us, and to remind us that, ultimately, we can't do it ourselves. There have been many times in my life that He has put obstacles in front of me, challenges that I've had to overcome, to show how big and how good He really is in my life."
Rarified Air
That bigness and goodness come through on the new record, whose 14 tracks showcase the GVB's tight harmonies and vocal power as the five-some ventures from sweet ballads to high-energy anthems. Seasoned and tender come together not only in the makeup of the band itself, but also in the album's eclectic mix of fresh songs melded with signature takes on gospel standards.
"This recording is very special to me for a number of reasons," Gaither says. "There is a mixture of vocal textures in this current group that the band has never known before: the classical sound David Phelps brings; the rich, new bass/baritone in Todd Suttles' voice; those smooth, golden tones of Wes Hampton; and the passionate, soulful sounds of Adam Crabb. Then throw me in there, whatever that is! What can I say? I'm blessed. I feel fortunate to be on the same bus as these great singers."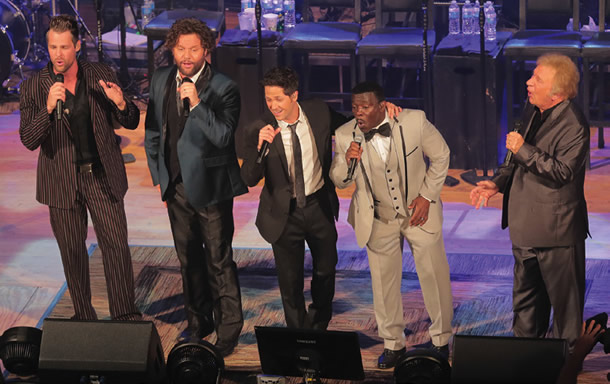 Adding extra punch to his assessment, the group's fearless leader evaluates the new record's place among the band's extensive, award-winning discography: "This is one of the best projects the Gaither Vocal Band has released in a long, long time."
Considering that the GVB has sold more than three million CDs and DVDs, been inducted (earlier this year) into the Gospel Music Hall of Fame, and garnered multiple Grammy® and GMA Dove Awards, that is quite an enthusiastic endorsement.
Gaither isn't the only one excited about how the legendary band's latest chapter is unfolding. For Adam Crabb, singing with the GVB — and now seeing the first album released as its lead vocalist — marks the fulfillment of a lifelong dream.
"Really, it's so many people's dreams to be in the Vocal Band," he says. "I grew up listening to them, like so many others did, so I feel honored that I even have the opportunity to be a part of this. At times, I'm standing on stage in shock that I'm out there with Bill Gaither, singing beside David and Wes. It's amazing."
A Perfect Blendship
Among the factors that have amazed Crabb in his brief tenure with the GVB is the selection of tunes that Bill Gaither carefully assembled for
Sometimes It Takes a Mountain
— songs that cut across styles and generations yet carry a common thread of praise, gratitude and hope, with enough vocal diversity to let all five members showcase their chops while also expanding their respective repertoires.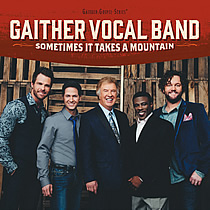 Indeed, from the soaring title track, to the riveting Civil-War treatment on "Coming Home at Last" — a song with the potential to be a new "I Surrender All" in Gaither's eyes; to the 1950s, Jerry Lee Lewis-style approach to Mosie Lister's classic joy jolt, "Happy Rhythm," the album takes listeners on a wide-ranging journey.
And that's just a small sampling of the fun to be had here. The bold, empty-tomb declarations of "Resurrection" reflect David Phelps' "dramatic flair at its very best, and this group can sing it the way it needs to be sung," Gaither says.
Flash back one day in history, and "The Night Before Easter" is another of Gaither's favorites, a "simply thrilling" remake of that old classic. Not to be outdone, the toe-tapping, soda-shop shimmy of "That's When the Angels Rejoice" features "David at his finest again," Gaither says, "only this time through the eyes of a 1980s teenager!"
"Written in Red" slows the pace and quiets the mood just the right amount to deliver a poignant, straight-to-the-spirit message of love from the Savior to His beloved children. "When Fear Comes Knockin'" puts a funky, soulful twist on our source of shelter in the storm, while "When Heaven Came Down" keeps the upbeat groove going.
In the tradition of Vince Gill's "Let There Be Peace on Earth" and even Michael Jackson's "Man in the Mirror," "Let It Start in Me" carries the potential to spark revolutionary change inside every believer who dares to honestly assess the depth, vitality and influence of our faith.
"It's not just a song," Gaither says. "It's a movement. And through it Christ could make a major difference in the world today."
Meanwhile, "Praises" is a seemingly simple yet disarmingly affecting worship song that allows the five artists to fuse their voices in one seamless thread of heaven-focused gratitude.
Fans eager to hear the band's fresh take on yet another classic won't be disappointed with Todd Suttles' richly resonant lead vocal on the timeless hymn-of-assurance "Peace in the Valley," while Suttles' fellow singers season his heartfelt stylings with just the right flavoring.
"Todd takes this song to a whole new level, I think," Gaither says.
Positive Feedback
As the band has toured in recent months, "Peace in the Valley" is among the songs that have resonated most with audiences, Crabb says. "People love that song, and Todd delivers it very well."
In addition, when the GVB sang "The Night Before Easter" on the Gaither cruise in September, "it got a standing ovation, and they wanted us to sing it again."
Speaking of Suttles, the other newest band member draws kudos not only from Gaither but also from fellow newbie Crabb.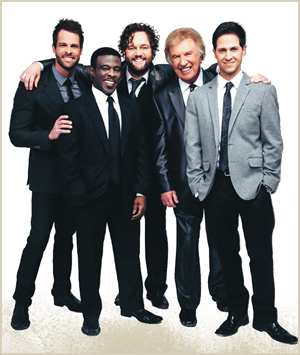 "Todd has such a quality voice," he gushes. "He has such a great tone. It's fat and it's round and just … wow."
Fat and round, by the way, constitute high praise when it comes to vocal tone!
"We were all thrilled when Todd stepped into the studio," Crabb continues. "He brought such great energy. When you're around Todd, or when you see him on stage, he has this contagious smile. He makes people smile and makes people happy."
Of course, as richly as the band's five vocalists deliver these songs,
Sometimes It Takes a Mountain
would not be the record it is without a cast of top-tier production pros and musicians.
Produced by Bill Gaither, David Phelps and Ben Isaacs, the album includes deft instrumental contributions from the likes of Gordon Mote on piano, organ and Rhodes — Mote's "skillful tracking" is "simply stunning" on "Jesus Gave Me Water," Gaither says — Kevin Williams on acoustic guitar, Jimmy Lee Sloas and Duncan Mullins on bass, Kenny Greenberg and Jeff King on electric guitar and Greg Ritchie on percussion. Russell Mauldin arranged the strings.
Meanwhile, a who's-who of singers chipped in background vocals, including Angie Primm, Gale Mayes, Chip Davis, Charlotte Ritchie, Callie Phelps, Becky Isaacs Bowman, Gene McDonald, Padrion Scott and Ben Isaacs.
Recording the songs in the studio was "so much fun," Crabb reflects, "because of the producers and the band that did a stellar job playing these songs." In particular, Crabb lauds Phelps for his production work (along with Gaither and Isaacs). "I just think this is some of David's finest producing work," he says. "He has really outdone himself."
As much singing as Crabb has done over the years, he says that joining the GVB and being part of the new album have felt like going back to school.
"Coming into the band, I really didn't know what to expect, but the other guys have been so good and helpful," he says. "It's a lot of learning. I mean, I
thought
I knew how to sing harmony until I started traveling with these guys. In some ways, it has been like learning how to sing all over again."
For example, the band does "a lot of inverting and crisscrossing of parts," he says. "The harmony is so technical. In the studio, Bill has a good ear for hitting the heart of the songs. So, not only has it been a great learning experience, but also just a great time being together."
A Future So Bright…
For Crabb, the best is yet to come for the 2014-plus version of the GVB. "Every week that we go out on the road, to me it just gets better," he says. "We've got some exciting things in the future. Bill is already talking about another record, kind of going back to the roots of what he grew up on, bringing back some of the older songs and revamping them, making them fun. I feel like we've put out a really good project, but I think even better days are ahead.
"We feel like this album is really going to touch a lot of people's lives," he says. "Already, the songs are connecting."
Ultimately, Crabb and his fellow bandmates know that any song or album is only as effective as its impact on the hearts and souls of those who hear it. "As a group," he says, "we are all out there for the same reasons: to exhort Jesus, to give people hope, and to try to encourage every heart that has been broken. To be a part of that is awesome, and I'm so incredibly thankful."
And if serving those purposes means the guys might have to give up even more control along the way, then they're happy to do just that — mountain, or no mountain.