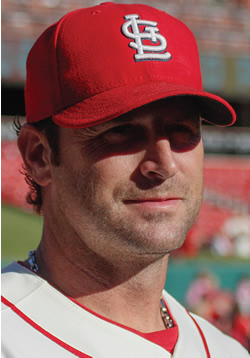 In The World of Major League Baseball,
it's not unusual for a manager to become known as much for his off-field persona as for his baseball expertise. Consider Yogi Berra's legendary malapropisms: "Ninety percent of this game is mental, and the other half is physical," "You can observe a lot just by watching," "Always go to other people's funerals, otherwise they won't come to yours" and many more. Or take cantankerous Billy Martin's famous feuds and firings by colorful New York Yankees owner George Steinbrenner. Not to mention gregarious former L.A. Dodgers skipper Tommy Lasorda's humorous cameos in movies and TV shows. In the case of
Mike Matheny
, manager of the St. Louis Cardinals, it was a revolutionary letter that went viral and became a timely treatise on youth sports that stamped his notoriety beyond the dugout. When Matheny (pronounced muh-THEE-nee), a former big-league player and the father of five, was asked to coach one of his sons' youth-league teams, he wrote a 2,556-word letter to the parents, detailing his philosophy of respect, self-motivation and sportsmanship, along with his high expectations of parents and the importance of fostering a fun atmosphere for players, without the pressure of winning or the dread of incurring wrath from the stands if they made a mistake. After a parent posted the letter online, it spread quickly and became known as
The Matheny Manifesto
, a direct challenge to the harshness of America's youth-sports landscape and a call to a more positive approach. In 2011, the letter and the character it revealed became one factor in the Cardinals' decision to hire 41-year-old Matheny, who had no previous MLB managing experience. Granted, he had played 13 stellar seasons and received awards from teammates who appreciated his inspirational effort, leadership, humility and love for his family. Now in his fourth season helming the Cardinals, Matheny has triumphed on the diamond, leading his team to the playoffs each year, to division titles in 2013 and 2014, and to the World Series in 2013. He also managed the National League's All-Star team in 2014. To be sure, Matheny was no stranger to success. An Ohio native who attended the University of Michigan, he was drafted by the Milwaukee Brewers in 1991, made the majors in 1994 and played five seasons as a catcher there. He found a home in St. Louis from 2000-2004, appearing in 611 games and committing a mere 14 errors. The team reached the postseason four of those years and won the National League championship in 2004. A four-time Rawlings Gold Glove honoree (2000, 2003-05), Matheny finished his career with two seasons in San Francisco, retiring in 2006 because of complications from repeated concussions. Off the field, Matheny has been deeply involved in the community. In 2003, he created the nonprofit Catch 22, donating Cardinals tickets to needy fans and establishing a foundation that has built three handicapped-accessible fields, funded equipment for St. John's Mercy Hospital's pediatric-cancer facility, and supported efforts to help disadvantaged youth. Matheny's original letter inspired his recently released book,
The Matheny Manifesto: A Young Manager's Old-School Views On Success in Sports and Life
(Crown Archetype), written with Jerry B. Jenkins and featuring a foreword by Bob Costas. In a conversation with Gloria Gaither, Matheny talked about the letter and the philosophy behind it, the importance of family and giving back, and the power of prayer in his life.
GLORIA:
I know you're in the middle of a big game season, so I appreciate it so very much that you were able to talk with us today!
MIKE:
My pleasure.
GLORIA:
This issue is on prayer, and I know you might think this an odd fit, but as I read your book, it was really wonderful. I'm sure you're surprised that the letter you wrote went viral, and I couldn't help thinking of all the parallels. I just want to ask you, bluntly — do you pray?
MIKE:
I do — I try to do it without ceasing.
GLORIA:
How did you learn?
MIKE:
Well, I was brought up in a strong Christian home, and it was exemplified for me, in front of myself and my brothers, just by the way our parents went about their life. We'd open the day and open every meal, and we always understood that that's the way we communicated with this God we gave our lives over to.
GLORIA:
So that brings me to the next question. How has your conversation with God changed since then?
MIKE:
I think it has changed more into realizing what a great opportunity we have for an omnipresent God to be there, available for us. I've been challenging myself not to leave Him out of the highs and the lows that come every day. I want it not just to be a good habit, but as I roll out of bed, I don't even hit my feet before I hit my knees. I'm trying to start my day that way, which I know is starting it the right way, and ending it the exact same way.
But there are so many opportunities for prayer through the day — in gratitude, and going through the adoration and the confession and the thanksgiving — then I ask. I think we miss opportunities, just in the middle of the day — it may not be our hands folded and eyes closed, but I can be out on the baseball field right in the middle of 45,000 people, and I just feel God—whether it's an opportunity with a guy or just a situation of appreciation. To me, that's prayer, and I believe that's truly what God's looking for — that nonstop interaction where we put Him on the throne, but we also allow Him to walk through this thing with us.
GLORIA:
As I was reading your book, I kept thinking that some of the things you were saying about coaches and teams and little guys are really some of the major things. Like the coach is always right, and the coach wants to play you at a lot of different positions so that you can discover where your strengths and weaknesses are. You're not going to be good at some of it, but in the middle of doing things you've never done before in your life — which God seems to shove us into—you find out
you know what, I have a gift here! Who knew?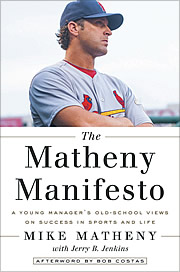 This is a team, and the coach is trying to grow us all. We're all in a team — the body of Christ — and God is trying to grow us all. We can't all be pitchers and we can't all be catchers, but the experiment to discover, sometimes, a third baseman or an outfielder or something that we are really gifted in but we are clueless …
You said several times, "The door is always open," and that basically you are learning now, as an adult pray-er, that the door is always open. You do have the junctures of intentional prayer, but you find more often now that God is portable, and the door's always open, in the middle of the day, in the middle of the game, in the middle of the family, in the middle of the traffic or whatever. Do you make any of those connections, like I kept making when I was going through your book?
MIKE:
I do see that, and I think that's really kind of what we always try to do. I try to get kids to see, especially at the developmental ages, the bigger picture. That
yeah, you know what? You might be struggling right now, but guess what? Those struggles are meant for your good somehow.
I tell that to guys who are some of the best athletes in the room, whether they are youth players or here, at the major league level. They're going to have struggles — they'll have them in their personal lives, in their professional lives, and we have opportunities to talk about that. What's the lesson you're going to learn here? We can just go through this and keep our eyes closed, but let's be real attentive. Some of these guys are followers of Christ, and others are not, but the same thing applies. You start getting them to think at a different level, and I think a lot of it is just focusing toward a selflessness, which is so counter-intuitive to our culture now.
It's an opportunity to talk to guys about
OK, what can we do for the greater good of this group, and why would we want to have a culture like that?
And let them know that this is what we believe is success and then, how that translates too into life, when we can get outside of ourselves and figure out how to serve other people well and truly love our neighbors like we're called to do. Eventually, those conversations — I hope — lead to
OK, what's the real big picture? What has God designed us to do, and how are we supposed to use these tools we've been given and these platforms and opportunities?
Sometimes those conversations come, and sometimes they don't, but I've realized it's a great opportunity to try to put some of these scriptural truths into action. We go out and try to challenge and encourage and try and push people to be their absolute best, but in the meantime, let's serve people around us in a way that makes
them
better. Hopefully we can figure out what's the high calling that we have in life, and what are we going to do with the abilities that we've been given. Is it just for us? Is it just for now? Is it
just
to accumulate things, or is it truly more than that? And how rewarding it is when those conversations do happen.
GLORIA:
I love the part in the book that says, "Don't think less of yourself, but think of yourself less." That is so Christ-like; that is so godly. And I guess when you find pieces of truth, it fits in every avenue of your life. I loved the development part where you basically said God is up to — and I'm applying this on a bigger scale — God is up to helping us become what He had in mind when He made us.
MIKE:
Right.
GLORIA:
And what you're saying a coach sees, when the parents may not, the friends may not, the fans … you're not playing for them. There are so many principles of truth there. Talk to us a little about respect — that was all over your book. I think, translating that into the spiritual realm, we have such a culture of disrespect on every level. If we don't respect God, how can players learn to do what you're asking them to do if they didn't learn to respect from the top down?
MIKE:
Yeah, and you know as well as I do that a lot of us are just subject to our environment. Fortunately, once again, I was brought up in a home that taught that the fear of God is the beginning of all wisdom and understanding; that reverential fear and respect, that awesome care that He has for us, and the understanding that He's always with us.
That's just something that's not tangible to so many people, because they've never been surrounded by it. But I've seen in this clubhouse that we do have some really good leaders, as far as players go, who do have solid faith, and how they go about their business is just so different. I think people are a lot more concerned about the pictures than the words — they want to see stuff lived out. We can say all the right things, but they want to see it put into action.
We're together as a team for about 250 days, almost in a row, and it's an opportunity for you to really see what somebody's all about. When you see it done differently, it does stand out, where it's not all about you … or it's thinking about yourself a little bit less and having time to think about somebody else. You see players and coaches will try to point guys in a direction that's for their betterment, without any sort of initiative.
GLORIA:
There was a section in your book that talks about how the more players start to understand the big picture, the more they understand that the game is about them doing the right thing and having each other's back. Winning will be a result, eventually. It's not a cause — you don't go in saying "We're gonna do whatever it takes to win." You go in saying, "I've gotta understand baseball, I've gotta understand teamwork, I've gotta understand what gifts I may or may not have." Then in that understanding, the result is winning. That is also a parable for life; talk about that a little bit.
MIKE:
Well, I think you get focused on so many things that you forget what's right in front of you and what's controllable. For us, in this game and the everyday nature of it, we don't talk about winning — we really don't. Is it the end game and is that what we're being paid to do? The answer is yes, and we're not ashamed to say that we're gonna go out and do everything that we can to win, but that focus on the winning is not really helpful to us.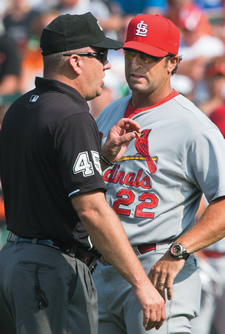 What's helpful is the process, and the day to day. I have an opportunity and responsibility to do my part for the good of the group. And yes, I think that can be quickly translated to how we go about our lives and do our piece as part of the body of Christ. I want to go out and be consistently asking, What do you have for me today, God? Where is it that you want me to open my eyes to things around me that I might not have seen otherwise?
When I watch teams and players go about it with that process in place —
I know what I need to do, and I'm going to keep growing and striving to be better
— in the end, in the game of baseball, winning's a natural byproduct. If we go through the process the right way, then winning will most likely happen — you need talent, there's no question about it — but, when you're so focused on the end that you forget about the process, you're typically leading yourself in a bad direction.
GLORIA:
A lot of that is a daily practice … people don't like to hear that, but it's the daily redoing and redoing and redoing the thing that keeps you agile and focused and keeps your aim straight.
You had another really big piece you talk about that I think is a big piece of prayer, too. And that is — always be willing to apologize. We're not always going to do everything right. How is confession and repentance an ongoing part of what you do?
MIKE:
I think it comes back again to just knowing our place and being in awe of this Creator God that we're serving. And understanding, too, that He is with us through the good, and He's there, He sees when we miss the mark. He makes sure that we don't lose those opportunities to keep building that relationship. It doesn't force this impenetrable wedge between us, but it does need to be addressed. For me to constantly be reminded of the times that I've fallen short, whether it's in my thought life or something I've said or how I treated somebody … I do know that in order to be forgiven, we must forgive. So it starts with me making sure that I'm trying to keep track of the times where I've fallen short. Then that allows me to forgive others a little more easily as I realize that I'm constantly the one asking and needing this from God. I think it's just that cycle — it's hard to give forgiveness to anybody around you when you haven't experienced it yourself.
GLORIA:
Is there anything else you'd like to say to our readers, either about baseball or any sport being a metaphor for our relationship with God, with our fellow man, with our team? Or is there anything else you'd like to say to our readers about prayer, no matter what level of life you are?
MIKE:
Well, I do think that prayer — a lot of times, people say it's the least I can do, but I actually think it's the
most
you can do. I'm always grateful when I have people all over the country — strangers — and I know I'm in their daily prayers. That's very humbling to me when I think about what they're actually offering.
There are a lot of metaphors, I believe, that correlate … the struggles and the difficulties in a game like baseball, where there's so much failure, and it is so day to day. We play 162 games in 180 days, and you truly do realize that it's much just like the grind of life. You're going to have the successes and the failures. I'm so fortunate that I've been able to see things like I have at this level and realize how empty a lot of the so-called definitions of success through the world's eyes are, in comparison with not being right in God's eyes and not having that relationship right. Those failures, I think, help us get to that point.
Fortunately, a long time ago, I had some people open up God's truth to me to show me how I could know for myself what success in life is. It doesn't have much to do with our failures in life; it comes down to grace. I think this game has been a great tool for me to help — to explain to people how I've been changed from the inside out and how grace is there for everybody. The failures that we have, in this game but more importantly in life, are just things that I believe are there to draw us closer to Him. That's an invaluable gift.
GLORIA:
That's good; that's strong. Thank you so much for talking to us on a busy, busy baseball day.
MIKE:
Thank you for everything you and your family do.