(Pictured right: Brittany with Gene McDonald /
Pictured below: Brittany with Wes Hampton)
We went to the Gaither Homecoming concert in Green Bay, Wis., back in May. We brought along a 12-year-old girl named Brittany, who is the neighbor of a friend in our group. She had never been to anything like this before, and she was very excited. At intermission, she met Gene McDonald and Wes Hampton and had her picture taken with both of them. I think she was floating on air the rest of the night, but the story doesn't end there.
On the 175-mile trip home, she asked her neighbor (whom she calls Buddy), "Buddy, I saw tears in your eyes sometimes when they were singing. Were you crying?" He said "Yes," and she asked why. We explained to her that the meaning of the words touch us so much because of Jesus.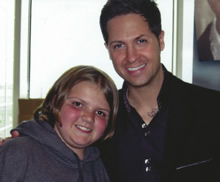 She then asked how she could get that feeling, and we told her she would have to ask Jesus into her heart. She was very quiet and soon fell asleep.
Two days later, she went over to her neighbor's, hugged him and said she asked Jesus into her heart that morning! It's going to take some nurturing, but we're hoping we can keep her in the path she has asked to take. Thank you all so much for helping to plant a seed in a young girl.
— CAROL LIEB
Clinton, Wisconsin