The numbers are staggering: 73 million records sold, 41 #1 songs (32 on Billboard's country chart), 21 consecutive #1 hits and 40-plus music awards—including two GRAMMYs, 12 ACMs, 20 AMAs and nine CMAs. But numbers tell only a smidgen of the story of the band Alabama. Founded by cousins Randy Owen, Teddy Gentry and Jeff Cook, who grew up playing guitar in church and school, the group parlayed six hardworking summers performing for tips at The Bowery in Myrtle Beach, South Carolina, into stunning worldwide acclaim.
e group was no overnight success, however, as much as they seemed to appear suddenly to casual listeners. After several years of touring, pitching songs and knocking on the door of notoriety in the late 1970s, the group caught the ear of Joe Galante from RCA Records at a Nashville showcase, inked a deal in April of 1980, and began an astounding run of releasing an album each year. Each album crackled with chart-topping songs that swung from upbeat anthems to heartrending ballads, all marked by the band's signature tight harmonies. In that first year with RCA, the band sold four million records, and its success skyrocketed from there as songs including "Tennessee River," "Feels So Right," "The Closer You Get," "Mountain Music" and "Love in the First Degree" became part of the fabric of American music.
Disbanding in 2006 but reuniting in 2010, Owen, Gentry and Cook are now celebrating their lifelong love for gospel music with a new collection containing 12 songs of faith. The record — a Gaither Music project that will also be released in an exclusive version for Cracker Barrel Old Country Stores — puts Alabama's unique vocal and instrumental stamp on classics such as "Church in the Wildwood," "I'll Fly Away," "Amazing Grace" and "The Old Rugged Cross" — and features an all-new recording of the group's hit "Angels Among Us."
— Phil Newman
Country music group Alabama's Randy Owen, Teddy Gentry and Jeff Cook and Bill Gaither all called in from three different states for a chance to chat about their latest project for Gaither Music…
BILL GAITHER:
How are you all doing?
RANDY OWEN:
Man, I tell you what — my dogs are scared to death! We're having a tremendous thunderstorm right now. I have golden retrievers, and especially my male — he gets so upset when it starts getting rough. He's right here at my feet right now, so if you hear a dog barking…
(Jeff Cook joins the conversation)
RANDY:
Oh my Lord, you're always late!
JEFF COOK:
I'm not late, I'm a minute early!
RANDY:
That's a title for a good song.
BILL:
I'll bet we can find a good writer to write that song! Hey, I've met Randy, but I don't think I've met Teddy and Jeff. Now, you three are cousins, right?
TEDDY GENTRY:
Yeah, but don't tell nobody.
BILL:
(Laughs)
Do you actually have family reunions?
RANDY:
Yes, we just had the family reunion! We have it every year up here at the little Wesleyan church on the corner, and it's really neat. All we know how to do is sing and eat! Everybody brings what they know how to cook, and you can tell by looking at us, we haven't missed many meals.
BILL:
So when you were kids, were you always the entertainment at the family reunions?
RANDY:
No, no… at Wesleyan church up there is where my mother and my daddy met at a singin' school. He was going to the singin' school and my mother was the piano player at the school. So, things got heated up pretty quick, and here I am all these years later, still playing and singing that music.
TEDDY:
That tiny little church is the first place I ever got up and sang. I sang, "He's Got the Whole World in His Hands" — I think I was about 5 years old.
JEFF:
Well, I didn't know these two guys till I was a teenager! In fact, we'd been playing together for a while before I figured out Teddy was related to me.
BILL:
Now, that's in central Alabama? Close to Sand Mountain?
RANDY:
No, Lookout Mountain. Sand Mountain is where the snake handlers are, over around where Vestal was from…Vestal went to the Highway Church of God, and another one of our cousins, Jackie Owen — his folks on the other side of the family, the Maddox family — that's where they all went to church. They all sang and played everything in the world, and I didn't know until I met Vestal that that's where she'd gone to church.
BILL:
You know what, I've been to Lookout Mountain two or three times because Calvin Newton lives up there on top of the mountain, and we've had a ton of gospel singers from Lookout Mountain, Sand Mountain… In fact, the original first tenor of the old Statesmen Quartet, Cat Freeman, who was Vestal's brother…
RANDY:
We knew him. He called himself "Sister" Cat Freeman.
BILL:
(Laughing)
Back in the '50s, you could get by with that … I'm not sure you could now!
RANDY:
Naw, we know, we know … we're politically correct, Bill.
BILL:
(Laughs)
Ol' Cat … Cat was a dandy, but that whole Freeman bunch, they could all sing. OK, so now let's talk about your new album. I'm looking forward to hearing your singing on this one.
RANDY:
It's crazy amazing, and you know I wouldn't tell you wrong, brother. You and I have talked at length, and it's … I'm going to shut up and let Jeff and Teddy tell you, but I'm just going to say it's that good.
BILL:
Good, good. Now, about the tunes … you're doing "Angels Among Us," on this one, right?
RANDY:
I said I was gonna shut up, but I'm not! We were saying wouldn't it be incredible — since this song basically changed the career of Alabama — if we had a live version of it, and lo and behold, when we did the two sold-out shows at the Fox in Atlanta, we did that song for an encore. So, it's a live version of "Angels Among Us" — it's awesome.
BILL:
Will you send me a copy?
RANDY:
No, you'll have to wait and pay us, Bill. We're in the business of selling, not giving.
(Laughter)
RANDY:
I was going to tell you that there's a guy from Gadsden, Alabama, who was a big part of what we were doing. We just kind of got into a frame of mind and talked to Gordon [Mote], and Gordon understands us — he speaks Southern English and Southern piano, and good, funky, gospel piano, so…
BILL:
Isn't he amazing? He's one of the most amazing keyboard players I've ever heard.
RANDY:
Oh, yeah. We went in there, kind of freewheeling it and would say, "Why don't we feel it this way, Gordon?" And Gordon was like, "Oh, OK." So, he could relate to everybody in the studio. You know, we don't know one note of music.
JEFF:
Not enough to ever play 'em, anyway…
RANDY:
Bill I remember when we met at your show in Chattanooga. We just loved it; we sat there, and y'all were so kind. And you know, after the show, then me and Gordon and big, bad Ben (Isaacs) got to sing a little bit together. And I loved that funny part about Gordon, where you say you've never heard a white man play black gospel like Gordon does. And he jumps up and says, "I'm white?"
BILL:
And then he waits a little bit and says, "It's bad enough being blind."
(Laughter)
TEDDY:
That's great.
RANDY:
I have to tell you, too, speaking about the album — I loved getting a chance to do "Because He Lives" — that's my kid's favorite song.
BILL:
Well, man, I cannot tell you how excited I am to have Alabama do "Because He Lives."
RANDY:
Well, it was such an emotional thing for me. My little baby girl, when we go to church, if they sing the chorus of "Because He Lives" — of course, she's 25 years old, now — but that's her favorite. She's like, "Poppy, if you'll do 'Because He Lives' …" And that gave us an opportunity to do that song. So, I am so excited. You know, you been doing all this stuff for a long time, and when you get a chance to do something that makes your family, your mama proud, you know, it's a good deal.
BILL:
You know, I feel the same way. I'm glad I've lived long enough that our paths have been able to cross. Because when you're in the heat of what you're doing, it's not that you don't care about anything else going on — you don't really have time, to be honest with you…
RANDY:
Oh, we understand that! Anyway, we're proud to be from Alabama. It's a very rich heritage that we have to live up to … and it started with a guy named Hank Williams.
BILL:
Absolutely right. Do you know Marty Stuart took me to his warehouse, because I'm a historian — I love the history of our music, Southern music. I went to the Hank Williams section, and he started pulling out stuff, and there was an original copy in Hank's writing, in pencil —
Hear that lonesome whippoorwill/It sounds too blue to fly … I'm so lonesome, I could cry
. And I believe gospel music is inspired, but I think all great music is inspired. To me, that man, that day, when he was holding that pen — that was something else. So, I was looking at all this stuff, and I looked at this 8x10 black and white glossy, and here at his funeral is a picture of Hovie Lister and Jake Hess looking down into the co n. And I remembered that Jake had told me that they had sung at Hank's funeral.
RANDY:
Oh, my goodness!
BILL:
They sang "Peace In the Valley" at Hank's funeral. And I kept pulling out all these pictures. First Jake Hess was from northern Alabama … and when you list greats in our business, you'd have to talk about Jake Hess, the Goodmans, Gordon Mote and a number of people — so Alabama should be proud. You guys are part of a very elite fraternity of very talented people.
TEDDY:
Bill, we knew a lot of these songs growing up in church so, to get to go back and visit those old melodies again that are locked in your head forever is real special.
BILL:
Speaking of Hank, you're doing "I Saw the Light." Isn't that interesting that probably one of his biggest songs that will live on forever is a gospel tune?
RANDY:
We do a lot of those songs in our show —"I'll Fly Away," "I Saw the Light," "Will the Circle Be Unbroken" — and it's amazing. Our audience sings them right along with us, just like some of the hits.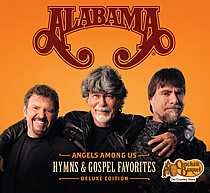 What I feel good about is that we're not doing anything that's out of our element. is is what we grew up doing anyway, so it's just a great opportunity and we thank you for that opportunity to do something that we love.
JEFF:
Bill, I just want to say, too, that I think the combination of Alabama working with the Gaither people is going to be a wonderful thing.
BILL:
Well, I tell you what, it makes us very, very proud.
ALABAMA:
Thank you, sir. Thank you for the opportunity.