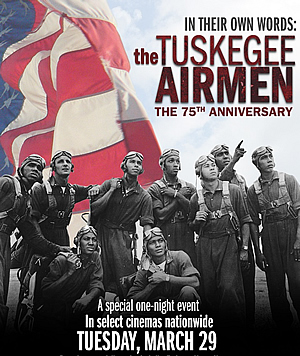 Fathom Events is partnering with Bryton Entertainment to present
In Their Own Words: The Tuskegee Airmen - The 75th Anniversary
in select U.S. cinemas for the first time ever on
Tuesday, March 29, 2016, at 7:00 p.m. local time
. This one-night cinema event features emotional interviews, rare photographs, archival footage and computer-generated recreations. Audiences will also experience an exclusive panel discussion captured at the National Air Force Museum with Tuskegee Airman Lt. Col. George Hardy and former Administrator of NASA Col. Fred Gregory, as well as the producer Bryan Williams and director Denton Adkinson.
Tickets for
In Their Own Words: The Tuskegee Airmen - The 75th Anniversary
can be purchased online by visiting
FathomEvents.com
or at participating theater box offices. Fans throughout the U.S. will be able to enjoy the event in nearly 200 movie theaters through Fathom's Digital Broadcast Network. For a complete list of theater locations visit the
Fathom Events website
(theaters and participants are subject to change)
Sixteen of the Tuskegee Airmen, America's first African-American military aviators who flew the skies of the European Theater during World War II, are featured in this powerful event. As African-Americans were rejected in their attempts to enlist in World War I, the recruitment, training and combat of the Tuskegee Airmen in World War II was a monumental moment not only in American military history, but also in American history as a whole.
In Their Own Words: The Tuskegee Airmen - The 75th Anniversary
tells the story of how these airmen were some of the first to begin the civil rights movement and have lived long enough to see the changes that continue to resonate today.
"Fathom is extremely excited to be working with Bryton Entertainment on this powerful event that honors the Tuskegee Airmen. 2016 marks the 75th anniversary of these amazing fighters and there is no better way to celebrate these men than a documentary and panel discussion," said Fathom Events CEO John Rubey.
"The enthusiasm in which the few remaining Tuskegee Airmen reacted to this news has been nothing short of fulfilling. These brave men made one request of us upon lending their story, 'Never let our story die!' We are thrilled to honor that request with Fathom Events on March 29, when this event hits theaters around the country," said Bryan Williams of Bryton Entertainment, LLC.
Here is a preview from this insightful film about a pivotal moment in American history:
Sources: Allied Faith & Family and Fathom Events