Christian singer
Natalie Grant
has asked for prayers for her daughter Grace Ana, who had to be hospitalized shortly after Christmas, according to Grant. "My daughter Gracie has pneumonia, a partial collapsed lung and is in respiratory distress," posted Grant. "We would so appreciate your prayers."
Gracie, 8, spent Christmas with her family in Seattle and appeared perfectly healthy just days before, as she and her sisters (twin sister Isabella Noelle and 5-year-old sister Sadie Rose) posed for a photo on Christmas Eve.
Many of Grant's industry friends, including Jason Crabb, Don Moen, Reba Rambo-McGuire, Beth Moore and others, took to social media to answer the call for prayer.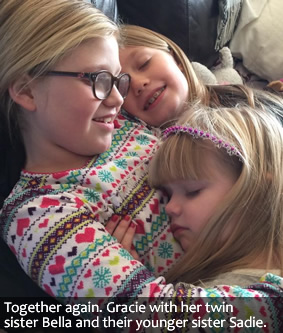 On Monday, December 28, Grant, posted this hopeful update:
"I am overwhelmed by all of your prayers and love for my Gracie-girl. She's still in the ICU with pneumonia, RSV and partial collapsed lung, and all of this sent her asthma in to overdrive. She's exhausted, I'm exhausted but we know that God is completely in control, and we have peace in the midst of chaos. A few hours ago, Gracie's breathing finally started showing signs of improvement!!! So thank you for your continued prayers."
Visit
Natalie Grant
on Facebook for continued updates on Gracie's condition.