Sometimes it takes a song to say what we can't otherwise express. Whether uniting people who can't see eye to eye, or getting past all our self-protective layers to admit our deepest need, songs help us communicate the kind of honesty that is difficult to put into words.
Perhaps that is the reason some of the most beloved songs in history have been prayers. The examples are numerous but here we highlight a few songs that have served as collective prayers for a nation and the entire world.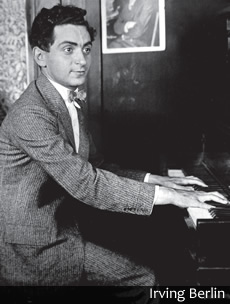 In 1918, Irving Berlin began writing one of America's most treasured prayer songs, "God Bless America." He put it away for 20 years before revising the lyrics we know today and since that time this prayer has been woven into the fiber of our nation's history again and again. It was sung in the early days of the Civil Rights Movement, at labor rallies, during political unrest, and was played as NASA's final wake up call for the space shuttle Atlantis, capping the 30-year shuttle program.
But we will never forget the day America mourned in the wake of three deadly terrorist attacks on September 11, 2001, when the United States congress spontaneously broke into song on the steps of the Capitol building:
"God bless America, land that I love. Stand beside her and guide her through the night with the Light from above."
Television viewers were speechless as this normally divided group of politicians sang this prayer, suddenly keenly aware that even our greatest human efforts were not enough to endure this tragedy. Celine Dion later performed the song in a television tribute to the 911 victims and families, and its message continues to have a uniting effect on a nation as diverse, perhaps, as any nation in the world.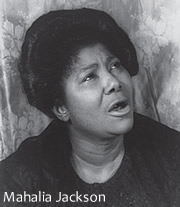 "Precious Lord, Take My Hand" was written by Thomas Dorsey during a time of inconsolable grief over the death of his wife and infant son. This powerful, honest cry for divine strength has moved individuals all over the world and has been recorded in more than 40 languages. It was Martin Luther King Jr.'s favorite song, and Mahalia Jackson often sang it at civil rights rallies and, at his prior request, she sang it at his funeral. This hymn was included in the list of Songs of the Century by the Recording Industry Association of America and the National Endowment for the Arts, and it has been recorded by countless artists from every genre, including Elvis, Tennessee Ernie Ford, Little Richard, Roy Acuff, Gladys Knight, Faith Hill and, most recently, by Ledisi in the movie
Selma
.
Country legend Kris Kristofferson wrote one of the most universally loved prayer songs in the world, "Why Me, Lord?" He admits he was not much of a church-goer, and certainly not a believer, before the day he attended a life-changing church service at Evangel Temple with Connie Smith. During that service Larry Gatlin sang, "Help Me," and Kris soon found himself weeping at the altar. No one was more shocked than Kris at the effect that moment had on him, but he says he couldn't ignore the overwhelming release that that came with forgiveness. He wept, and surrendered. And that very afternoon, his famous song of gratitude "Why Me, Lord?" poured from his brand-new heart and has moved countless listeners since that time.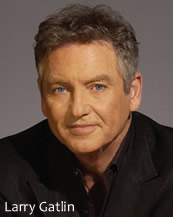 The song Kris heard at church that day, "Help Me," is another beautifully honest prayer song that Larry Gatlin wrote when he was struggling through a difficult season in his own life. The lyric begins,
"Lord, help me walk another mile, just one more mile. I'm tired of walkin' all alone…"
Larry Gatlin reflects on the day he wrote those words: "I was sitting on the dressing room floor of Dottie West's bus. She had flown home from wherever we had worked the night before. I was feeling pretty low. Everybody in Nashville who had heard me sing my songs had told me that I was gonna be a big star. It hadn't happened yet and I'd already been in Nashville for six months, so I figured that it wasn't gonna happen… that my life and my fledgling career were pretty much over. I was holding my guitar in my lap. I picked it up and just started pouring out my feelings over the guitar strings and onto the rug in Dottie's dressing room."
Larry adds, "…The words and melody are very simple, and the message is not unlike the message in any number of songs. Maybe that's why it has rung true with a lot of folks over the years. For whatever reason it has, I am grateful. I am even more grateful to God that He used 'Help Me,' just a little bit, to inspire my dear friend Kris Kristofferson, to write one of the greatest, most moving, most heartfelt, and most listened to songs in the history of the world … I guess my life and my little fledgling career weren't over after all. God works in mysterious ways."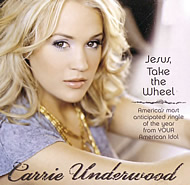 More recently, country superstar Carrie Underwood released "Jesus, Take the Wheel" in 2005. The song, penned by writers Brett James, Hillary Lindsey and Gordie Sampson, tells the story of a woman taking a snowy drive to Cincinnati with her baby in the backseat and, after a near miss that didn't leave a scratch on her or her baby, she asks Jesus to take control of her life. The chorus is a prayer we hopefully all have prayed (or will pray) at some point in our lives:
"Jesus, take the wheel. Take it from my hands, 'cause I can't do this on my own. I'm letting go, so give me one more chance. Save me from this road I'm on…"
Carrie Underwood later stated, "After I released 'Jesus, Take the Wheel,' people started saying, 'Oh, it's kind of risky. You're coming out with a religious song.' And I was thinking, 'Really?' I grew up in Oklahoma; I always had a close relationship with God. I never thought it was risky in the least. If anything, I thought it was the safest thing I could do."
Apparently it struck a chord in a lot of hearts, because it spent six weeks at number one on the
Billboard
Hot Country Songs chart, won Single of the Year at the Academy of Country Music Awards, and was awarded two CMT awards in 2006 for Breakthrough Video of the Year and Female Video of the Year.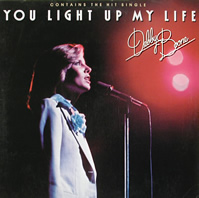 During the 1970s, the most popular single of the decade was one that many people thought was a love song, but Debby Boone sang "You Light up My Life" as a prayer. Written by Joseph Brooks, the song topped the
Billboard
Hot 100 chart for a (then) record 10 consecutive weeks.
Debby Boone told
Homecoming Magazine
, "The first time I heard a demo of 'You Light Up My Life,' the words just felt like a prayer to me. I knew it was a romantic love song written for a movie, but especially the chorus expressed the way I felt about God's love in my life. I think simple love songs can be interpreted in a variety of ways and express feelings in all kinds of relationships, which is why it resonated with so many people. For me, it is God's love that lights up the darkness, gives me hope, and never leaves me alone."
Songs directed to God have also made a powerful statement on Broadway. "Bring Him Home" is a heart-wrenching prayer sung during a pivotal moment in
Les Miserables
that express the prayer most parents have breathed for their own children at some point (probably many points) throughout their lives. Similarly, the blessing in
Fiddler On the Roof
expresses every parent's hopes as they entrust their grown children to the Father.
All these important songs remind us we are not alone and invite the Presence of the Almighty into our humanness. He is constantly communicating with us and drawing us to Himself, if only we are paying attention. These songs have helped us pay attention.
To the songwriters whose pain and brokenness resulted in these (and many other) heartfelt prayers, we thank you for giving us the words and music to express our own need for Christ. Even in the middle of your most profound pain or fear, you shared with us — with the entire world — a hope that is way beyond you. For that we are profoundly grateful.