Since the early '90s, Nashville music insiders have known Angela Primm as a top backup singer. She's recorded or performed with artists including Aretha Franklin, Andraé Crouch, Barbara Mandrell, Reba McEntire, Dolly Parton, Bill Gaither and even the late Vestal Goodman. It was a vocation she loved, and she'd fit it neatly into her life. Until Bill Gaither tapped her on the shoulder: "Angela, would you like to go on the road?" Primm quickly agreed, and asked who she would be backing. "No. As a soloist." Uh ... the vocalist thought through her musical heritage and church repertoire and asked how much of it Bill wanted: "Bring it all and we'll decide what fits."
As Homecoming fans have discovered in recent years, Angela has indeed brought a whole lot to the tour — and not just her powerful voice. Beyond even her throaty laugh, her megawatt smile, her gigawatt wardrobe and her infectious joy, Angela has added new rhythms and fresh phrasings to an expanded Homecoming musical palette. And now there's
Spirituals: The Songs of Mahalia Jackson
.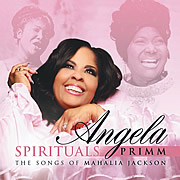 "Her passion for the gospel has so inspired me. She was willing to pull out all the stops to convey the message." And sure enough, the ingredient used most sparingly on Angela's new CD is
stops
. There's whoopin' and hollerin' on her "Walk in Jerusalem," shoutin' and wailin' as she (and husband John) "Found the Answer," cryin' and whisperin' for "Sweet Little Jesus Boy," and on and on through all 10 songs until Angela unfurls the "Battle Hymn of the Republic." No collection of spirituals is complete without "Precious Lord," "Just a Closer Walk With Thee" and "Come On Children," and with the Hammond organ alternately purring and growling, these standards have never sounded more vital.
Yet there are surprises here, too. Amid the celebration, the thanksgiving, the pleas and the praises, Angela includes one song from the pen of German Presbyterian Elisha A. Ho man: "Is Your All on the Altar?" "In these times nowadays, they don't ask that question. Sacrifice? Do we even have altars in the churches anymore? I'm old-school, and I want to sing an 'altar-call' because that's where God speaks to the heart." And while we're down on our knees, Angela offers the plain-sung and penitent "Evening Prayer." All in all, though the CD may not run as long as a down-home revival meetin', by the time the last "glory, glory hallelujah" is sung, you will have had church with Angela Primm.
Visit the very, very pink
AngelaPrimm.com