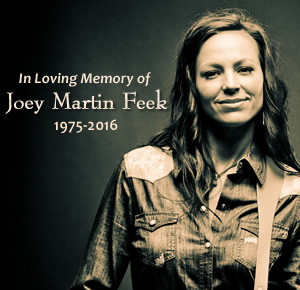 A public memorial service remembering country/gospel artist
Joey Martin Feek
will be held on Sunday, March 13 at 2:30 p.m. in the Alexandria-Monroe High School gymnasium. Bill and Gloria Gaither will host the service, along with Rev. Jerry Young and Mike Owens. Rory Feek, his daughters, and members of the Martin family will be in attendance, and are exceedingly grateful for this community's outpouring of support throughout Joey's life and most recently during her illness.
Bill Gaither commented in a
press release
this week, "Joey was one of a kind. We all will miss that sweet, transparent spirit."
Also on March 13, RFD-TV will present a televised tribute to Joey, scheduled to air Sunday evening at 9:30 p.m. ET/8:30 CT/7:30 MT/6:30 PT. The program will be hosted by RFD's Christina Loren, and Bill Gaither will also appear, talking about his personal ties with the Feek family. This will not be a recording of the memorial service, but a separate tribute program honoring Joey's life.
Click
here
for more information about Joey's life and legacy. Condolences may be posted at
this link
or mailed to the following address:
PO Box 5471
Vancouver, WA 98668