After more than 50 years as a recording artist — with detours into real estate, publishing, television, direct-mail and studio and theater management — the 75-year-old Ray Stevens is … a) releasing an all-new, 12-song gospel CD, b) publishing his music business memoir, and c) starring in a movie. Speaking from the set of the film
Camping Buddies
, the man who has built his career on being creatively fearless is more than a little anxious: "It's kinda scary, actually. This scene we're shootin' calls for a big crow — technically a trained raven — to fly in and land on my head. Lord, if you can't help me, please don't help that crow!"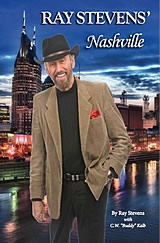 Chapter one in his forthcoming book,
Ray Stevens' Nashville
, opens thusly: "Everyone born in a mill town in rural Georgia in 1939 had a few solid pillars in their life. There was family, church, baseball and the radio." Ray has tried to stay anchored in those small-town values, and is doing all he can these days to revive an appreciation of this rich heritage.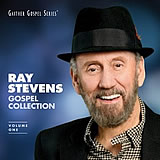 So, it makes sense that his new
Gospel Collection
CD would feature classic hymns including "The Old Rugged Cross," "When the Roll is Called Up Yonder," "Old Time Religion" and "Onward Christian Soldiers." But just because he sings these songs earnestly, doesn't mean Ray Stevens has made a boring album. There's an
a cappella
break in "Down By the Riverside" which could be mistaken for the Gaither Vocal Band. And "Swing Down Sweet Chariot" will make you wonder if you're hearing the Sons of the Pioneers — complete with thunder-and-lightning and wild-horse sound effects.
"Well, uh, they're all me." Asked to identify the many harmonizing voices on his new CD, Stevens admits to singing every note his own self. No female vocalists at all? Some of those harmony notes sit way up on top of the register. "Yeah, I had to stand on my tippy toes to do that high harmony." And, of course, there's a fiscal angle to this decision: "I'm the cheapest guy I know, and as a producer, I was the best back-up singer in my price range."
But it doesn't stop with stacks of vocals. The piano-playing writer/producer/ arranger/performer has layered on a veritable cornucopia of instruments — lots and lots of strings, a robust horn section, a
brigade
of saxophones, and a growling Hammond B3 organ played through a whirling Leslie 760 speaker. "Who says you can't use the entire orchestra? I wanted to pull out all the stops, and we worked long and hard on this album."
Working long and hard is a recurring motif in Stevens' memoir. Of course, he wasn't
born
Ray Stevens. No sir. That stage name was given to him years later by a music-label executive. No, the funnyman entertainer was born to a millworker father, one Willis Harold Ragsdale and his bride, Frances Stephens Ragsdale. They named their firstborn Harold Ray, and the little fella wanted to be like his father: "My dad grew up on a farm and ... as a kid, he hitched up a team of mules and plowed." The adult Willis Ragsdale worked in a Coats & Clark textile mill during the war years, but his son reckoned it was on the company baseball team that Willis contributed most. Young Harold Ray "went to school, went to church on Sundays and Wednesday evenings, but we spent more time hanging around the baseball field than any other place. My dad and his friends, like 'Bully' Coalson, were stars and local heroes and I wanted to be a baseball player just like them when I grew up." But mom Frances had other plans: "She insisted on piano lessons when I was 6. Mom not only insisted on the lessons, but required at least one hour of practice each and every day." So Harold Ray Ragsdale worked hard on the piano, and never did play organized baseball.
The artist formerly known as Harold had a musical epiphany one day: "… all of the little grey cells in my brain aligned with the musical cosmos and I sat staring in surprise at the keyboard. The keys, my hand and my brain all said, 'Hey, I see how this works! I get it!' It struck me like a flash of light!" When dad Willis got a promotion and transferred to Albany, Ga., 10-year-old Harold Ray found the bigger-city school band room chock-full of instruments. "I started out on clarinet, then tried baritone, trumpet, drums and even tuba. I loved music and wanted to learn everything about it. It was in Albany where I first became known, and thought of myself, as a musician. It wasn't long before I wanted to form my own band." Which he did. They called themselves "The Barons" and were soon playing for money. Young master Ragsdale was arranging, playing and singing music professionally while still in high school.
The Ragsdale family's move to Atlanta — another promotion for Willis — the summer before Harold Junior's senior year of high school put him in proximity of bigger opportunities. His Sunday school teacher at Clairmont Hills Baptist Church was a local radio station manager and disc jockey who introduced the young musician to legendary music publisher and record-label entrepreneur Bill Lowery. That 1957 introduction quickly led to an artist contract, two Nashville recording sessions and a regional hit for the first song young Harold ever wrote, called "Silver Bracelet." On the label of that 45-rpm single, the artist was listed as Ray Stevens. Capitol Records "didn't think Ray Ragsdale had marquee value. I said my mother would not take very kindly to me or anyone else changing my name, so they asked, 'What's your mother's maiden name?' I told them 'Stephens' and they said that was fine." Who knew major record companies weren't very good spellers?
Over the next 57 years Harold Ray Ragsdale/Stevens got married, raised a family, played and wrote and sang and arranged and recorded and toured and built and bought and sold and painted himself across the American cultural landscape. Though known as a comedian, his biggest hit was the song he wrote and sang entitled "Everything is Beautiful." Though thought of as a singer, he was a first-call studio musician in both Nashville and Muscle Shoals. Though claimed by country and pop audiences worldwide, Ray Stevens' newest CD ends with what can only be classified as an Invitation Song: "Brother, if Jesus is a stranger, get yourself introduced." For all the success, recognition and rewards of a long career, Ray knows when all is said and done, it is only the Gospel message that really matters.
Visit RayStevens.com