For many of us, the familiar passage of scripture in Mark 10, about accepting the Kingdom of God as a little child, is frequently used as a morsel of truth to lean on when faith gets tough. But for Homecoming Friends Reggie and Ladye Love Smith, it's the foundation on which they plant both their family and their career.
This simple notion of living life with a childlike faith was the idea that inspired their song "Thank You Lord" back in 2012. In fact, it
was
a child. Their young son, Bret.
"Every night before we put him to bed, we would stop and thank God for at least three good things He did for us that day," Reggie recalls. "It's easy to complain about all the bad things that surround us on a day-to-day basis. We really just wanted to stop and set an example of thankfulness for our son. Whether it be for Mom and Dad, or for Grandma, or even the dog or a new toy. There's always something to be thankful for."
The song was birthed out of those innocent bedtime prayers with Bret, and has since gone on to become a staple for the gospel music power couple.
"It's actually Bret who sings the song on our album," Reggie laughs. "We just provide some harmonies on the chorus!"
Fans aren't the only ones who have been impacted by "Thank You Lord," which is also the title track off the couple's upcoming live DVD project, recorded in Illinois late last fall.
"Ladye and I began partnering with Franklin over at the Billy Graham Association a number of years ago," he explains. "One of the first people we really connected with was Cliff Barrows, who has been the musical director with the association for decades. You want to talk about a man who exhibits love and grace in everything he does? The man is an inspiration — and sharp as a tack!"
Reggie and Ladye Love sent the Graham musical legend, now 91, a rough sample of the infant song to gather his input. Little were they expecting such an overwhelming response. A deeply moved Barrows spoke highly of how powerfully it ministered to his soul. So much so, that he personally sent a copy to well-known pastor and
The Purpose Driven Life
author Rick Warren after the tragic passing of his son Matthew last spring.
"We always prayed that our music would go beyond borders and reach others, but we never expected it to impact such influential people the way it has."
Barrow's impact on the duo runs deep. So deep in fact, that when it came time to record the DVD, he went above and beyond to offer Reggie and Ladye Love his personal seal of approval.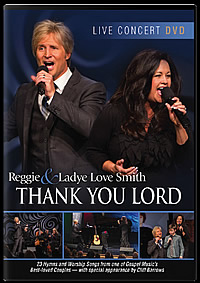 "We asked if he would record a short greeting on camera back in his home state of North Carolina, just to play on the video screens and welcome those who would be in the audience for the filming that night. He gave us the greeting, and went on to speak on camera about every song on our
Thank You Lord
project, and how each one had impacted his own relationship with God."
The video material was spliced up, and is now featured on the live DVD. Barrows' thoughts and stories are sandwiched between songs and stories from the couple's live performance.
"We're really proud of how it turned out," Reggie says of the 23-song DVD, which includes the entire performance.
Described as a step away from their typical bluegrass-gospel sound,
Thank You Lord
has more grandeur with a heavier lease on production and the implementation of classic instruments, such as keys and strings.
Whichever way these two approach their musical ministry, one thing is for certain: It is clearly impacting lives.
"Ladye and I honestly believe the reason God put us on this planet is to encourage other people. That's what we aim to do, and pray it's what our music does."