"All our kids were born in Tennessee." Guy Penrod, the tinsel-haired gospel singer, talks about why he included Amy Grant's "Tennessee Christmas" — a song he calls "Tender Tennessee Christmas" — on his new 15-track CD entitled, simply,
Christmas
. "My wife Angie labored with our fourth-born, Jesse — our December baby — to that song repeating over and over on the CD player." Talk about making a memory at Christmas. If you've been keeping score at home, there have now been eight little Penrods bounced into the world — and they all live in a Volunteer state without toboggans.
"This will be the 28th Christmas we've celebrated in Tennessee, and our five youngest were born down on this place we live in now." So at a time of year when touring slows down, when the air has a chill and the fireplace roars, the Penrods remember Jesus' birth together at home.
The CD booklet for
Christmas
even offers proof: a photo of Guy and Angie with Tyler, Logan and Joe (all now in college), Jesse, Levi, Grayson, Zach and the youngest, third-grader Lacy, in the studio. "My kids all sang with me on "The Twelve Days of Christmas." We pray these timeless songs, with Michael's beautiful orchestration, will become part of everybody's Christmas tradition."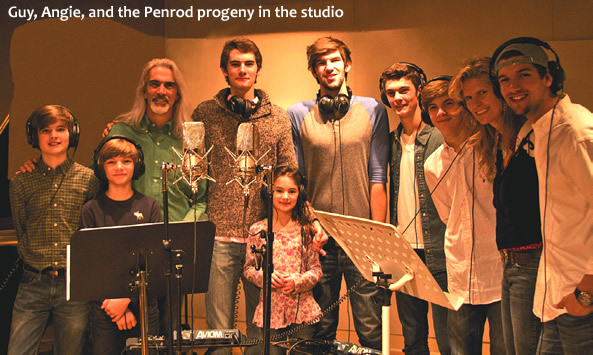 Michael who? Think Omartian. The legendary Grammy-winning pop producer with number-one hits in the '70s, '80s and '90s, who has also become a Tennessee resident. "It was a real highlight to me, artistically, to work with Michael Omartian. Just reading the list of artists he's produced and hit records he's made is almost intimidating … but he's been just a pleasure to work with, and
sooo
creative." The creativity Penrod alludes to comes out on this CD in ways playful, evocative, down-home, lush and plainsong. It would take a rare musical genius to mix fiddles, accordions, jazz and pedal-steel guitars, a smokin' horn section, an Andrews-Sisters-sounding background group — sometimes
a cappella
, sometimes phase-shifted — bathe them all in a rich lather of strings, and still have them sound like they belong together.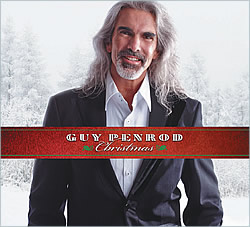 But for all that sonic wizardry, this
Christmas
is, if not conventional, still strongly
traditional
. The recording starts with three secular songs in a row. Nary an angel, shepherd or babe in hay. Of course, eight of the 15 songs here are sacred, but then so much of a typical American Christmas includes musical memories of sleigh rides, winter wonderlands and roasting chestnuts.
Of course after the last "Auld Lang Syne" fades out with the holiday embers, Papa goes back to work supporting that homeschooling momma and their brood. As an itinerant musician, Guy is in the unique position of fellowshipping and worshiping with many different churches across the USA and Canada, and even some points beyond. He has observed trends musical and relational, and is on a mission to nurture what Jesus prayed for His followers:
unity
.
"I feel the church needs to come together." There's enough divisiveness in the culture these days, requiring deliberate effort to keep it out of the church. "I like to congratulate the older crowd for having come into this new worship style with just words on a screen, full bands and praise teams and no notes on a page to help them learn the melody. They've very kindly made this transition from what they had been comfortable with. But I also challenge the younger ones with this: remember to not forsake the wonderful, hard-fought heritage that's penned into a lot of these hymns. Because if you don't know where you've come from, you won't know where you're going. There's a lot of rich theology and philosophy in the best hymns ... you can actually
learn
from them."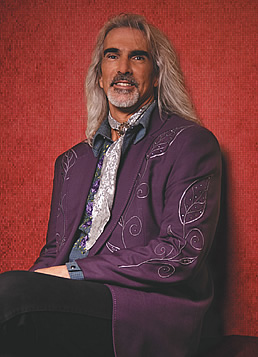 And so, this October, Guy shot a live concert specifically designed to blend contemporary
Worship
with
Hymns
. "I tell folks we need to start practicing as the church, on this side of heaven, to get along. One of the obvious ways to do that is through our worship — because in heaven we won't have an 8:30 old-folks' service, 10:30 middle-of-the-road and 12 o'clock rock-n-roll. We'll all sing
together
around the throne."
Guy and Angie Penrod will retreat to the farm again this Christmas, cheeks nice and rosy, comfy-cozy with their seven strapping lads and their Lacy daughter. Then after the eggnog, fruitcake and ham have dwindled, Guy will be on the road again, with a microphone, sweetly singing o'er the plains. From January through November he will labor to bring about the incarnation anew wherever he goes. "Every night. Every concert. Every audience is given the opportunity to come into the family of God. I make an unequivocal, heartfelt appeal to remember and receive the precious gift of Jesus."
Enjoy this preview from Guy's
Christmas
!