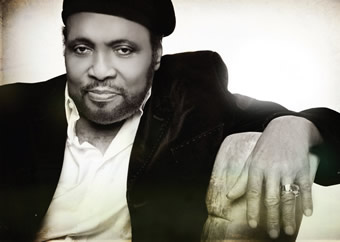 Musical giant
Andraé Crouch
passed away on January 8, 2015, after suffering complications following a heart attack five days earlier. He died surrounded by family at Northridge Hospital Medical Center in the Los Angeles area. Andraé was 72 years old.
Crouch was a welcome member of the Gaither Homecoming family and appeared in a number of Homecoming videos, including
Kennedy Center Homecoming
and
A Billy Graham Music Homecoming
.
Often referred to as "the father of modern gospel music," Crouch was a gifted singer, songwriter, arranger, recording artist, record producer and pastor. Despite a lifelong struggle with dyslexia, his prodigious talent spanned multiple musical genres and reached across cultural, racial and even spiritual boundaries.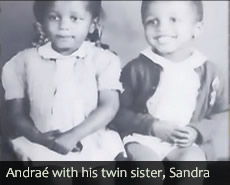 He was born in San Francisco in 1942, and his giftings became obvious early in childhood. When his father began preaching in a small rural church that had no musicians, Andraé stepped up and began playing for them at age 11. He wrote his first gospel song at 14, and formed his first band (The Cogics) at age 18. He wrote dozens of songs, including the gospel standards "The Blood Will Never Lose Its Power," "My Tribute (To God Be the Glory)," "Soon and Very Soon" and "Through It All."
Crouch was instrumental in the success of many gospel artists including Jessy Dixon and BeBe and CeCe Winans, and his talent and generous heart earned the respect of musicians in every genre. In addition to his extensive achievements in the gospel world, Crouch worked with icons including Quincy Jones, Michael Jackson, Diana Ross, the Commodores, Elton John, Ringo Starr and Madonna. Elvis Presley performed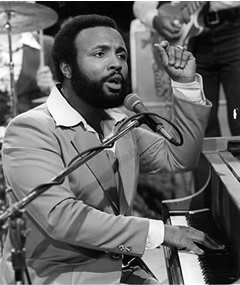 his song "I've Got Confidence" for a 1972 gospel album, and Paul Simon recorded "Jesus Is the Answer" for a 1974 live album. Crouch also made musical contributions to several films, including
The Color Purple
,
The Lion King
and
Free Willy
, and he was the only living gospel performer to be given a star on the Hollywood Walk of Fame. Throughout his five-decade-plus career, Crouch received nine Grammys, multiple GMA Dove Awards, ASCAP and Billboard awards, an Oscar nomination and many other honors, and he was inducted into the Christian Music Hall of Fame in 2007.
Homecoming Friends now give tribute to the gospel legend Andraé Crouch
...
Reba Rambo McGuire:


Some gifts are simply forged in heaven.

In 1952 in the middle of a small church gathering, Rev. Benjamin Crouch laid hands on his young son Andraé and asked him, "Son, if God gave you the gift of music, would you use it for His glory all your life?" A painfully shy, prone-to-stuttering Andraé simply answered, "Yes, Daddy." About three weeks later at the same tiny chapel, the saints were singing a cappella "What a Friend We Have in Jesus." Rev. Crouch motioned for Andraé to go to the dusty old upright piano, and somehow the child's trembling legs obeyed. "My fingers had never touched a real piano," Andraé said. "Somehow I found the tonic note, and my ears just popped open. I started playing, just like that, with both hands! Then the little songs began to come ... and they never stopped."

When Andraé was 14 years old, he, along with his twin Sandra and friend Billy Preston, was invited to a cookout with many other artists and songwriters. Andraé, too bashful and intimidated to make his way to the backyard for the party, gazed longingly out the picture window wanting to fit in. "Lord, I wish I could write a real song like so many of these folks can," he prayed.

From his mouth to God's ear.

He noticed the host slathering barbecue sauce on the ribs and somehow began thinking about the blood of Jesus. The piano in the open den began to woo him, and within five minutes he had penned his first complete song, "The Blood Will Never Lose Its Power."

So many times, through horrific battles in life, Andraé's mantra has been, "I plead the blood!" Through the deaths of his beloved parents and older brother Benjamin Jr., to the physical battles of diabetes, congestive heart failure and multiple bouts of cancer — he has always lifted his unrelenting voice in praise.

Andraé wrote many of his beloved songs right on a stage or platform during moments when he was swept away in worship. He had a way of seeing and hearing Jesus above the noise of the masses and getting lost in intimacy with Him while the heaven-dipped notes and words flowed with abandonment. This African-American kid from the wrong side of the tracks, with no formal musical education whatsoever, ushered millions into the very presence of God. He understood that through it all, to God be the glory for the blood will never lose its power...

This gift was forged in heaven.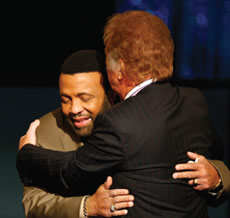 Bill Gaither:


As fellow writers, Gloria and I hold no one in higher esteem than Andraé Crouch. Of the few, rare, originals in our field, Andraé is certainly at the top of the list. I am often asked what my favorite gospel song is, and Andraé's song "Through It All" is almost always the first song that comes to mind. Those three simple words so powerfully describe the journey of those who follow Christ.We have lost one of our very best.

Gloria Gaither:


Bill and I were so sorry to lose the physical presence of Andraé Crouch from this earth and from the circle of gospel singers and songwriters, because he has been a real presence, a gentle powerful presence. But we will never lose the voice of his words and music. No, these inspired songs will bring a lifeline to rescue our hearts as long as people hurt, celebrate in gratitude, or need courage to go on. Long before drones, songs have been dropping packages of hope right on the target of our need. Andraé's God-given genius was a convergence of so many streams; he personified fusion, bringing together musical and worship styles; he gave us a language we all thought was our own.

Buddy Greene:


I was a huge admirer of Andraé Crouch, both as a songwriter and a performer. His songs speak for themselves — so many great classics. I got to see him perform three times, all in the later part of his career. The first time was at the Cove, as part of a Homecoming video taping. He and CeCe Winans electrified the crowd of musicians and singers gathered there that day. It was church at a high, emotional level. A few years later, he was a part of the Carnegie Hall video, and again did what only Andraé could do as he sat at the piano and performed "Through It All" and other great songs he had written. Finally, a few years ago, Jeff Taylor and I were in Norway where we had arrived early for a festival. We got to see Andraé have church with a Norwegian audience, and believe me, there was no cultural, racial or language barrier that could keep him from connecting with that audience. He was brilliant, and they loved him. We all owe so much to performers like Andraé, and we'll miss him.

Woody Wright:


I first heard Andraé's songs on Oak Ridge Boys and Downings records, and I thank God for his influence on my life and songwriting.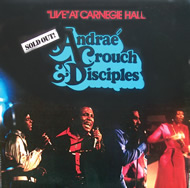 The Andraé Crouch & the Disciples Live at Carnegie Hall LP had a huge impact on my musical upbringing. On that record, near the end of side two, the recording took on quite an exciting spiritual groove. Andraé says on the recording, "I want the ushers to close the doors, we're gonna be here for a few more minutes!"

When we did the Carnegie Hall Homecoming video in New York in 2001, I passed by Andraé before the show in the green room. I had the same teenaged, awestruck feeling that I had when I saw him at Nashville Municipal Auditorium in the '70s. When we took our places on the stage at Carnegie Hall that night, I was thrilled to be seated behind Andraé.

I don't recall who was singing, or what song, but I do remember the atmosphere of the room being electrified and the whole room was standing in wild applause. I leaned in to Andraé's shoulder and said in his left ear, "I want the ushers to close the doors, we're gonna be here for a few more minutes!" With his classic grin, Andraé said, "You don't forget nothing, do you?" He was right. I'll never forget!

Solveig Leithaug:


Since I was 13 and heard him for the first time with the Disciples at the Grieghallen in Bergen, Norway, Andraé Crouch has been one of my favorite composers. I am thankful to remember how our paths crossed many times both in the USA and Norway at all kinds of concerts and events. In 1986 I had chosen black gospel as my thesis as a radio journalism student in Norway and Andraé kindly welcomed me to his home in Woodland Hills, California, to be interviewed for it. What a humble servant, a genius songwriter, generous performer, genuine encourager and true worshiper!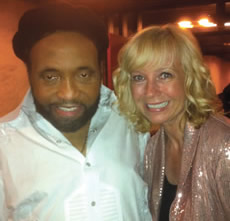 In 2007, Andraé had somehow gotten a copy of my album Worship You, and I about fainted when he told me at the Grand Ole Opry after a Gaither DVD taping that he had been listening to the first three songs on repeat for weeks. Never did words of encouragement reach my heart so deeply as Andraé's, perhaps since his songs, more than any others, had been such an important tool to help me connect with God and provided a soundtrack of sorts to my life for both happy and harder times.

What many in the USA may not know is that Andraé's songs have been sung by hundreds of youth choirs throughout Scandinavia since the '70s. Andraé continued touring often in the Nordic region and had a vast, faithful following, selling out the venues even on his last tour in 2011, of which I was so blessed to be a part. He was frail, but simply gave everything he had every night.

This photo is from June 26, 2011, at the beautiful Oslo Konserthus (Concert House), just after his (and our) last concert in Norway, which took us to Stavanger, Kristiansand and Oslo, Norway.

I am so blessed to have encountered Andraé, and forever grateful to my brother, who played Crouch LPs loudly in our home when I was just a kid in elementary school. His music and memory will live on around the world! Rest in peace, brother Andraé! To God be the glory!

Lynda Randle:


What a privilege it was to have had this gospel legend play for me at Carnegie Hall many years ago. We were all so very blessed to be a part of Bill Gaither's amazing Homecoming video there in New York City. I never imagined in my wildest dreams, growing up listening to Andraé Crouch's music, that I would ever share the same stage with him, let alone have the incredible privilege of sharing this song together! All I can say is that I will never forget it. Thank you, Andraé, for lending your gifts and talents to the Lord and to me. You will be greatly missed! Thank you for the long-lasting legacy of good old gospel songs.

Russ Taff:


The first time I met Andraé, I was 18 years old and my little band, "The Sounds of Joy," opened for him at a festival in Oklahoma City. I was the ultimate Andraé fan. His lyrics were simple, profound and unforgettable. His vocal delivery was smooth and soulful, full of emotion. My very first date with Tori was to an Andraé Crouch and the Disciples concert in Hot Springs, Arkansas — and while I can't say for sure that's the reason she fell in love with me, it sure didn't hurt!

When I joined the Imperials, we got to perform with Andraé a couple of times, and after I went solo our paths crossed even more. But it wasn't until we started touring Europe together that I was able to get over being star-struck and just hang out and get to know him a little bit. He was an easygoing guy to travel with, but he was ALWAYS running late. I can't tell you how many times we would all be sitting in the lobby of a hotel waiting for him to come down so we could get on the bus or catch a plane, and find out that once again, Andraé had slept through his wake-up call. Some poor road manager would have to run up to his room and try to hurry up and throw everything in a suitcase so we could get out of there. Andraé would eventually stroll o the elevator, innocently smiling and still yawning — but you just couldn't get mad at the guy!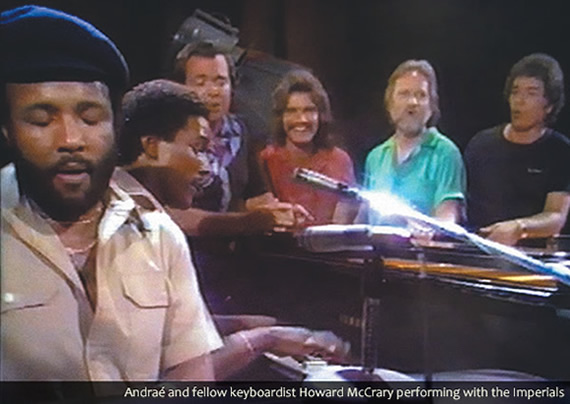 Like a lot of artists, Andraé was kind of an introvert off stage, but when he sat down at the piano, he came alive. On those European tours we played every kind of venue, from a nightclub in Helsinki to a sports arena in Sweden, and Andraé gave the same show everywhere we went. He was not ashamed of the gospel of Christ, and there was a real call to the ministry in him. It's hard to picture a world without Andraé, but thankfully, as long as there are voices being lifted in praise to God, his glorious songs will live on forever.

Tanya Goodman Sykes:


I can still remember how the rain felt on my skin that day. I was 15 years old, and my friends and I had driven to Wilmore, Kentucky, to attend the Ichthus Festival at Asbury College. We were beyond thrilled because Andraé Crouch and the Disciples were headlining that year. There was a steady drizzle the entire drive up, and just before Andraé took the stage, it gave way to heavy rain, but it didn't dampen my enthusiasm. There was a palpable sense of excitement in the air that day as an entire hillside of dripping wet, mostly teenagers sang along — "Jesus is the answer for the world today…" Truly, I have never experienced anything quite like it before or since. And I certainly have never stood in the pouring rain to hear anyone else.

Andraé's music informed an entire generation of writers and artists that came after him. It definitely made a mark on me. To this very day, those early songs are the first that come to mind in times of trouble: "Through it all, through it all, I've learned to trust in Jesus, I've learned to trust in God…" "I've got confidence, God is gonna see me through…"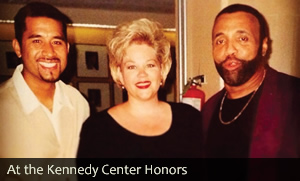 Down through the years, I was privileged to cross paths with him at concerts, video tapings and award shows. Each time, I came away encouraged and inspired. Thank you, Andraé, for sharing your passion, your music, and for reminding us, "Soon and very soon, we are going to see the King."

Ivan Parker:


God had placed something special in my heart at a very young age that made me want to sing and listen to gospel music. I wanted to hear a heartfelt message that had soul and rhythm. Then I came across "Andraé Crouch and the Disciples" and they provided every ingredient from the songs to the stage at Carnegie Hall. His music and lyrics became a part of my life as a teenager and will continue to inspire each of us throughout our journey. Thank you, Andraé, for taking us to church so many times with your God-given talent. To God be the glory!

Dony McGuire:


I've had the honor of knowing Andraé Crouch for the past 45 years. Needless to say, his impact on my life has been immeasurable over the years.

Just after he passed, we were in a Tuesday evening Bible study and decided we would reflect on some of his music as a way of preparing our hearts to receive the Word. When we started singing the chorus to "Through It All," tears began to roll down my face as I was taken back 33 years ago to a moment in my life where I had come to realize drug and alcohol abuse was certainly going to get the best of me if I continued down that road.

In what I believe to be the most miraculous moment of my life, I felt the presence of Jesus wash over me and cleanse me of not only the chemicals in my physical body at that particular time, but to cleanse me of the need for them going forward. Since then, there have been so many times I found myself singing these lyrics from Andraé:


I thank God for the mountains,
and I thank Him for the valleys,
And I thank Him for the storms
He brought me through.
For if I'd never had a problem, I wouldn't
know that God could solve them,
I'd never know what faith
in His word could do.

Through it all, through it all,
I've learned to trust in Jesus,
I've learned to trust in God.
Through it all, through it all,
I've learned to depend upon His word…