The Homecoming family bid a sad farewell to a dear friend, George Beverly Shea, who passed away on Tuesday evening, April 16, after suffering a stroke the previous day. At 104 years of age, Mr. Shea was a gospel music treasure who sang in front of more people around the world than perhaps any other gospel artist in history.
How do you summarize 104 years of character ... 104 years of songs, friendships and stories? It isn't easy. But it is simple; because George Beverly Shea's life was built on a few basic principles that he lived out with consistency and class.
He deeply loved Jesus. He genuinely loved other people. That love radiated out of everything he did—through his songs, his words and his kind demeanor. Throngs of people all over the globe felt a connection with him.
George Beverly Shea carried the Gospel in song to all 50 United States and every continent on the planet. During nearly every Billy Graham Crusade over the span of more than one-half century, George Beverly Shea's voice was the voice heard singing before the evangelist spoke.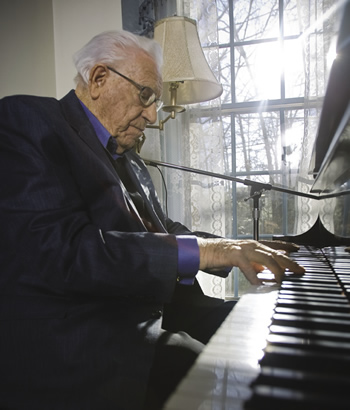 He was the recipient of 10 Grammy nominations, a Grammy Award in 1965, and he was presented with a Lifetime Achievement Award by the Grammy organization in 2011. He was a member of the Gospel Music Association Hall of Fame since 1978 and was inducted into the Religious Broadcasting Hall of Fame in February 1996.
Mr. Shea sang in front of more people around the world than perhaps any gospel artist in history and he recorded more than 70 albums of sacred music. At age 23, he composed the music to one of his best-known songs, "I'd Rather Have Jesus."
His rich voice and commanding presence were matched only by his humble, gracious spirit. The last Homecoming taping in which Mr. Shea participated was the
Tent Revival
taping, held on the grounds of the Billy Graham Library. The moment he arrived, he was like a "people magnet." Everyone in attendance wanted a chance to share with him what his music and life had meant to them over the years. As artists and crew members of all ages found their way to him with their cameras, hugs and kind words, he was gracious and unassuming, even seeming surprised to learn that his life had impacted so many.
This man, who spoke as easily to dignitaries as he did to children, had a way of putting anyone and everyone at ease. He was so approachable, in fact, that Sonya Isaacs got her photo with him while she was still in curlers. Gene McDonald, down on one knee next to Mr. Shea's chair, shared with him how his voice had inspired Gene to start singing when he was just a kid. Crew members and artists alike were eager to meet him, each with a unique story of how this legend had impacted them.
The 60-year friendship and partnership George Beverly Shea formed with Billy Graham and Cliff Barrows is among the many inspiring stories of his life. As young men, their shared passion for taking the gospel to the world formed a bond that would literally take them to the ends of the earth together. They could sit and tell story after story of their years ministering together, and all of those stories would again confirm that this man and his comrades were the real deal.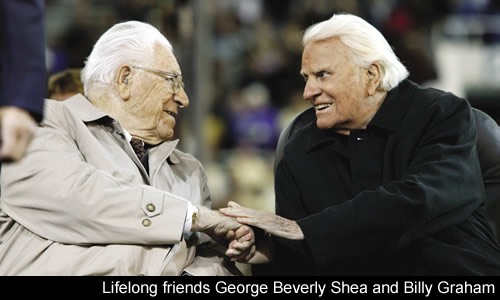 Graham remembers, "I first met Bev Shea while in Chicago when he was on Moody Radio. As a young man starting my ministry, I asked Bev if he would join me. He said yes, and for over 60 years we had the privilege of ministering together across the country and around the world. Bev was one of the most humble, gracious men I have ever known and one of my closest friends. I loved him as a brother."
On April 16, after suffering a stroke the day before, Mr. Shea posted the following message on his Facebook page: "Thank you to everyone for your kind comments, thoughts and prayers. I am resting comfortably with family and friends in God's amazing grace." Hours later, he was in Heaven. Gracious and grateful, right up to his very last hour.
A service honoring the life of George Beverly Shea was held on Sunday, April at Anderson Auditorium in Montreat, N.C., and was open to the public. His funeral was sweet, simple and pure, just like he was; and the music was comprised of his favorite hymns, sung not by any of his world-renowned colleagues, but by friends from his local church. His family shared heartwarming stories confirming that Shea was as genuine at home as fans around the world likely hoped and believed he was.
Both his son Ron and his stepson Steve Aceto spoke about the man they knew and how their two families had come to love each other because of the way he accepted them together. Aceto told the funny story about Mr. Shea coming to him (in Shea's late 70s) to ask if he could have permission to marry his mother. Cliff Barrows did a beautiful job of recounting his seven-decade friendship with George Beverly Shea and Billy Graham and the bond they shared, as well as the range of experiences they braved together. Dr. Billy Graham did not speak at the funeral, but he did attend (although visibly frail).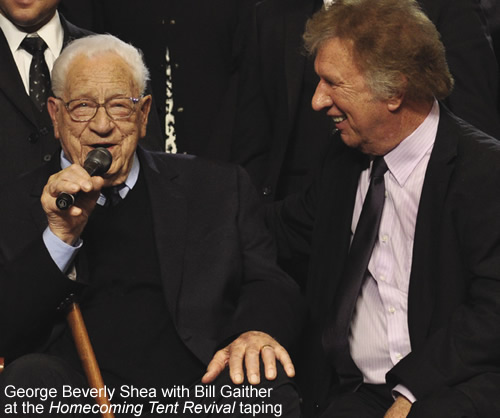 Bill and Gloria certainly will feel this loss acutely, as they have enjoyed a long and treasured friendship with Mr. Shea.
They share the following thoughts on his passing:
"The world is saddened by the passing of the great George Beverly Shea. He was a model of integrity and an icon in the field of gospel music whose consistently godly life spanned more than a century. His recognizably deep baritone voice was synonymous with the evangelical thrust worldwide through more than six decades of ministry with the Billy Graham team.

We will miss his influence and pray that God will raise up many strong voices to fill the gap his passing will leave."
George Beverly Shea was laid to rest on the grounds of the Billy Graham Library in Charlotte, N.C., during a private ceremony on April 22. A memorial website has been set up in Mr. Shea's honor at georgebeverlysheamemorial.org, where visitors can read more about his life, his work and his legacy.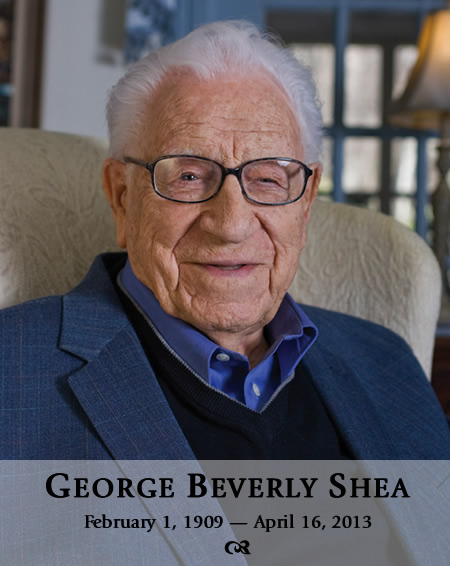 Click here to see more articles featuring Homecoming legend George Beverly Shea