JAKE HESS — pioneer, minister, showman... Nothing but fine. Everybody loved Jake, and Jake loved everybody. A simple way to sum up 76 years of living, but a fitting eulogy for the extraordinary man Bill Gaither described as "Gospel music's finest gentleman."
Morningside Baptist Church in Columbus, Ga., was filled to capacity Jan. 7 as family, friends and fans gathered to say goodbye to Jake Hess. As mourners solemnly filed in and took their seats, they opened the funeral program to see Jake's familiar face smiling up at them, eyes twinkling and trademark wig in place. Family members were lovingly acknowledged as well as the Homecoming Friends, his "family on the road for the last ten years." A brief paragraph on the back cover also offered warm thanks to "those who have been in the audience for the 60 years that made up the musical journey of this gospel singer's life," adding, "You have all been a blessing to our family."
Morningside Baptist's Pastor Bill Shorey was first to speak. He welcomed everyone and offered an opening prayer before turning the service over to the Homecoming choir, who sang the stirring gospel standard "Joy Comes In The Morning."
A distinguished, white-haired man with a cane, Evangelist Michael Guido, told a story about being called to Jake's home in Atlanta in 1957. In slow, measured tones, he spoke of Jake agonizing over a business opportunity tempting him with fortune and fame. Should he take the offer? To every point Jake raised, Rev. Guido gave the exact same answer: "Seek ye first the kingdom of God and His righteousness, and all these things shall be added unto you." After a long night of soul-searching, at 3 in the morning, the two dropped to their knees. "His face bathed in tears and the glory of heaven beaming from his eyes, Jake said, 'Brother Mike, I'm going to seek God and His righteousness and His kingdom.' From that day on, Jake couldn't be bought, compromised or turned away. He gave up everything for Jesus, and he wouldn't give up Jesus for anything."
Rev. Guido concluded by saying, with great emotion, "I've heard people saying, 'Poor Jake,' but that's just not true. I know he is richer now than he's ever been. He's walking down streets of gold with Joyce, singing with the heavenly choir and waiting to join us all in that great meeting in the air. Oh, he's having a wonderful time!" He paused a moment to collect himself and then said with a smile, "Aren't you glad you're a Christian?"
Jake's granddaughter Emily Trotter spoke next. "When I think of Jake Hess, I don't think of the number of Grammys he won or that he was Elvis' favorite singer," she said. "I think of the father, grandfather and great-grandfather we knew. The man who loved loud suits, cracking jokes and the Atlanta Braves. A man who could talk on the phone for hours, and was so pleased when cell phones were invented!"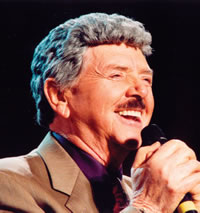 The crowd laughed fondly as she continued. "He never met a stranger. More than anything, he loved the sound of four male voices blending in perfect harmony. And he always said he slept best on a bus." Emily concluded with, "We are all proud of Jake Hess' many accomplishments, but to us, he was just our Daddy, confidante and best friend. And we miss him. But he's not gone forever, only for a summer. He's just out on a trip — singing."
Bill Gaither introduced a video tribute, "The Jake We All Knew." As he looked out at the congregation, he noticed Emily Trotter holding her new son, Jake's only great-grandchild. In a sweetly spontaneous moment, Bill began to softly sing the verse of a song he and Gloria had written years ago for their own son, "How sweet to hold our newborn baby, and feel the pride and joy he gives…" As he reached the chorus, the Homecoming choir stood to their feet and joined Bill in an emotional version of the Gaither classic, "Because He Lives."
As the last notes of the song faded away, a black & white image of a young Jake Hess appeared on a screen at the front and the crowd burst into applause. Jake was surrounded by the Statesmen, singing strong and clear in his inimitable style, "Prayer is the key to heaven, but faith unlocks the door." The next few clips contained Homecoming concert footage — Jake trading quips with Bill about his health and hairpieces, purposely flubbing the lines of a song to the uproarious delight of the audience, and laughing his head off at the antics of a bewigged Mark Lowry. The screen was filled with his unforgettable presence, as picture after picture and song after song reminded everyone once again just why we loved him so much. The video ended with the sound of Jake's voice singing the beautifully appropriate line, "I have met the Master, and now I belong to Him."
Pastor Shorey read a brief passage of Scripture, then spoke of Jake's attitude toward his career and his family, noting the traveling life of a gospel singer. "There is a difference between being 'away' and being 'absent.' Jake was never absent from his family. When he was home, he spent every minute he could with them." The pastor concluded by proudly sharing how each of Jake's children — Chris, Becky and Jake Jr. — had followed in their father's spiritual footsteps.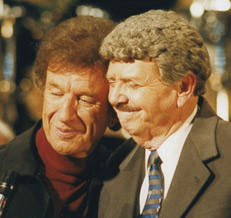 Bill Gaither and Jake Hess were friends for 55 years. As he told the story of this rare relationship, of the boyhood hero who became a lifelong friend, his love and grief were obvious to all. "Gloria has said for the past 15 years, 'I hate to see the day come when the phone rings and the voice on the other end says, 'Jake's gone.' Well, it happened this weekend. Just because we were expecting it doesn't make it any easier."
The Vocal Band sang an inspired version of the anthem, "Where No One Stands Alone," and then Gloria Gaither made her way to the front.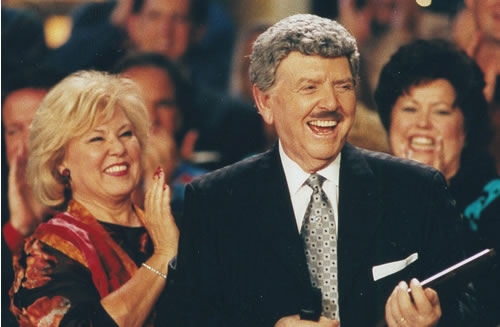 "I heard about an old preacher," she began, "who once said, 'It doesn't matter so much what we did in our life, whether we were famous or unknown, whether we succeeded a lot, or failed a lot—we all make the crossing at the same place.'" Gloria went on to say that when she heard that statement, it reminded her of something her mother had always done. Gloria's mother was in the habit of leaving notes around for her children. She left little messages everywhere, taped to the steering wheel, tacked on the front door, even stuck on a hedge in Disneyland. "Since we all make the crossing at the same place," Gloria said, "I wonder if there will be other people crossing over who might leave notes, besides my mother." Referring to some of the heroes of faith that have gone before us, including Howard and Vestal Goodman, Gloria described an entrance to heaven strewn with notes left for those of us yet to come. "I'll look for Jake's note on the bright side of the path," Gloria said, smiling affectionately. "And when I find it, it'll say, "I'm nothin' but fine — and this time I'm not lying!"
Jake's funeral ended with all of his Homecoming "family" saying their goodbyes the best way they knew how — with song after song of the music Jake loved so well. Jesse Dixon sang "What Are They Doing In Heaven Today?" That was followed by the whole gang on "O Come Angel Band," with Ben Speer, Guy Penrod, Johnny Minnick and David Phelps trading solos. Karen Peck's sweet voice led on "I Will Meet You In The Morning Over There," and the closing song was a triumphant "What A Day That Will Be." Their voices blending seamlessly, the Homecoming Friends sang side by side, swaying with eyes closed as tears coursed down their cheeks, or standing up to belt out a chorus. It was such a wonderful time—the only thing missing was Jake.
Bill read the following tribute at
Jake Hess' funeral service on January 7, 2004

"You're a good singer, Mr. Hess!" I said.

"Well, thank you very much!" He answered, with the biggest smile I ever saw.

Dad and Mom had taken me and my brother and sister to the Ryman to the big All-Night Sing. "You sound like Bill Kenny of the Ink Spots!"

"Well, thank you — that's a compliment!" Jake answered.

Of course, I was talking to him at his record stand; then we bought every 78 RPM they had that night. Little did I know that night would start a relationship that would last the next 55 years.

I continued this relationship as a fan during my high school years, attending as many concerts as possible and buying every new piece of product they had.

By college my brother and sister and I were singing together as a trio. Jake took an interest in us, which continued through the '50s and into the early '60s when I began to write songs. At the end of 1963, Jake took me aside in Kalamazoo and said, "I'm getting a new group together called The Imperials. We'd like to sing some of your songs."

I was so excited! I couldn't wait to hear the first recording of a song I'd written called "Praise for the Lord." On the following project, they did an arrangement Henry had written of "He Touched Me" which has become the definitive quartet arrangement of the song. Elvis even recorded that very same arrangement.

After that time, Jake began to experience some health problems and left the group to do a local television program in Nashville and also to spend some more time with his kids, who were teenagers.

By the late '60s our Trio had begun to catch on. Gloria was doing these songs with readings, and people seemed to like it. So Jake called and said, "Do you wanna go to Texas and do a four-day run?" He said he was hot in Texas.

I said, "Sure!" To myself I thought, "Anything I can do with Jake will be a ball!"

Our first date was in Lubbock. When we arrived Jake was in his usual backstage attire — a bright red jumpsuit — leaning up against the wall with his finger beside his cheek.

"Jake, how many tickets have we sold?"

Jake said, "Three."

I said, "Three hundred? Or three thousand?"

Jake said, "Three, Bill. 1 ... 2 ... 3."

That night we had more people onstage than we had in the audience. But it did not diminish the joy that always seemed to happen whenever Jake was around.

One of my favorite movies of all time is Field of Dreams, about a kid who grew up in Iowa. One day a voice told him to build a baseball field in the middle of a cornfield, promising that all the old baseball legends would come play on it. The voice would tell him, "If you build it, they will come."

In the early '90s, I felt a little like that kid. I started recording videos of my heroes, which would later become the Homecoming video series. We recorded those early videos in a studio we had built in Alexandria, Ind., which was pretty much in the middle of a cornfield. We had a large tent outside by the studio where we fed all the legends who showed up. And they were all there — Jake, Hovie, J.D., James, Jimmy and Rex, Eva Mae, Brock, Ben, Les, Dottie, Lilly Fern, Mosie — and many more. And that line came back to me, "If you build it, they will come."

I did it for the love of the music and these beautiful people. And God has honored it.

Today we honor one of the last of those pioneers, who embodied unequaled character, professional excellence and graciousness. In a way, I've lost my best friend — but I have some wonderful memories.

There wasn't a night when I didn't go visit Jake in the back of his bus. He would be lying on his bed, wig off, hat on, red jumpsuit. I'd say, "How are you feeling, old timer?"

He'd say, "Nothin' but fine."

I'd say, "No really."

"Pretty good."

I'm gonna miss looking down into the artist circle and seeing that calm, sweet, confident, inspiring face saying to this old Indiana farm kid, "You're good. You can do this."

Even in some of those cold, Northern cities, that Southern charm would always come through. He's been called a Southern gentleman. This is true. This man defined genuine humility, and he truly lived to bring honor and credit to others.

The Bible says we are to rejoice with those who rejoice, and weep with those who weep. I've come to believe that most of us do a better job of weeping with those who weep than we do rejoicing with those who rejoice — but Jake did both with integrity. He was honestly excited when the other person won. Thank God we do have some models in our field who did not live just for themselves and what they could get out of life. Jake modeled that principle at its very highest level.

We are saying goodbye today to one of Gospel music's finest gentlemen. The good news is this: He is singing better than he's ever sung before — and I think he's smiling even more broadly, too.

I want to say this to the family, and Gloria will affirm this: After his family, there is no one on this earth who will miss Jake more than I will. Thank you for sharing him with me — and with the artists who are here today — and with the world.