When
Joey Marie (Martin) Feek
sang "When I'm Gone" in 2012 for Joey+Rory's
His and Hers
album, the raven-haired country singer couldn't have known she would be leaving so soon.
Mrs. Feek, 40, lost her battle with cervical cancer on March 4, 2016. Her husband Rory was holding her hand.
"My wife's greatest dream came true today," Rory Feek wrote on his blog,
thislifeilive.com
, on Friday. "She is in Heaven. The cancer is gone, the pain has ceased and all her tears are dry. Joey is in the arms of her beloved brother Justin and using her pretty voice to sing for her Savior."
The duo was nominated for a Grammy Award and their new album,
Hymns That Are Important to Us
, topped the Billboard country albums sales chart as well as the Contemporary Christian Albums chart.
The rally of support was a fitting tribute for Joey, who yearned to be a country singer from the time she was a child singing in school and in church with her mother and four siblings. Country music fans first got to know Joey and the duo Joey+Rory on CMT's "Can You Duet" in 2008, but her strength and faith while facing cancer, shared by her husband Rory on his blog, made her fight for life a months-long national news story that touched millions.
Joey was born in Anderson, Indiana, on September 9, 1975, the middle child of June and Jack Martin. She loved horses and grew up idolizing Dolly Parton, and her first public performance was in a school play at 5 years old. As long as her sisters Jessie and Jody can remember, Joey dreamed of moving to Nashville.
"She always wanted to be a singer, always," recalls Joey's oldest sister, Jody.
Joey's brother Justin was killed in a car accident near their home in 1994 when they were teenagers. She and their mother were the first on the scene and the tragic and unexpected loss rocked the family to its core. Joey mourned with her family but was unwavering in her determination to move to Music City — and did so in 2002.
She called Nashville home by the time she was 23, and her first job was with an equestrian veterinarian. In her late 20s, she signed a record deal with a major label that never produced an album.
Joey first spotted husband Rory at a songwriter's night and felt drawn to him but thought her feelings were a mistake — he talked about his daughters and she assumed he was married. She soon learned he was single and they were married about four months after their first date in June 2002. She put her singing career on hold and helped him raise his daughters. When the couple competed in the CMT talent search, "Can You Duet," in 2008, it was Joey's return to the spotlight.
Her family was so excited to see Joey finally achieving her musical dreams on the program that her sisters made the 12-hour round trip weekly to see Joey and Rory compete on the CMT program where they eventually placed third.
Following the show, the duo's debut single, "Cheater, Cheater," reached No. 30 on Billboard's country radio airplay charts. They were named spokespeople for Overstock.com and they released seven albums, including their most recent one,
Hymns That Are Important to Us
. The couple also hosted the popular "The Joey+Rory Show" on RFD-TV. And many mornings, she made the quick drive from their Pottsville farmhouse to Marcy Jo's Mealhouse, the restaurant near Columbia that she operated with her sister-in-law, Marcy Gary.
Joey+Rory also appeared on Gaither Homecoming videos and released three of their seven albums with the Gaither Music Group. Bill and Gloria Gaither loved the Feeks and their music, and Bill often dropped by to spend time with Joey in her final weeks.
When she wasn't on stage, Joey thrived in her garden, taking great joy in growing food to feed her family. She also cared for the animals on their farm and learned to quilt.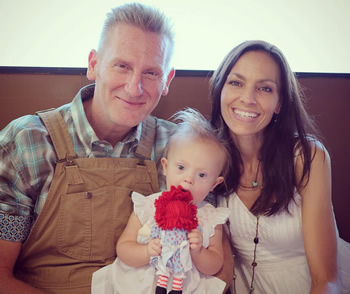 But the greatest joy in her life came with the at-home birth of her precious daughter, Indiana. A few days later, the parents learned their infant had Down syndrome. Joey said her greatest hope for her daughter was that she grew up with no fear and be able to fall in love, get married, and live independently near her father.
Weeks after Indy's birth, Joey was diagnosed with cervical cancer. She underwent surgery and treatment and was declared cancer-free. But when the disease returned and spread in 2015, she was given a terminal diagnosis. In October 2015, Joey and Rory traveled to Indiana to live out her remaining weeks surrounded by family in her hometown.
While she was sick, her father accepted Jesus Christ as his personal Savior, which brought great joy to Joey in her final moments.
"All of this was worth it if my story brought one person to Christ," she said, shortly before her passing. "The fact it was my daddy..." she said, her voice breaking ... "I'm so proud."
Joey is survived by her husband, Rory; three daughters, Heidi, Hopie and Indiana Feek; mother, June Sparks; father, Jack Martin (Beth); three sisters, Jody, Julie and Jessie; and many other family members.
Joey's life will be celebrated through a private intimate service and interment in the Feek Family Cemetery. In lieu of flowers, donations can be addressed to Joey and Indy Feek at P.O. Box 5471, Vancouver, WA, 98668.
Fans around the world will remember Joey's beautiful voice and spirit, her faith and love for her family. This song perhaps best captures the essense of who Joey was and the legacy she leaves behind:
Source:
MemorialSolutions.com
.