BURBANK, Ca., April 8, 2013 - Actress
Annette Funicello
passed away on Monday, April 8, in Bakersfield, CA, at the age of 70. She died peacefully from complications due to multiple sclerosis, a disease she battled for over 25 years. Beloved by television viewers in the
'
50s for her mouseketeering on Disney's original
The Mickey Mouse Club
, and by film buffs for her numerous roles in a series of popular teen-oriented movies in the
'
60s, Funicello became a pop culture icon.
Commenting on her passing, Bob Iger, Chairman and CEO of The Walt Disney Company, said, "Annette was and always will be a cherished member of the Disney family, synonymous with the word "Mouseketeer," and a true Disney legend.
She will forever hold a place in our hearts as one of Walt Disney's brightest stars, delighting an entire generation of baby boomers with her jubilant personality and endless talent.
Annette was well known for being as beautiful inside as she was on the outside, and she faced her physical challenges with dignity, bravery and grace.
All of us at Disney join with family, friends, and fans around the world in celebrating her extraordinary life."
Diane Disney Miller, daughter of Walt Disney, added, "Everyone who knew Annette loved and respected her.
She was one of the loveliest people I've ever known, and was always so kind to everyone.
She was also the consummate professional, and had such great loyalty to my father."
Oscar®-winning composer and Disney legend Richard Sherman, who, with his late brother Robert, wrote many of Annette's biggest song hits, said, "Annette's sweet, unassuming spirit, her love of people, and her capacity to exude kindness and good feelings to everyone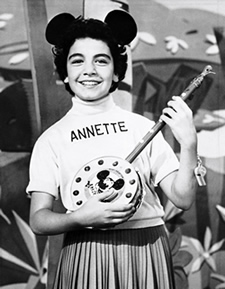 she met was part of her beautiful charisma."
Fellow Mouseketeer and long-time friend Sharon Baird observed, "Throughout all the years we were friends she never changed from that sweet person who cared so much about others.
She always had time for everyone; family, friends and fans alike. It's no wonder she was America's sweetheart."
Born October 22, 1942, in New York, Funicello and her family moved to Los Angeles' San Fernando Valley when she was 4 years old.
She was discovered by Walt Disney at age 13 while dancing the lead in
Swan Lake
at the Starlight Bowl in Burbank. He invited her to audition for his new TV series called "The Mickey Mouse Club," and she was hired to become a Mouseketeer.
Annette soon became very popular, and received 6,000 letters a month, according to her Disney Legends biography.
After leaving the Mickey Mouse Club, Funicello was the only Mouseketeer to remain under contract to Disney and appeared on the TV shows
Zorro
(1957) and
The Nine Lives of Elfego Baca
(1958), then starred in the Disney feature films
The Shaggy Dog
(1959),
Babes in Toyland
(1961),
The Misadventures of Merlin Jones
(1964) and
The Monkey's Uncle
(1965).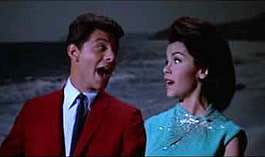 In the early 1960s, Annette starred in a series of beach party movies with Frankie Avalon and also recorded several hit top-40 pop singles, including "Tall Paul," "First Name Initial," "How Will I Know My Love," and "Pineapple Princess."
In 1987, Annette and Frankie again teamed up to co-produce and star in Paramount's
Back to the Beach
as the parents of a pair of troublesome teenagers. During filming, Annette noticed she was having trouble walking, and was diagnosed shortly thereafter with multiple sclerosis (MS), a degenerative neurological disease. As her loss of motor control increased, Annette feared people might think she was drunk, and in 1992 went public with her illness. Later that year, she established The Annette Funicello Research Fund for Neurological Diseases.
It is dedicated to funding research into the cause, treatment and cure of multiple sclerosis and other neurological diseases and continues to be an active charity.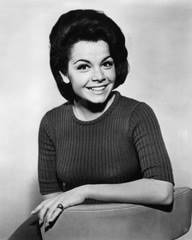 Despite battling MS, in the 1990s Annette launched The Annette Funicello Teddy Bear Company, marketing a line of collectible bears on QVC, and developed her own perfume line, Cello, by Annette.
In 1992, on her 50th birthday, she was named a Disney Legend.
However, as she became more debilitated, Annette retreated from public appearances in the late 1990s. She wrote of her life's ups and downs in her 1994 autobiography,
A Dream Is a Wish Your Heart Makes
, and she spoke openly about dealing with MS. "My equilibrium is no more; it's just progressively getting worse," she said. "But, I thank God I just didn't wake up one morning and not be able to walk. You learn to live with it." Taking encouragement from her faith until the end, Annette said "I've always been religious. This just makes me appreciate the Lord even more because things could always be worse. I know He will see me through this."
In lieu of flowers, donations in Annette's memory can be made to The Annette Funicello Research Fund at
annetteconnection.com
.
The Associated Press contributed to this story.