On the evening of August 5th, 2012, the Gaither Homecoming family of artists was shocked to hear that one of their own had passed away, suddenly and unexpectedly. Stephen Hill was in the midst of a routine soundcheck for a solo concert that Sunday evening, when he experienced a massive heart attack that ended his life. However, this "gentle giant" leaves a legacy of faith, laughter and love that will long outlast the 55 years he spent on the earth.
A loving husband and father, Stephen is survived by Kathy, his wife of 34 years, as well as his children, Melody, Miriam and Caleb. He became committed to the Lord as an adult and was an avid Bible student and an ordained Baptist minister, known for his gentle and loving demeanor and great sense of humor. Stephen was also a lifelong musician, singer and songwriter whose music touched people in many countries around the world and whose voice can be heard on dozens of albums by popular performers including Dolly Parton, Marie Osmond, Jake Hess, George Younce,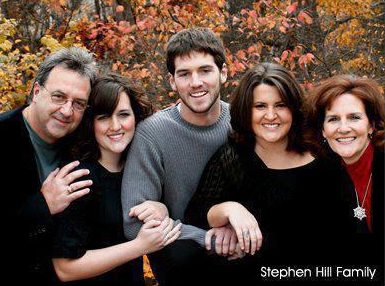 Jessy Dixon, Mark Lowry and others.
Once Ben Speer was introduced to the tall tenor's unmistakable talent, he passed word along to Bill Gaither, and Stephen became a regular on the Gaither Homecoming video series for over 15 years. He was also a background singer on the Nashville Network's "Prime Time Country" television program. And he wrote many great songs over the years, including "Why Can't All God's Children Get Along," which was nominated for the Gospel Music Association's Song of the Year in 2010.
At his homegoing service on August 13 in Nashville, Tenn., family and friends gathered to sing, to mourn, to share memories and to celebrate Stephen's life. A star-studded choir of more than 80 filled the stage at Grace Church of the Nazarene, including Bill Gaither, Ben Speer, Jason Crabb, Lynda Randle, the Martins, the Booth Brothers, the Isaacs, Ivan Parker, Gene McDonald, Jeff & Sheri Easter and too many more to name.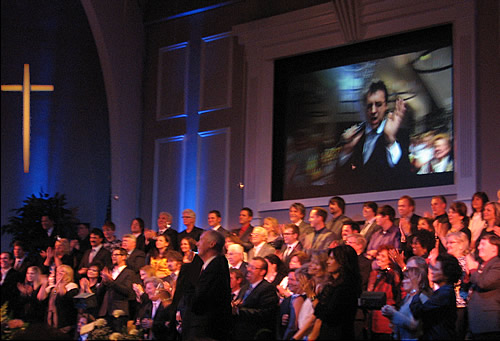 [The Homecoming choir sings along with Stephen's video tribute]
Buddy Greene started the ceremony, the plaintive notes of his harmonica filling the air with the old classic, "Amazing Grace," joined by the swelling hum of the choir and featuring Mandy Barnett as soloist. One of Stephen's closest friends and his "partner in crime," Woody Wright, gave the opening remarks and then performed Stephen's song "Pray, Pray, Pray" with Reggie and Ladye Love Smith.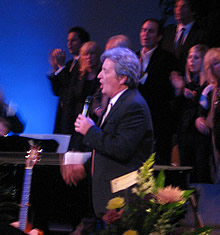 It became a true worship service as the choir and various soloists sang songs penned by Stephen, as well as other songs of praise. A beautiful a cappella arrangement of "It Is Well with My Soul" was sung by the female trio Sisters, since the familiar hymn was the last song performed by Stephen Hill. Equally stirring was when the choir joined a tearful Ben Speer in singing "Precious Lord, Take My Hand." Later, Bill mentioned that Stephen had "one foot in country and the other in black gospel, and he wore both shoes well," as he introduced Angela Primm, who had everyone on their feet singing along to "O Happy Day." And Woody Wright gave a wonderful performance of "Go Rest High on that Mountain," joined by Tony and Regina King. (Pictured right: Woody and the choir celebrate their dear friend's life)
Meaningful messages were shared by Pastors Jim Wooten and George Bates. Wooten quipped that "Stephen could sing the phone book and make it special." Bates talked about "the authenticity of this amazing singer and chosen servant of God," saying that Stephen was just as committed and joyful performing for a handful of people at a storefront church as he was before tens of thousands at the Georgia Dome. Bates also joked that Stephen would call him occasionally saying "I have sinned," to which Bates, knowing the singer's propensity for speeding, would reply, "How fast were you going?"
Others shared touching and often humorous memories of the man many Homecoming friends knew as "Mega Daddy," who could be quite a prankster. Long-time friend Marvin King said that Stephen could "sing harmony with a dog whistle," and revealed how Stephen had loved to "torment" him. Every year on Marvin's birthday, Stephen and his wife Kathy would call him and sing "Happy Birthday" to him--at about 4:30 in the morning! And Stephen's daughter Miriam tearfully shared how much she loved her father and how she was so grateful for the kind of man that he was.
Throughout the joking and the tears, it was clear that Stephen Hill's life had a great impact on many. His soulful tenor rang clear once more over the crowd as a video tribute was shown, and everyone joined in on the closing song that Stephen had penned, "Why Can't All God's Children Get Along." One thing is certain--this tall, gentle man will be loved and remembered long beyond his years spent on earth.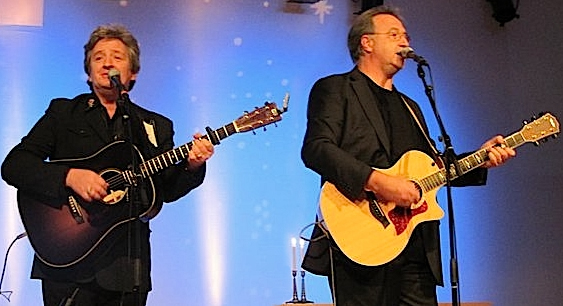 [Woody and Stephen performing in Sweden during their annual Christmas tour.]
Many artists have also posted their thoughts via Facebook and Twitter:
"RIP Stephen Hill ... You were a gentle giant ... You will be missed." — Ernie Haase

"My heart is breaking for Stephen Hill's family. Please pray for them. Stephen was an incredible, gentle man whose presence filled a room." — Sheri Easter

"Temporary goodbye to my friend Stephen Hill. I will miss your funky mountain tenor, your gentle soul and brilliant wit." — Tanya Goodman Sykes

"So sad to lose Stephen Hill. He was a singer's singer--and he had a heart as big as he was..." — Janet Paschal

"We are saddened over the loss of our dear friend Stephen Hill. Wonderful man! Please keep all the Hill family in your prayers." — The Isaacs

"Our hearts are stunned and absolutely broken by the extremely sudden passing of Stephen Hill. Please keep his sweet family in your prayers." — Dean Hopper

"Our prayers go out to the family of our friend Stephen Hill ... heaven's choir just took everything up about three keys higher. :)" — Lauren Talley Alvey

"I am so sad to hear about the passing of Stephen Hill. He was an incredible singer, and an even better person. We will miss him." — Gordon Mote