"I Wouldn't Take Nothin' For My Journey Now"
The Queen of Gospel Music was laid to rest on New Year's Day in Nashville, Tennessee. It was a dignified, even stately service. There were proclamations made and tributes read from the governor of Tennessee and the President of the United States. But since the queen being honored was Vestal Goodman, the service was also full of laughter, stories and lots of good music. The beloved, hanky-waving icon may have indeed been royalty
—
but she was also, in the words of one of her favorite phrases, "a darlin'."
More than 1,000 people gathered at Christ Church, and they bowed their heads as the pink rose-covered casket entered the sanctuary. The plaintive sound of a steel guitar playing over the church speakers raised a few of those heads, as people tried to figure out why the male voice singing "Mansion Over The Hilltop" sounded so familiar.
Country music legend George Jones, seated in a pew with his wife Nancy, smiled with pleasure when Vestal's unmistakable tone rang out as she joined him on the chorus of the duet they recorded together just last year.
There were other celebrated faces among the many mourners — Dottie Rambo, Vince Gill, Amy Grant and Michael W. Smith — as well as almost every single one of Vestal's Home-coming friends, who completely filled the massive choir loft.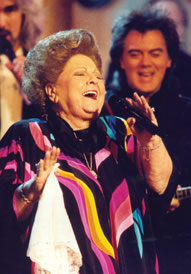 The Rev. L.H. Hardwick, pastor of Christ Church, began the service with the invocation and Scripture reading. His brief, affectionate remarks set the tone for the proceedings as he observed, "Vestal was always talking about heaven… This is a tender hour, without question. But it is not an hour of tragedy."
Homecoming artist Joy Gardner, whose husband Landy directs the renowned Christ Church Choir, read a message from the family. She then led the congregation in a soaring version of Vestal's favorite hymn, "Blessed Assurance."
Dodie Osteen, the widow of well-known Houston pastor John Osteen, walked to the platform next. She is a small energetic woman, a preacher herself, and it was easy to see why she and Vestal would have been drawn to each other. She described with great fondness her encounters with Vestal over the years, describing her friend as "just so much fun, and the most loveable person I have ever met." She ended by saying, "I bet Howard met her at the gate and said, 'Baby, what took you so long?' "
Beth Chapman is Alabama's State Auditor and a longtime fan of Vestal Goodman. Obviously moved by the service so far, she stood behind the podium, looked up and said with a smile, "I'm a Southern Baptist so I'm not really allowed to do this, but…" To the delight of everyone present, she raised both her hands in the air and shouted, "HALLELUJAH!" Ms. Chapman presented the family with the flag that had flown in Vestal's honor at the Alabama courthouse and announced plans to rename Highway 75 near her birthplace of Fyffe, Alabama the Vestal Goodman Highway.
As Janet Paschal approached the microphone, the soundtrack to her self-penned song "How Are Things At Home" began. She sang it with elegant simplicity, and quietly left the stage.
The Rev. Martin Gorman was next, an old friend who spoke of Vestal's abiding love for her family, especially the littlest ones. Babies, she once told him, were "the best thing since sunshine!" Rev. Gorman also recalled a difficult time in his life in which Vestal flew to his side. She offered encouragement, but in her usual no-nonsense style. "Vestal always spoke her heart," he said, "and I respected her for it."
The Homecoming choir, featuring a stunning solo turn by Kim Hopper, swung into a spirited version of one of Vestal's classics, "What A Lovely Name." In true Homecoming fashion, it fclt so good they just had to keep going, so Kim's voice raised the rafters again, and the song ended with tears and smiles all 'round.
Bill Gaither then walked to the podium. He began his tribute with a story that had happened only two weeks ago, when he had gone to Vestal's house to pick up one of her famous coconut cakes that she had made just for him.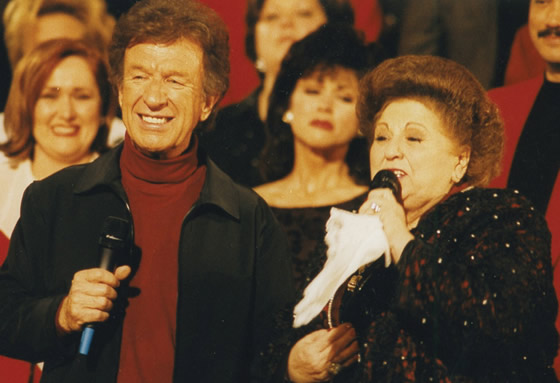 Bill spoke honestly of his dear friend, describing her "like all the rest of us — on a good day, we're fantastic. And on other days, we leave a lot to be desired!" He continued, "In a way, I think I appreciated the spiritual side of Vestal even more because I got to know her human side. I loved her humanness, because it surely gave me hope for my journey."
Next, country superstar Vince Gill spoke respectfully of Vestal's musical artistry, and her rare ability to move people with her voice. He stood alone with his guitar and sang his achingly beautiful song, "Go Rest High On That Mountain", with the Homecoming friends softly backing him on the chorus.
When Rev. Johnny Minick, a lifelong family friend who sang with The Happy Goodmans for many years stepped up to the microphone, he began by saying, "I'm torn between weeping and shouting — I just might do both!" Minick shared memories of the entire Goodman family, directing special words to several seated in the sanctuary. The crowd also laughed uproariously as he made a veiled reference to Vestal's habit of concealing her money and valuables "on her person."
Tanya Goodman Sykes, Vestal's niece, provided one of the most sweetly poignant moments of the day as she performed her father Rusty's song, "Look For Me."

Rick Goodman was the final speaker. Obviously struggling to compose himself at first, he grew steadily stronger as he temporarily abandoned his notes and spoke from his heart. He shared personal moments from the last weeks of Vestal's life, and his tears and laughter were reflected on the faces of everyone present. Rick then gratefully acknowledged by name many, many of the special friends throughout her life and ended by pledging, on behalf of the remaining Goodman family, to continue his parent's lifetime commitment to ministry.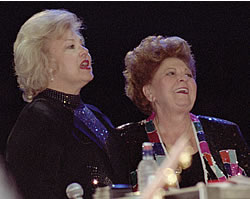 Vestal Goodman's memorial service concluded, appropriately enough, with glorious gospel music. The Homecoming choir sang their hearts out. A reverent version of "Amazing Grace" was followed by an explosively joyful "Living in Canaan Land." And as everyone began to file out, the last sound they heard was Vestal's own irreplaceable voice filling the sanctuary, with song after jubilant song of praise to the God she so faithfully served every day of her life.
NOTE: At Homecoming concerts, Bill and the Homecoming Friends share a lovely tribute to Vestal and Jake. At a concert in Florida recently, a complete out-of-the-blue thing happened. Suddenly, as Vestals songs were sung, large white handerchiefs came out of purses and pockets, and all over the auditorium and there was a flurry of white. You'll want to bring your hankies next time you attend a Homecoming concert in honor of Vestal!
Bill Read The Following Tribute At
Vestal Goodman's Funeral Service On January 1, 2004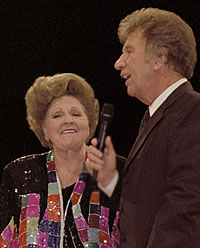 Two weeks ago today I came to Nashville to spend a day of a combination of fun and business — more fun than business. Vestal had told me that preceding weekend, "Now let me know when you are in town, because I'll have 'your cake' ready." You know you have reached a certain level of success when you have created something so fantastic, so phenomenal, that all you do is to refer to your creation as, "the cake." Of course, she was talking about what has now become internationally known as her original Vestal Goodman Coconut Cake.

So I called her around noon and told her that I was in town and could come out to the house and pick up the cake. She said, "Come on out, the cake was ready."

Woody Wright, Michael Sykes and a friend from home was with me. Vestal graciously welcomed us in and we immediately went into the kitchen and there 'it' was – on a glass, pedestal cake plate. We chatted awhile about the cake and then she invited us into the parlor where the conversation continued about old times and we looked through pictures of the family and had some good laughs.

Finally, as usual, we all gathered around the piano (Woody, Michael, Vestal and I) and we sang and sang and sang. We were good. Of course, anyone could be good singing with her. After about an hour and a half, as we were leaving, she said, "Now that is fresh coconut in that cake so keep it refrigerated." With that, we hugged and left. We got in the car and I looked back at Michael Sykes to see his eyes were moistening and he said, "Now that was a moment!"

We flew home on the plane and I put the cake in the trunk of my car, since it was too big for our fridge; and since the Indiana winter temperatures co-operated, the cake remained in the trunk. For a week I shared it, out of the trunk, with family and friends, cutting off a piece of it at a time, literally eating out of the trunk of our car.

We even had a tailgate party at a Colts game. While the rest of the folks in the parking lot were eating barbecue and chicken — we were eating Vestal's cake and having a ball!

I have been asked many times concerning the Homecoming video family, "What are those folks really like in real life?" The answer is always the same, "We're not unlike your family. On a good day, we're fantastic — like heaven on earth. And on other days, we leave a lot to be desired."

People also ask me, "What's Vestal like? Is she really the saint and prayer warrior that she seems to be?" The answer is absolutely, "Yes." But I'm glad that I got to know her and know her well enough to know that like all of us on any given day, she might not be as holy as you might think. In a way, I think I appreciated the spiritual side of Vestal even more, because I got to know her human side and I loved her humanness — because it surely gave me hope in my journey.

Last year my 90-year old father and I went to a memorial service of a friend who was a good man, who loved the Lord. But in the pastor's eulogy, he did what we sometimes do at such services. He was making him into too much of a saint. On the way to the gravesite, my dad said, "He was kind of laying it on thick, wasn't he?"

"Yes, he was," I answered.

My dad said in his usual whimsical way, "You know if you haven't done it by then, it's about too late, isn't it?"

Well, we don't have to "lay it on" here today. The lady did it with her life. If the clock was striking three minutes before midnight, there was no one you wanted in your corner more than Vestal. She was a lady of certainty. As Mark said, "She may not have always been right, but she was never in doubt."

Five years ago, I had angioplasty. My first weekend back with the gang was in Pittsburgh. I was still experiencing some pain in my chest, which I found out later, were merely muscular neural pains. I had bought a little blood pressure device, which was not real accurate, and it was measuring a little high. Vestal heard about my panicking. Pretty soon, I saw her coming down the aisle to the back of the bus.

"What's the problem?" she asked. "Haven't you just been to the best heart surgeons in the world who said your vessels were clean?"

"Yes," I said.

"Didn't you and Gloria write a lyric that said, 'Because He lives, all fear is gone?"

"Yes," I said.

"Do you know the opposite of faith is fear? I see a lot of fear in your eyes. Then why don't you throw away that cheap blood pressure device and believe the reports of the best doctors in the world and have faith that your heavenly Father can handle this."

We have sung "Because He Lives" hundreds of times since then and every time we come to that line, "all fear is gone," Vestal would turn and look at me with those sharp brown eyes as if to say, "Boy, don't you forget it!"

There are so many good memories that go through our minds on days like today and many of these are memories filled with deep faith and worship and some of them are delightful moments of pure joy and Vestal was always in the middle of both of them.

But, somehow, I hope to God that she taught somebody how to really bake her coconut cake!


Vestal did indeed share her coconut cake secret — she gave her recipe to Gloria Gaither who then shared it with the world. Click here to see the recipe for Vestal Goodman's Famous Coconut Cake!