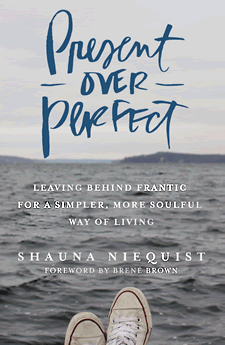 Present Over Perfect
Leaving Behind Frantic for a Simpler, More Soulful Way of Living
by Shauna Niequist
It is so easy to fall prey to the lie that the more stuff we pack into our agendas and the more people we impress, the more "spiritual" we become. But, as Shauna Niequest has discovered and eloquently documented in
Present Over Perfect
, there is nothing spiritual about neglecting our souls, ignoring our bodies or putting our important relationships on the back burner. Many of us walk around tired, grouchy and ineffective because we are simply spread too thin; probably even spiritually malnourished. This is exactly where Niequist found herself after a season of frantic busyness. She realized she was headed straight toward a crash and knew it was time to remake her life from the inside out.
She is the first to say that her messy and surprisingly difficult journey to health has been one of the most life-altering experiences of her life. She also reminds us, "Just because you have the capacity to do something doesn't mean you have to do it."
The concept of saying "no" to obligations and expectations in order to focus on spiritual health might seem entirely foreign to many and, ironically, is especially foreign to those who serve in ministry roles. The author spent her life surrounded by pastors and their families, and she points out that countless people seek to bear fruit in their ministries at the expense of their marriages, families and even their own health.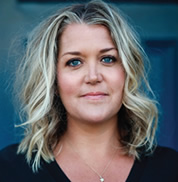 "I would not call that blessed, or whole, or healthy, or God's intent," she asserts.
Present Over Perfect
is a compelling challenge to reclaim the things we tend to sacrifice at the altar of busyness: silence, rest, depth, connection, laughter and deep peace (to name just a few). She reports that a simpler, more reflective life has brought her to a place of deep gratitude, peace of mind, sound sleep, fulfilling relationships and joy like she hasn't experienced in way too long.
This book is a pilgrimage, not only for the author but also for readers who need to put everything we
think
is important at Jesus's feet and let Him reorder our priorities.