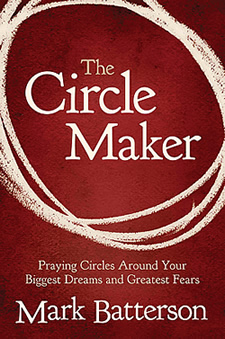 THE CIRCLE MAKER
Praying circles Around Your Biggest Dreams and Greatest Fears
by Mark Batterson
Drawing a metaphor from an account of a Jewish wise man of the first century who, during a paralyzing drought, drew a circle in the dust and told God he would not leave this circle but would pray until He sent rain, Mark Batterson challenges each of us to "draw circles" around the hardest issues and biggest dreams of our lives and pray.
This challenge is not about threatening God or ganging up on Him with other pray-ers to enlarge our larders of personal possessions and achievement.
The Circle Maker
is about holy courage and persistence in pursuit of a God-inspired vision of eternal consequence. This book is about not being dissuaded by obstacles that make a righteous goal seem improbable. It is about knowing that "God couldn't care less about protocol," as Batterson puts it. "If He did, Jesus would have chosen Pharisees as His disciples."
Among other biblical examples, the author cites the woman who continued to beat at the gates of the judge until she wore him out and he finally delivered the justice she was after, offering encouragement to those who are desperate to hear from God. In the author's words:
The common denominator in each of these stories is holy desperation. People took desperate measures to get to God, and God honored them for it. Nothing has changed. God is still honoring spiritual desperadoes who crash parties and climb trees. God is still honoring those who defy protocol with their bold prayers. God is still honoring those who pray with audacity and tenacity. And the persistent widow is selected as the gold standard when it comes to praying hard. Her unrelenting persistence was the only difference between justice and injustice.
Giving not only biblical but also personal and contemporary stories of persistent prayer, this dynamic book is timely in a culture of scrambled values and bewildering alliances. If there ever were a time for "circling" the objectives of grace and truth, it is now. Just the piece, "The First Circle — Dream Big"
(page 46)
is worth the price of the book.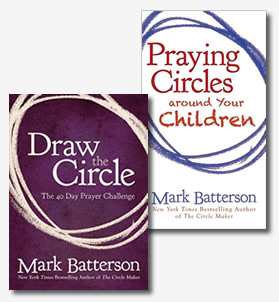 In addition to the original book
The Circle Maker
(a
New York Times
bestseller), there is a companion piece,
Draw a Circle: The 40 Day Prayer Challenge
, a 40-day devotional that helps actually apply the principles of praying with endurance to our own mountainous obstacles and highest dreams. And no parents, no matter the ages of their children, should be without the support and wisdom of
Praying Circles Around Your Children
. This small book should be tucked into every baby gift and handed to every parent of teenagers and college students. For children there is a beautifully illustrated storybook about Honi, the sage who prayed for rain:
The Circle Maker for Kids
.
Prayer groups all over the country are finding renewed strength to "pray without ceasing," reading together these resources and sharing the stories of personal victories.
I would encourage neighborhood Bible study groups, youth groups, men's and women's prayer groups to use
The Circle Maker
series and remind one another that, indeed, "There is no God like Yehovah!"