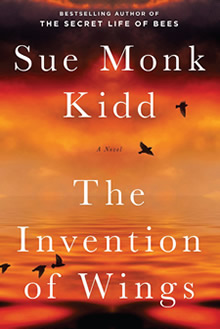 THE INVENTION OF WINGS
by Sue Monk Kidd
Most of the time I choose a nonfiction book that brings a new insight or fresh approach to an eternal truth or encourages spiritual growth in an area that seems to need emphasis for the times in which we are living. But this time I am recommending the
New York Times
bestselling book of fiction,
The Invention of Wings
by Sue Monk Kidd, author of
The Secret Life of Bees
.
At a time when the present generation doesn't have any memory of the Civil Rights Movement or the Vietnam War, it is hard to expect much knowledge of the time when Americans imported slaves and the economy of much of our country depended on the labor they provided, or of a time when women could neither vote or own property. And even if our sterilized textbooks teach something about the Civil War and the Emancipation Proclamation, there is little to capture life on both sides of the issue as it was lived at the time and thus inform some of the resulting attitudes that still precipitate the happenings we find on the 24/7 news broadcasts today.
"Inspired in part by the historic figure of abolitionist and suffragette Sarah Grimke, Kidd's novel is set in motion on Sarah's 11th birthday, when she is given ownership of 10-year-old Handful," reads the book jacket. But from that jumping-off place, Kidd weaves an impossible-to-put-down story of two amazing women, both of whom are struggling to find their true identities and the courage to become what they discover.
The book is about a lifelong relationship, a heartbreaking set of circumstances, and the emergence of two destinies shaped by a prison of expectations and blood-chilling risks.
Though this story takes place at the beginning of the 19th century, we who are trying to make our way in the turbulent beginning of the 21st century will find something stirred within us that calls us to also take risks for what is right, and in doing so, never give up the passionate quest for freedom, hope and an America that has a conscience that transcends political rhetoric and social convenience.
Sue Monk Kidd is an amazing writer who tells a story with such skill that she somehow manages to both prick our consciences and give us great hope. With one of the best book openings I've found in a novel,
The Invention of Wings
begins like this:
There was a time in Africa the people could fly. Mama told me this one night when I was ten years old. She said, "Handful, your granny-mauma saw it for herself. She say they flew over the trees and clouds. She say they flew like blackbirds. When we came here, we left that magic behind."

My mauma was shrewd. She didn't get any reading and writing like me. Everything she knew came from living on the scarce side of mercy. She looked at my face, how it flowed with sorrow and doubt and she said, "You don't believe me? Where you think these shoulder blades of yours come from, girl?"

Those skinny bones stuck out from my back like nobs. She patted them and said, "This all what left of our wings. They nothing but these flat bones now, but one day you gon get 'em back."

I was shrewd like mauma. Even at ten I knew this story about people flying was pure malarkey. We weren't some special people who lost our magic. We were slave people, and we weren't going anywhere. It was later I saw what she meant. We could fly all right, but it wasn't any magic to it.
My two other favorite openings for novels are from
Look Homeward Angel
by Thomas Wolfe and
Grapes of Wrath
by John Steinbeck. But that is a discussion for another day.