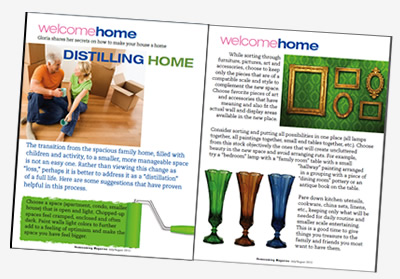 My husband and I recently celebrated our 37th anniversary and discussed our potential move from our larger home, once housing all nine of us, to something smaller for the remaining five. Though I was open to the idea, I saw it happening later than sooner.
When we arrived home, on the kitchen table was the latest
Homecoming Magazine
(Jul/Aug 2013). I opened it to Gloria's "Distilling Home" article. The timing and insights could not have been more fitting! The Lord is SO GOOD!
Thank you, Gloria, for helping me change my perspective from mere de-cluttering and downsizing to the "distillation of a full life" and "making fresh space for a new chapter that honors the past and celebrates the future!"—a beautiful perspective that brought confirmation and peace that we were on the right track.
—
Mary Ellen Franks
Damascus, Maryland