"When I pray, 'coincidences' happen,
and when I don't, they don't."
I like that quote from Sir William Temple. Of course I substitute the word "Godwink" for his word "coincidence." And now that many of my readers have used the term "Godwink" to fill a vacancy in the language for "answered prayer," Temple's premise has deeper meaning.
Another favorite quote of mine is from a man who preached in Great Britain during the same period as Temple, the legendary Charles Spurgeon. He said, figuratively, that the rope you pull to ring the bells for God's attention in Heaven, is prayer. The more and the harder you pull it, the more your prayers will be answered ... thus, the more Godwinks you'll receive.
Pulling on that rope, many times a day, is your clearest path to having your prayers answered.
I'd like to share an extraordinary story that illustrates those points. It involves a true miracle that happened in 2015 about a boy who, because of the earnest ringing of the prayer bells, came back to life, after being declared dead for nearly an hour.
When evaluated, this amazing story had 10 miracles and/or Godwinks.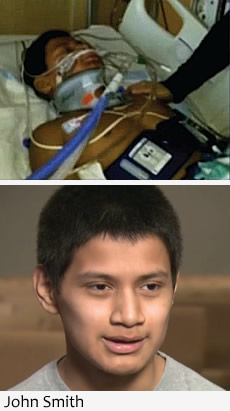 Responding to the 911 call on Martin Luther King Day, Fire Captain Justin Darnell knew only that three boys had fallen through the ice near St. Louis, and one was missing. He thought, how ironic … only two days before, he had executed the department's first ice-rescue training session in more than a year. His team, he knew, was now ready for split-second coordination.


First responder Tommy Shine of the Lake St. Louis Fire Department learned that 14-year-old John Smith had been submerged under the ice for at least 15 minutes. He knew the lake was generally 50 feet deep, except in some places, where it was only 10 feet deep. In his wetsuit, Tommy cautiously moved onto the ice with a 12-foot hooked pole. He felt an inner sense that he should plunge his pole into a particular spot. To his astonishment, he hooked onto the boy immediately.


Only 20 minutes had elapsed by the time John Smith was being rushed to the nearest hospital. Fire Chief Michael Marlo said that in 38 years he'd never experienced such "divine intervention" as occurred that day.


Kent Sutterer, head ER doctor at St. Joseph West, performed CPR, unsuccessfully, for 23 more minutes, concluding that the boy had been dead for nearly an hour. He called in his mother. Dr. Sutterer wrote later that what he witnessed next was "miraculous" ... the boy's heart was "kick-started by a mother calling upon the Holy Spirit."


Joyce Smith approached her son's bed, adhering to that week's very Bible lesson, that "God is who He says He is, and He can do what He says He can do." Her son's feet were gray and cold. So she rang the bell in heaven so loudly she could be heard in the hospital corridor. "Holy Spirit, I need you to breathe life into my son!" Without missing a beat, a medical practitioner shouted, "We've got a pulse!"


Now able to be transported to a large children's hospital in St. Louis, John Smith, still in a coma with little hope for recovery, was visited by a team of six pastors. Prayers were led by Jason Noble of First Assembly Church, who stood on the left side of the bed. Speaking into the boy's ear, Jason asked God to rebuild his brain and his lungs.

"I feel electricity in the air," observed one of the other pastors. Right after that he witnessed a ring of multicolored lights around John's head, and immediately, the boy squeezed his hand, sat straight up in bed and opened his eyes. He then lay back down in sleep.


John Smith awoke the next day and was chatting with friends. Dr. Jeremy Garrett, Pediatric Doctor of the Year, said, "This is a miraculous story."


The boy's father, Brian Smith, says the miracles were fostered, in addition to his wife, by a small army of prayer warriors in their church and community who never stopped praying and ringing the bell up above.


Just 16 days after he went under the ice, John Smith walked out of the hospital bouncing a basketball.


Doctors confirm John Smith has no brain damage, no lung damage; he is completely normal.
This we know: prayer is one of the most powerful tools in each of our arsenals.
Prayer pulls the rope below, and the great bell rings above
in the ears of God ...
He who wins with heaven is the man
who grasps the rope boldly
and pulls continuously,
with all his might.