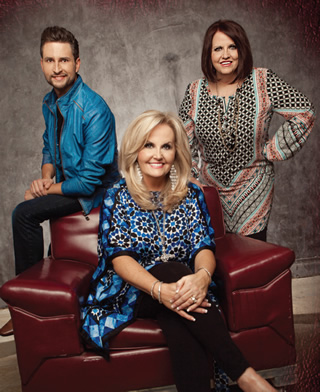 The two-word call to action "Pray now" is not just the title of the trio's album set to release April 28 — one of 20-plus records the group has released since 1991. It's not just the title track on a collection of 11 heartfelt songs laden with encouraging lyrics, crisp harmonies and stellar instrumentals.
And
it's not just an uplifting melodic message to share with faithful fans and new listeners alike.
Yes,
Pray Now
does represent all of those things, but New River hopes it leads to much more. They view the music as part of a larger movement — a tide of timely, desperate, strengthening and sustaining prayer. (On social media, tag or search #PrayNow to take part.)
"Prayer has truly changed our lives, and it has changed the course of our ministry," Karen Peck says.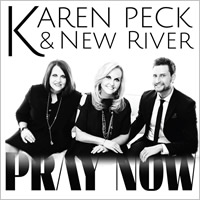 That's especially true over the past year, which has found the group living out the hook of the song "Pray Now":
Right here in the storm He's still the same/there is strength and power in Jesus' name.
Our Father, who art…
In many ways, the journey toward the new album's prayerful theme began in January 2014, when New River's pastor, Jentezen Franklin, challenged their Free Chapel congregation to pray the Lord's Prayer daily. The trio joined in and almost immediately noticed a positive impact cascading outward as the year unfolded.
"That prayer has strengthened my prayer life and all of our lives so much," Karen says. When the time came to work on their next record, the group knew they wanted to incorporate the Lord's Prayer. They did so in the title track.
"I see now why God was preparing us for the trial and the storms that we're facing right now," Karen notes.
The fiercest storm hit a few months ago, in February. After the songs for the album were chosen and recorded, but before the mixing process, Karen's husband, Rickey Gooch — also New River's road manager and sound technician — was diagnosed with cancer after discovering a knot in his neck. He began aggressive radiation and chemotherapy.
Songs of strength
Karen Peck sees a providential hand in the way the music on the album has encouraged the artists themselves. "These songs, as we've listened back for the mixes to get the album in order, have really ministered to me personally," she says. "Because there
is
hope. God
is
bigger than cancer. God is bigger than
any
mountain. I'm not telling God how big the mountain is anymore; I'm telling the mountain how big my God is."
Her fellow vocalists, sister Susan Peck and Jeff Hawes, echo the sentiment.
"I'm really excited about this new album," says Susan, whose favorite among the 11 songs is the piano-rich proclamation, "I Choose Christ." "More than anything, our desire is to let people know that no matter what circumstances they may be going through, there is hope," she says. "God
is
there for you, and He
will
protect you, and He
will
care for you. Just keep believing."
Hawes points to humanity's longing for meaning and purpose that he believes the new album addresses. "Everybody is searching for something real, for something to hope in, whether you're already a Christian or not," says Hawes, who counts the ballad "Blessed" as his favorite tune on the record.
"Every song on Pray Now just breathes the hope that's in Jesus Christ," he says. "That's what we have to cling to. I believe that as singers and artists, it's our privilege to convey that truth to the audience."
The album, like the group itself, is seasoned with familial connections. Karen and Rickey's daughter, Kari, shines on a bonus track, "A Life That's Good" — a reflective ode to gratitude. A veteran of Homecoming videos and an accomplished stage singer, Kari, 18, like her brother Matthew, "is on a journey with their dad's cancer, so this is a really sweet song for her, and the words are very timely," Karen says.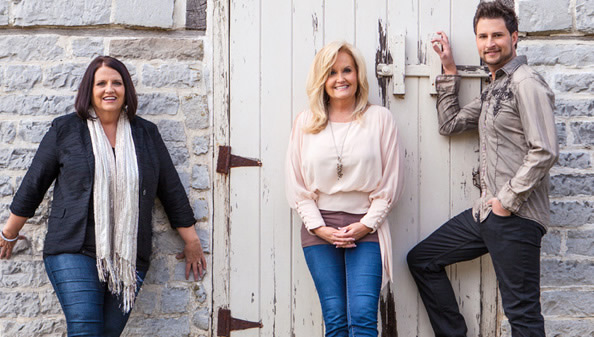 Tried and true but also new
While the season they're walking through bears an imprint on the new music, Karen emphasizes that the group's approach remains rooted in its longstanding creative identity. "We never plan the music in advance; we just always go into the studio and let things happen as the Holy Spirit leads," she says. "That seems to work well for us — to say, 'Here, God, make these songs like You would have them be.' And He always does.
"But just in case anyone wonders," she adds, "we did have a lot of fun making this record. We shed a lot of tears in the studio, but we also shared a lot of laughter. Whether things are easy or hard, His joy is always our strength."
As the album's release date approached, Rickey Gooch was soldiering through the final few weeks of his treatments. "We are trusting in the Lord for great things," Karen Peck says. "We are optimistic. The doctors are optimistic, and we are thanking the Lord that He is helping Rickey though this. We are expecting a full recovery."