To see Robin Roberts' smiling face on ABC's "
Good Morning America
" or the confidence she exudes while interviewing newsmakers of all kinds around the globe, it might be hard to discern that she has faced many obstacles. From the sudden death of her father in 2004, to the devastation wrought by Hurricane Katrina in her hometown of Pass Christian, Miss., to her public battle with stage 3 breast cancer, Roberts has had her share of challenges. Her viewers are frequently amazed at her optimism in the face of such dilemmas, and she credits her strength to two factors: her family and her faith.
She has recently co-written
My Story, My Song: Mother-Daughter Reflections on Life and Faith
(Upper Room Books) with her mother, Lucimarian Tolliver Roberts. Recalling pivotal moments in Lucimarian's life, the book reveals how faith in God provided her with the will to persevere — in the midst of the Great Depression, racial injustice, family tragedy and the struggles that can come with growing older. Daughter Robin caps off each chapter with "her side of the story."
Roberts sits down with Bill Gaither to discuss the power of prayer, her GMA family, and the mother and father who gifted her with so firm a foundation. And in the process the two discover they have a lot in common!
ROBIN:
Mr. Gaither!
BILL:
Robin, how are you doing?
ROBIN:
I am doing very well, and sir, this is indeed a privilege and an honor.
BILL:
Well you talk about an honor — I've been nervous about this interview!
ROBIN:
Oh, no! I was a DJ in college in Hammond, Louisiana at the country music station, and Sunday mornings from 10 a.m. until noon, before we went back to a country format, I played big band/gospel/spiritual music, and often I would play your music. So when I saw that I'd be talking with you, my heart fluttered — and I mean that sincerely.
BILL:
Well, you're kind, Robin. I know your time is valuable. Our issue is about overcoming difficult times and that's what we want to talk to you about. By the way, I saw your interview with the model who had lost her arm and her eye by going into the plane propeller. And for people who are critical about the media covering faith issues, I thought it was very beautiful. In fact George Stephanopoulos, who is one of my very favorite news people, mentioned the faith and prayer elements and how important they are in overcoming difficult times — very unashamedly. It made me feel proud.
ROBIN:
Well thank you. In fact I received an e-mail from Lauren's mother, because they are extremely spiritual, and she heard me say — and I meant it — "Never underestimate the power of prayer."
BILL:
There was probably a day and time in the news that wouldn't be as overt as it is today, so for that I am very encouraged.
ROBIN:
Thank you very much. You know, six or seven years ago, maybe a little longer than that, "
Good Morning America
" wanted us to tape our morning routine and show it to people, because everyone's always so fascinated about everyone's morning routine. What do you do or what gets you going in the morning? So they were taping and I went out on my balcony and I said the prayer of protection, because I always say the prayer of protection every morning. "
The light of God surrounds me, the love of God enfolds me, the power of God protects me, the presence of God watches over me. Where ever I am, God is.
" So they were rolling the tape, and I was thinking, "This is never going to make air. They're never going to put this on when they do their piece about my morning routine." But they did — which I was very pleased about. Barely a week has gone by that the network has not received a request for that prayer. I was just very moved that my network didn't cut that out, and I think they were surprised by the reaction from the audience. So I think that really set the tone — they are a little more open to that; but you're right — it's rare in the media, unfortunately.
BILL:
Yeah, but they have to be critical; I mean that's the nature of news. I think when they are critical of irrational things that happen, whether that's a faith-based community or whatever, I have to give them room for that and say we're guilty at times!
ROBIN:
We certainly are.
BILL:
I wish it were better. Well, one reason for talking with you is obviously the story about your own battle with breast cancer. In our own field, we have several performers who are survivors of breast cancer. In fact the Isaacs, who are a wonderful bluegrass group, have just written and recorded a song, and Martina McBride has covered it. The song is "I'm Gonna Love You Through It."
ROBIN:
Yes, I was part of Martina's video for that! Beautiful...
BILL:
It seems like the key word is "through" — somehow to get
through
difficult times.
ROBIN:
It's true. It's not what you accomplish in life — it's what you overcome that really matters the most at the end of the day. You've got to go through it. My favorite phrase is, "This too shall pass."
How are you going to get through it? For me, what got me through my battle with cancer, really, my mother was instrumental. At first I was not going to go public. It's very personal; I didn't know what the outcome was going to be, and it was changing constantly. In the beginning, the disease just kept advancing, and what the doctors were saying about the prognosis, I didn't want to share. I was really, really burdened. My mother said, "Make your mess your message. There are others who are going through the same thing, and you are very blessed. You have a job. You're not going to lose your job. You have healthcare. You have so many things that are going to help you battle this and get you through it, so make your mess your message and be the messenger for others."
I went on the air with my then-colleague, Diane Sawyer, and she was literally holding my hand through the announcement. Once I said, "I have breast cancer, and I'm going to have surgery and treatment, and it's going to be OK," I slept like a baby. I felt prayers being said for me. I can't explain it, but when you know that people of all faiths — people who don't even know you other than the two hours they see you in the morning — were hitting their knees and lifting me up, I felt this burden just lifted off of my shoulders. That is the moment I truly believed that I was going to live. I was going to get through this. And it really just made all the difference in my recovery.
BILL:
You know, there was a day and time when there were a lot of Christian churches who were kind of anti-psychology, but I have always said that good psychology is also good theology. To me, they go hand in hand. A good, sound psychological mind is also a good, sound theological mind.
ROBIN:
You have to change the way you think in order to change the way you feel. I was also pleased that the doctor we had on yesterday, Dr. Richard Besser, when George asked him about doctors giving encouragement — he said there IS a difference. He's a pediatrician, and he said when he has parents who are hopeful and prayerful and positive that it makes a difference. George asked, "Well, how do doctors feel about that?" Because you know, you think of that classic line from Alec Baldwin, "I am God…." when he played a doctor in a movie. We've had a lot of miracles on our show, and doctors have been sitting right there with a patient who has no reason to still be on this good earth. I love it when a doctor admits, "I've done my part, but there was another force at play here and we worked together." I think that there is a direct correlation, and I'm just so thankful that people are embracing it. Now not everyone is — you have to accept that there are those who are just not going to believe. But it's encouraging that the vast majority of people do see it differently.
BILL:
I always say we don't have a good theology or philosophy for loss in our culture. The minute we come out of the womb, we have to start dealing with loss. Loss of all things — loss of hearing, loss of sight, loss of hair and loss of physical skills that we at one time had. I think it's especially true in sports. By the way, I'm a big Eli Manning fan, so I was pulling for the Giants. But win or lose, you know they are still good at it all. I think we have to come to grips with the word loss. I'm not saying losing or being a loser…
ROBIN:
There's a difference between losing and loss. I'm very grateful for my sports background. It helped me understand that, "OK, we didn't come out on top in this game, but we can still win the championship!" Everything set such a strong foundation for me to understand winning and losing, and I think helping me to deal with loss and knowing that there's a purpose behind everything.
BILL:
Sure.
ROBIN:
The greatest loss that I have suffered is the passing of my father. He went to bed on a Sunday night and woke up in heaven on Monday morning. He was almost 81 and this was in 2004. I was just reeling; our whole family was. He was such a patriarch of our family and very strong. I remember at the end of his homecoming we sang, "
When we all get to heaven, what a day of rejoicing that will be.
" We were singing to the rafters and I remember we were filing out, and Mama — the choir, they were too slow with it — so she stopped and kind of directed them and said, "No, more upbeat!
When we all get to heaven, what a day of rejoicing that will be!
" There were so many of my colleagues like Charlie Gibson and Diane Sawyer, and they were looking and singing and following the casket out because he was going to have a military burial. It really touched my mom that Charlie stopped her and said that he had never been to a service like that. That even in a time of great loss, we were saying "No!
When we all get to heaven, what a day of rejoicing that will be! We will sing and shout the victory.
"
BILL:
I'd love to talk to your mother about this. There's a timely old tune written by a black pastor from Philadelphia called, "I Wonder What They're Doing in Heaven Today?" One of the phrases says, "I wonder what they're doing there now..." The way it sings is just simply wonderful. At many of our folks' homegoings, we have the Homecoming Friends singing and it's much like you were talking about. It's rejoicing. It's optimistic. It's going to be good whether I live or die.
ROBIN:
Yes. I think especially when dealing with loss, like that of my father, I was grieving because I miss his voice and I miss his presence — but you do realize that he is in heaven and it just helps you when you truly believe that. The loss that you have and the grieving and the tears are just because you are missing him. We were just missing his earthly being here. It's been really hard on my mother. They were together for 57 years. Mom has it much more difficult. Her body doesn't always cooperate. Sometimes she can walk but she can't talk, and sometimes she can talk but she can't walk — I know the loss she is dealing with. She wants to go to heaven and she is so ready to go, but her body is saying "No, not yet." It's really difficult and that's part of the reason we did the book — for her to talk about being in the winter of her life. We have different seasons of our lives, and though you can still find reasons to rejoice, some are much more difficult.
BILL:
You know, the other thing about winning and losing is a lot of times we don't know the difference. Because sometimes the thing that we think was a loss was only the beginning to something else fantastic.
ROBIN:
That's what I firmly believe — that there's a purpose in everything. Sometimes it's really hard to understand. My sister recently sent me something that said "God has three answers to prayer. One is 'yes,' two is 'not yet,' and three is 'I have something even better in mind.'" And it's true! Sometimes it's tough, and believe me, I have my down days, but I'm a very optimistic person. I get e-mails all the time saying, "How can you be optimistic every morning?" It's a choice. When you have that kind of feeling and background, it does help you get through the difficult times.
BILL:
I saw your mom was a graduate of Howard University?
ROBIN:
Yes!
BILL:
A famous graduate of Howard University is Richard Smallwood. Richard, Gloria and I wrote a song together and got a Stellar Award for it. Now we've received many awards, but that is our favorite award. It was a song called, "Jesus, You're the Center of My Joy."
ROBIN:
Oh really?! Oh, you will have to talk to Mom!
BILL:
(Laughing)
Well, when I was reading all this stuff on both of you, I was thinking that I would love to chat with her about the early days in the South, especially with the Clara Ward Gospel Singers, the Gospel Harmonettes out of Birmingham, Herbert Brewster out of Memphis… those early contributors to Christian music and literature were extremely important.
ROBIN:
Invaluable! And yes, she is a proud Howard grad.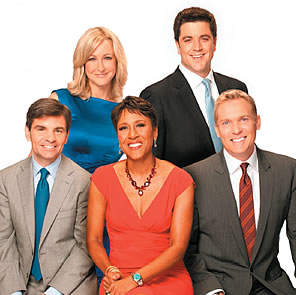 BILL:
Well I saw that, and she should be! You know, it seems that the cast on
Good Morning America
is quite a family. As I told you earlier, George Stephanopoulos is just as good as when I first saw him as the spokesperson with the Clintons: I had never seen such good body language in all of my life!
ROBIN:
That's George.
(Pictured left: Robin and her GMA family: George Stephanopoulos, Lara Spencer, Josh Elliot and Sam Champion)

BILL:
And he is so bright, so friendly and so aware. But it does seem like a family. All of you seem like a wonderful family.
ROBIN:
Thank you for saying that, because it truly is. I know sometimes people will use that phrase freely with colleagues, and say, "Oh we're like a family." We actually are. What's so great with this group is that there is a trust. There is a common bond —we're good people! I don't like to toot our own horn here, but that's it. I remember my mom always wanted that on my dad's tombstone. We had all these other things put on, and she said we should have just put, "He was a good man." That's how I feel about the people I work with — Sam, Josh, Lara and George. To be sitting next to George…
BILL:
And I'm so glad he's back on Sunday mornings.
ROBIN:
Oh gosh, that's his wheelhouse, and that's his comfort zone. He's terrific, and thank goodness he's still going to be with us on GMA. We see each other in the wee hours. When you're around each other that much, and in those hours, you better like each other! We socialize together and I'm excited when my alarm goes off at 3:45 a.m. We look forward to being with one another. We don't just go our separate ways after 9:00 a.m.; we spend time together.
BILL:
That's great! I'll take your word for it when you say you're excited when your alarm goes off at 3:45 a.m.
(Laughing)
ROBIN:
That's my story, and I'm sticking to it!
BILL:
Speaking of epitaphs. Do you know what the epitaph is for Ruth Graham's grave in Charlotte?
ROBIN:
No, I don't.
BILL:
It says, "End of construction. Thank you for your patience."
ROBIN:
That's beautiful!
BILL:
I have never seen a better epitaph.
ROBIN:
That's perfect! Oh, bless her heart!
BILL:
Well, I'm so excited about what you do because I have prayed as I've grown older, "God, I do not want to become an old cynic." And it seems like the other side of being a cynic is a person of faith — a person who believes in the best, is hoping for the best, and will live it that way. I see that in you folks; I see that in you especially.
ROBIN:
Well thank you! I'm very, very grateful when people ask me the secret to my success and I can say it is being the daughter of Lawrence and Lucy Roberts.
BILL:
I have so enjoyed talking with you! And I would love to talk with your mother.
ROBIN:
Well, Mr. Gaither, thank you very much for your time and fellowship. It's wonderful. I'm sure that at some point down the line, Mom would love to have a conversation with you. It's the type of conversation she needs right now.
BILL:
I have one lyric that Gloria and I have written, and I wanted to read the chorus to you. I think it will resonate. It's just a new thing that we have written.
We certainly believe the fact that Jesus said, "I have come to preach the gospel for the poor," and we have no other choice except to help. At the same time, he came to the man who had been begging for 38 years at the pool of Bethesda and asked him an interesting question. "
Do you want to be well? Really want to be well? Are you willing to take up your mat, and help yourself? Do you want to be free? Really want to be free? If you want to be healed and whole, you've got to want to be well.
"
ROBIN:
Oh my. This gives me chills. I had given a trip to South Africa to my family as a gift, and my mother was not doing well and was working with a physician. He finally just sat her down and looked in her eyes and said, "Do you want to be well?"
You know, that turned her around. That is beautiful what you have written. That is going to resonate with people. When you said that, that's the first thing I thought about: when he said, "Do you want to be well?" She said, "I do." He said, "OK, then we've got some work to do. You've got to say that to yourself that you want to be well."
BILL:
I have really wished that pastors and preachers would preach on that more. "
Waiting there for 38 years. Cried so long, he ran out of tears. Just a worn out man, looking for a healing hand. Then one day the healing man came along. When he caught his eyes, the question took him by surprise. Do you want to be well?
" I think it's a question that President Obama needs to ask our nation: "Do you want to be well?"
ROBIN:
Yes! Yes! Oh I could just talk with you forever. That could be the answer for so many people — to hear that question, because you have to look at yourself too. As a nation, I was just talking about that today — oh goodness gracious. Can you imagine if he just said that? How powerful that would be?
BILL:
I'd love to hear him say that. Because his model, President Kennedy said, "Ask not what your country can do for you, but what you can do for your country." And he's so popular and he's so articulate, but to hear him articulate that to a nation and say, "You've got to be part of this answer!"
ROBIN:
Hmm. That's the only answer. Without it, there is no answer!
BILL:
If you'd like, I will send the lyric to you.
ROBIN:
Please! I'll make sure it gets to the President too — but my mama first!
BILL:
Robin, you've been very kind, giving me more time than necessary! As a kid, I wanted to do what you are doing — to be a news person — but I stammer and I could not pronounce foreign names.
(Laughing)

ROBIN:
Something tells me things worked out just fine for you, Mr. Gaither. You're where you're supposed to be!
BILL:
Blessings to you, Robin.


[Robin with some of her favorite interviews — Alicia Keys, Mark Sanchez and Leonardo DiCaprio]