Rory and Indiana Feek seem to be doing well, all things considered. After suffering the profound loss of his wife and singing partner, Joey, on March 4, many things in Rory's life changed all at once ... marriage, parenthood, career. But his faith is strong, and he is walking through the next chapter of "the story God is using us to tell."
And Rory is certainly a gifted storyteller himself. Whether writing compelling song lyrics or insights about his own life, his writing has struck a chord with hundreds of thousands of people who have followed his family's story for this past year, or longer. He continues to
post updates at his blog
, sharing that Indy has begun preschool, that preparations are being made to plant Joey's garden, and that he is grateful for good friendships.
So, what's next? Well, for one thing, Rory has made his directorial debut with a brand-new feature film,
Josephine.
It seems that around 16 years ago, Rory came across some letters from a Civil War soldier, John Robison, to his wife, Josephine. Inspired by the letters, Rory wrote a song called "Josephine," which he and Joey later recorded on an album.
A few years later, someone mailed Rory some letters that Josephine had written to John, and a more compelling chain of events began to emerge. Rory teamed up with his friend Aaron Carnahan to take the story and turn it into a full-length screenplay. Filming was completed last year, and the movie premiered this April at several sold-out screenings during the Nashville Film Festival.
Here's the official description from the festival's
website
: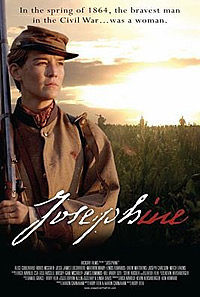 In the spring of 1864, after not receiving a letter from her soldier husband in almost a year, and the death of their only child, Josephine Robison takes matters into her own hands. She cuts her hair, puts on her husband's clothes and enlists in the army of Tennessee as Joseph Robison to find him.

For the next five months, spanning across three states and 500 miles, Josephine struggles to keep her identity a secret as she battles the enemy and the suspicious, battle-hardened sergeant of her unit who has a secret of his own. With only the friendship of an over-the-hill soldier who has nothing to live for and her love for a man that she's willing to die for, Josephine's journey to find her husband John ultimately leads her into a final battle where she has to choose between the man she loves and the men that need her.

According to history.com, it is estimated that up to 1000 women fought as men during the American Civil War… this is a fictional story of how one of them, though dressed as a man, learns how to be a woman again and in the end, teaches the men of her unit how to be better men.
Loretta Lynn and Gillian Welch contributed songs for the soundtrack of
Josephine
, and Joey Feek sang on the final track, "Amazing Grace." We will keep you posted on future plans for this film. Meanwhile, you can watch a trailer for
Josephine
here
!