Not far off the coast of Iceland, just north of Scotland, is a stretch of slender islands that rise up dramatically out of the Norwegian Sea. The Faroe Islands are a breathtaking archipelago with jagged cliffs, sloping pastures and moors, multi-colored cottages and serene fjords. Known as a nature-lover's paradise, Faroe Islands were named the #1 island destination for their unspoiled beauty by National Geographic and also called the "most curious place left on earth" by the New York Times. These isolated islands have developed a unique culture with its own language, dance and a vibrant music scene. But while the guide books will tell of the breathtaking scenery and vibrant culture of the Faroe Islands, they probably will leave out one fascinating and peculiar matter: the Faroese love the Gaithers... and Russ Taff.
For gospel singer and Homecoming favorite Russ Taff, the relationship with his adopted land began almost nine years ago when asked to sing at the G! Festival. Located on the Faroe Islands in the picturesque seaside village of Göta, the G! Festival is celebrated for its warm atmosphere of fellowship and openheartedness as well as for the incredible caliber of Faroese musicians and artists. One of the promoters for the festival, Jacob Zarchison, grew up listening to the Imperials and to Russ. As a huge fan, he asked Russ if he would be willing to come halfway across the world to these tiny islands in the North Atlantic Sea to play at their festival.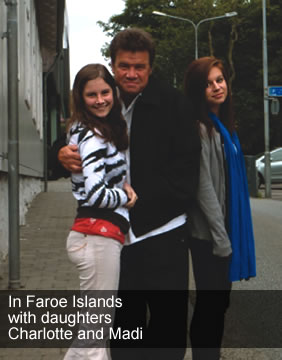 Intrigued, Russ agreed and Jacob put a band together of musicians from the island and from Copenhagen. Thus began a special relationship for Russ with the music, culture and people of the Faroe Islands.
Although astonished by the raw beauty of the islands, the greatest surprise for Russ was to experience a culture with a passion for music that stretched from cradle to grave. "Wherever you go, they are playing music," says Russ. "It's everywhere. And they are so committed to it. You know when you've been in the business a long time, to go to a place where music is a way of life, where they are so moved by music, it inspires you and changes how you see music."
Remarkably for a culture thousands of miles from Anderson, Ind., this Faroese passion extends to a love for Russ and Gaither music. Says Russ with much amusement, "I was absolutely amazed by their enthusiasm the first time I visited the islands. I remember I had just gotten off the plane and I wanted to stretch my legs. I'm just by myself, taking a quiet walk and suddenly there were people rolling down windows and yelling, 'Hey Russ,'" he laughs. "And when the Gaithers performed in Copenhagen recently, almost 400 people flew from the Faroe Islands to see them. It's truly incredible how much the Faroese love the Gaithers."
While touring in Faroe last summer and hoping to take some small steps toward making a new record, Russ approached Jacob Zarchison and producer, Oli Poulson about doing some recording at their state-of-the-art studios. After returning home, Russ was surprised to get a call from Jacob. Not only did they want him to do some recording there, but as a true answer to prayer, they wanted to fully support, produce and record a new Russ Taff record.
So with the support and encouragement of Jacob and Oli,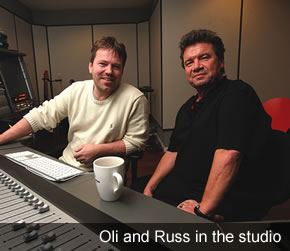 Russ made a record far from home, requiring four extended visits in the past year. The recording of this album was like no other for Russ, allowing for musical and artistic freedom on a greater level than ever before. "I am very, very proud of this record," he begins. "Being with two producers who were all about capturing emotion was a true gift. There was no clock running, so it felt like the old days. I haven't been in a situation for so long where it was about a song, about emotions. You could try it, and redo it, and do it again. Normally when you are in town and making a record, you have your normal life to attend to. You have your family life and kids' schedules. I have events to fl y to or appointments to keep. But this time, everything went away except making music." Russ can barely conceal his enthusiasm when talking about this record. "It was an artist's dream. All you are thinking about are the lyrics and about making it work within a body of music. I could sing and sing and sing until I was tired, then come back the next day and try again." It was not just about musical passion, but also about a true spiritual freedom. Russ adds, "When you have been doing this for so long, you are just so grateful to God that you can still make music and make it the way you want to make it. There was no pressure, no agenda. This was made out of pure love and joy. And I attribute so much of that to Faroe Islands. Their love for music taught me how to love music again."
The opportunity to make a new record is often a time to reflect back as well as to look forward. With a remarkable musical career that encompasses Grammy awards, stints in celebrated groups such as the Imperials and the Gaither Vocal Band, songs that have been hits on radio and sung in churches far and wide, Russ' perspective reveals the grace of age and experience. "You know, nothing prepares you for how to explode on the scene; you're just flying high. There is no music business class or course to prepare you for that. But here I am at 57, and I'm in a place of gratitude and humility. I don't have anything to prove anymore. Even with touring, people know who you are and what you've done over the years. It's not about you. It's about Jesus and about love."
One constant in his life over the years has been one individual who, as Russ says, "just wouldn't give up or ever go away." That person? No surprise, Bill Gaither. "Bill has been a big brother for me for a long, long time. I could always talk to him about my career, my personal life, anything. Everything I'd walk through, he has already been through." He pauses, "and to this day, some of my favorite times spiritually are when we are on the road and everyone gathers at the front of the bus on Saturday mornings with Bill and Gloria. When it comes down to it, Bill and Gloria are just great teachers. They'll share from Scripture and we will all talk about what God is doing in our lives." With genuine emotion Russ reveals, "My relationship with Bill has kept me honest, and I am a much, much better artist because of him. Now I'm trying to do that for the generation following me."
Russ' life has had rich and valuable input for years from his dear friends, Bill and Gloria, but also from even closer to home. Russ' wife Tori, well known and loved by Gaither fans, is also a talented writer. And as it has been for many years, when it came time to work on a new record, to express thoughts and ideas Russ hoped would have spiritual value in people's lives, he once again turned to Tori and their creative partnership. "Tori is an incredible lyricist. I might have the emotion and the thought, but Tori has the ability to take my ideas and turn them into something that truly touches people."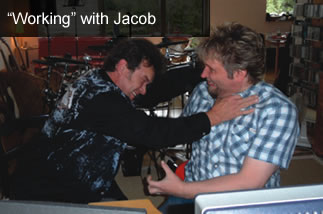 But regardless of who wrote with Russ on this album, whether it was Tori, producers Jacob and Oli, or friends Chuck Cannon or Suzanne Jennings, the challenge remained the same: to put aside personal distractions and write something with an eternal purpose. "When it comes to songwriting, everything has to go away. You want to write something that is lasting. A week from now, your list of things to accomplish won't matter, but a song that encourages someone spiritually— that lasts." Russ pauses and then continues, "You want to have an effect that people can look back on in a year, 10 years, down the road. Whatever you are writing about, all that matters is that Jesus is glorified."
The songs on this record reflect that passion and commitment to leave something eternal and lasting with the listener. "The Harvest" speaks of someone looking back on his or her life. With an exotic, haunting melody and crisp instrumentation that could have been born only on a far-off island, the listener is reminded that our time is short and "winter will soon be here." Russ comes alive with passionate vocals and exquisite delivery on the song "Missionary Man," about a man martyred for his faith on the Faroe Islands hundreds of years ago—someone who "gave his life for what he believed, so when the choice came down to live or die, the choice was already made." And the voice we have grown to love over the years celebrates our miraculous Lord on "Here Comes Jesus," an infectious gospel tune which can't help but get your heart and feet moving.
Salt air, the rich landscape of the Faroe Islands, a renewed love of music—all these converge on Russ' latest record. "I had gotten to the point, where I almost forgot the value of a song. So when I started going to the Faroe Islands, it reminded me of my love of music. When you live in a town like Nashville where the business is all around you—when it is what you do—you can easily forget the passion. The Faroese thrive on music and it reminded me again of why we do what we do. It's because music makes a difference in our lives. Music is a very spiritual thing, and that's why I had to go over there."
A life-long learner, Russ seems to yearn for these new chances to explore and to renew his purpose. "I'm here to learn. And when I walk up on the platform to sing these songs, I just ask God to let them have some impact for an eternal purpose. The thing about getting older is that you can let go of things that have nothing to do with Jesus. At the end of the day, when I lay my head down, I want it to be about Him and about His kingdom."
For more articles featuring Russ Taff, click here.