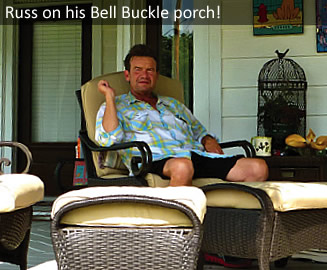 RUSS & TORI TAFF's
Mayor's Fried Chicken

Last May, our family left the bustling, big-city pace of Nashville and moved an hour away to a tiny historic town tucked into the rolling hills of Tennessee: Bell Buckle, population 400. This charmingly quirky community is a haven for artists, musicians and writers and according to Russ, "has treated us like we're long-lost family members."
Every summer the town welcomes over 15,000 visitors to the RC Cola and Moon Pie Festival, and this June, not only were Russ and I crowned the 2013 RC Cola King and Moon Pie Queen, we were introduced to the best fried chicken we have ever eaten — tender, crispy, juicy — sheer perfection. And to top it off, it was cooked and delivered to our front door by the Mayor of Bell Buckle himself! He generously shared his step-by-step instructions, and it now makes a regular appearance at the Taff dinner table.
Even Russ, (who's never been a huge fan of fried chicken because as a pastor's son, he says he "had enough gospel bird to last me the rest of my life") declares it absolutely delicious. Follow this recipe to the letter, and see if you don't agree!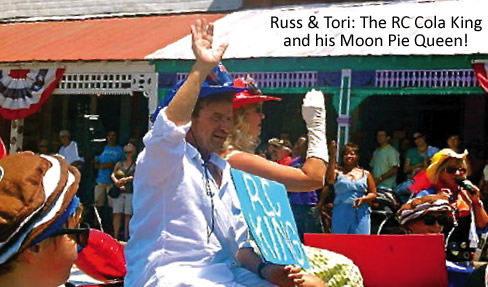 Mayor's Fried Chicken
Directions
1. Heat ½ inch vegetable/canola oil to 350 degrees in an electric skillet. (I use a big ol' 16-inch electric skillet.)
2. Wash chicken pieces (wings and drumsticks) thoroughly. (The Mayor only uses wings and drumsticks, because a) that seems to be everyone's favorite pieces and b) they cook through at almost the exact same rate.)
3. Put a generous amount of flour in large bowl, dredge chicken thoroughly through flour, then dredge again—do not shake off excess. (DREDGE THOROUGHLY — use both hands and squish the flour into those pieces!)
4. Place chicken in skillet — they can barely touch, but don't cram them up next to each other. Salt and pepper the top of the chicken VERY generously. (This is KEY! Use more than you think you need. Be generous. Season one side at a time as it cooks.) Put lid on the skillet and don't check or mess with it AT ALL for about 20–25 minutes.
5. When you check, it: should be kind of orange-y golden, not too dark, but not too pale. When it looks right, carefully turn over to the other side, season that side with salt and pepper, replace cover and cook for about another 5 to 10 minutes.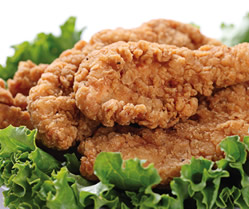 (Check it after about 5 minutes so you don't let it get too brown — it cooks way faster than you expect once you turn it!)
6. Remove from skillet, place on large platter covered with paper towels.
7. Bow your head and thank God for inventing fried chicken, then ENJOY!