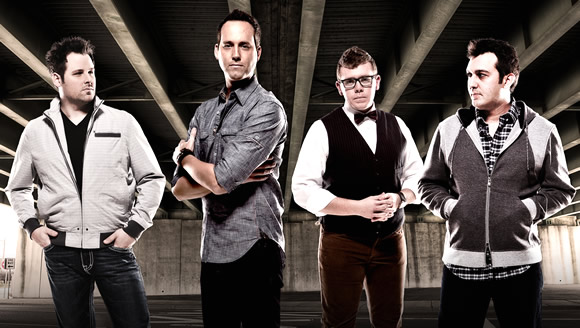 Union Street
Ryan Seaton's career was on the Southern Gospel superhighway — famously becoming the lead singer for Ernie Haase's Signature Sound at the tender age of 23. Worldwide travel, hit records, huge venues, TV appearances, marriage to his junior-high sweetheart and the arrival of two beautiful daughters all made the next seven years fly by in a blur. But in 2009, Ryan found himself on a path that looked a lot like the Road to Damascus. That was when he heard the voice.
"The word
street
kept coming to my mind." He didn't know
which
street — only that God was telling him to pull off the highway. So without a roadmap, Ryan Seaton resigned from Signature Sound.
By faith he obeyed when he was called to go out … not knowing where he was going
. Back home in Evansville, Ind., figuring out where God might lead him next, Ryan noticed one immediate benefit of being knocked off his career-horse: family time. He "had been doing 150 to 175 dates a year … almost missing the birth of my children … missing recitals and kindergarten graduation. Being home more, I realized how incredible it is…" The 32-year-old husband and father gets a little choked up, "…just to be home." Ryan recites the advice he'd heard from Jake Hess: "When the lights on stage burn brighter than the lights at home, you've got a problem."
Born less than 20 miles from Evansville in the musical- sounding town of Cynthiana, Ryan Seaton grew up quiet and shy in a home filled with music. His mother sang in country-gospel groups and as a soloist most of her life, but her little boy didn't want to sing in public. In seventh grade, however, he spied a pretty girl named Krista in the school choir, and young Ryan gave up his bashfulness to sing on stage. In true storybook tradition, he went on to marry that girl, treasuring her love, support and encouragement. But that was then. Now, after exiting the fast lane, and with two adorable little girls to feed, it was time for Daddy to roll up his sleeves and do what he'd done since graduation: sing the gospel.
While preparing for his first-ever solo concert in Evansville in 2010, "I thought it would be neat to put together a quartet just for that night." So he texted some local guys he knew: "Andrew, Toby and Aaron — sayin' 'Hey, I know you live around Evansville … here's what I'm tryin' to do, and would you be interested in comin' over and singin' some songs with me?'—and they all said 'Yeah.'" Turned out to be quite a night, and not just for Ryan's solo material — something happened when these four young men stood together singing for Jesus Christ: "It went over wonderfully that night. Of course everybody's got their camera phones out, YouTubing, and then online it just went gangbusters. Soon we were getting calls from churches and promoters asking us to come sing." One slight problem: they weren't even a group.
That three experienced young singers — Andrew Goldman (Conquerors Quartet, OCU/Earthlight, baritone), Toby Hitchcock (Pride of Lions, Austins Bridge, tenor) and Aaron McCune (Anchormen, Palmetto State Quartet, Gold City, bass) — would all: 1) live around Evansville; 2) be in life/family/career transition; 3) sing in complementary ranges; and 4) be connected to Ryan Seaton (lead) during a time he was seeking new direction was, to say the least, statistically unlikely. "God just put these guys with such great talent and hearts for God and for ministry and for people … literally in my backyard." So, over the next year the lads performed together (as the Ryan Seaton Quartet) and grew together. As bookings and travel began to pick up, Ryan's younger brother, Chris — himself married with a little girl at home — became the group's road manager.
And then Ryan started hearing that word
street
again. "I just felt that God formed us and united us … so our journey, our path became the street and we four are in union. So Union Street it is." But spending more time with the family makes it harder to find money to spend on a new CD. "Have you ever heard of KickStarter.com?" Ryan is talking about the online crowd-sourced funding platform for creative projects. Taking another leap, Union Street laid out their fleece to raise $15,000 in 30 days … shutting it down a couple of days early with over $20,000 from 168 people. The new CD releases November 6, 2012, with six favorites, including "Trumpet of Jesus," "God is Good (All the Time)," "Hold Onto Jesus" and four originals.
And that, friends and neighbors, is the strange path being walked by Ryan Seaton, Andrew Goldman, Toby Hitchcock and Aaron McCune … united on a street that can be traveled only by faith.
Visit
UnionStreetQT.com