As a timeworn axiom has it, most "overnight sensations" are years in the making. To the extent that she might be considered a sensation — and she would be the first to humbly reject such a notion — best-selling author Sarah Young spent decades toiling in what many would consider obscurity: praying, studying the Scriptures, seeking healing from past wounds, and faithfully serving the Lord with her husband, Stephen, on the mission field.
Along the way, she sought opportunities to immerse herself in Christ-centered scholarship and frontline ministry. She holds a degree in philosophy from Wellesley College, a counseling degree from Georgia State University, a master's from Tufts University, and has studied with Francis Schaeffer's L'Abri Fellowship. Over the years, she and her husband have crisscrossed the globe planting churches and providing counseling services; they lived for many years in Japan and Australia before recently relocating to the U.S.
One day in 1996, after a two-hour prayer retreat, Young believes God directed her to begin listening to Him each morning while praying through the Bible, to write down what she sensed He was saying to her, and to prepare the messages for publication in some form. Eight years later, the best of those writings congealed into a book titled
Jesus Calling: Enjoying Peace in His Presence
.
After its release in 2004,
Jesus Calling
seemed destined for a place among thousands of niche devotionals that attract small pockets of readers. Initial sales were steady but unspectacular: 59,000 copies in the first three years. But then, something atypical happened. The book spread its wings and took flight, woman to woman (especially), friend to friend, parent to parent. Its unique literary approach — bite-sized, daily messages "spoken" directly from Jesus to the reader, based on a dialogue-with-God concept known as "listening prayer"— touched a deep nerve with many who longed to receive words of love and grace, truth and mercy, hope and healing…and strength simply to face each day. In 2008, the book's sales jumped to 220,000 copies. By 2013 it had become a full-fledged phenomenon, surpassing nine million copies in 26 languages, outselling publishing phenoms including
Fifty Shades of Grey
and
The Hunger Games
series, and becoming arguably the most influential devotional collection since Oswald Chambers' classic
My Utmost For His Highest
. As Christianity Today noted recently, "If you made a stack of all the copies of
Jesus Calling
sold, it would be more than 142 miles tall — the distance from the bottom of the Mariana Trench to the top of Mt. Everest over 11 times."
In the years since the devotional's release, Young has remained on the mission field while also penning several complementary books, including
Jesus Today
and
Jesus Calling: 365 Devotions for Kids
.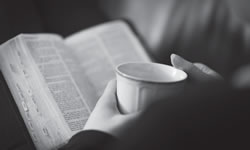 It should be noted that Young's letters-from-God approach in
Jesus Calling
has stirred much debate, often heated, between those who find her writing compatible with Scripture and richly helpful, and those who consider it presumptuous at best, blasphemous at worst, to "quote" direct, personal, extra-biblical revelations attributed to Jesus. (A quick Internet search turns up numerous passionately expressed perspectives on the subject.) For her part, Young has taken pains to clarify that the words she shares are not intended to be taken as inspired on the level of Scripture, but that she believes God has used the messages to speak hope into the lives of believers and draw them into deeper intimacy with Himself.
Partly because of health challenges in recent years, Young conducts no in-person or recorded interviews and rarely makes herself available even for email conversations. We are deeply grateful that she agreed to this exchange of questions and answers. In the following dialogue, Gloria Gaither gleans insights from Young about her past, her young-adult journey to faith in Christ, the "listening prayer" that led her to scribe
Jesus Calling
, her life as a missionary and devotional writer, and her hopeful plans for the years ahead.
— Phil Newman
GLORIA GAITHER:
Our theme speaks to the idea that everyone is designed by God for a purpose … just because someone may not be on a stage or have a high degree of visibility does not mean that their purpose is any less important in the Kingdom. In America, our culture often celebrates the "newest" and the "biggest." What would you say to those who are more "hidden," who may wonder how God can possibly use them or if they are making a difference?
SARAH YOUNG:
God can use anyone who is willing to follow Him. You can hardly go farther out of the spotlight than Perth, Australia, where my husband and I lived for the last 12 years. Perth has been called the most isolated city in the world. However, even if proximity had not been an issue, I have been unable to accept speaking invitations and I have given only a few interviews because of my health limitations. Yet God used my personal prayer journal (
Jesus Calling
) in ways I could never have imagined!
GLORIA:
You accepted Christ as an adult. Tell us about the journey that led you to that revelation.
SARAH:
When I majored in philosophy at Wellesley College, I was a non-Christian searching for truth. Each time I began studying a new philosophy I'd get excited, thinking this one might end my quest. However, further study always revealed flaws. Eventually, I became disillusioned and concluded there was no absolute truth. A few years later, though, when I read Francis Schaeffer's
Escape From Reason
, my background in philosophy helped me understand his reasoning. I found in that book answers to questions I had previously considered unanswerable. This opened the way for me to study at L'Abri, a Christian community in Switzerland begun by the Schaeffers.
At L'Abri I found a wonderful combination of intellectual integrity and a caring Christian community. This was just what I needed. While living and studying at L'Abri, I became a Christian. Finally, I had a solid foundation on which to build my life!
GLORIA:
We know that you and your husband Stephen have been in ministry to Japanese people for many years now. What inspired you both to become missionaries and to concentrate on that particular culture?
SARAH:
My husband was raised in Japan, the son of missionaries. While he was in seminary, he felt a strong calling to minister to the Japanese people. We met in seminary, and soon after we were married, we went to Japan to start Japanese churches. We have been missionaries in Japan and also to Japanese-speaking people in Australia. In Australia, my husband started two Japanese-language churches that were part of the Presbyterian Church of Australia.
GLORIA:
Since philosophy and psychology/counseling were the focal points of your educational background, how do you see that these disciplines have helped in your ministry?
SARAH:
My counseling studies at Covenant Seminary helped me deal with deep wounds from my past. As I healed and forgave, I experienced a new freedom to grow spiritually. It was as if old blockages had been removed, enabling me to open up to God more fully. This was a necessary step along the path to intimacy with Jesus. My studies in counseling also equipped me to help other wounded people.

GLORIA:
Can you define "listening prayer" for those who may not be familiar with the term? What led you to begin the practice? What would you say to others who want to begin the practice?
SARAH:
In the introductions to all my books, I state clearly that my writings are not inspired as Scripture is. When I began my practice of listening to Jesus and writing, it was solely for my personal benefit; in fact, it was years before I shared my writings with others. As my husband says, "This method of communicating could be compared to a pastor who prays, reads the passage he is working on, and then explains the text as he learns from the Holy Spirit what the text is saying." I am not preaching — just sharing what I have gleaned from my times of waiting in God's Presence.
Before I begin writing, I spend time in prayer — including prayers for protection of my mind from distractions, distortions and deception. I ask God to guide my mind as I focus on Him and His Word. Then I simply pray, "Help me, Holy Spirit," and I wait. I have been strongly influenced by the Bible verse, "Be still, and know that I am God" (Psalm 46:10).
I want to make it clear that I do not have audible conversation with Jesus. Rather, it's a quiet and personal time of praying, pondering Scripture, and seeking the guidance of the Holy Spirit.
GLORIA:
What are some truths you have learned through journaling and listening prayer?
SARAH:
I'll list a few:
• Thankfulness is a source of deep joy and rich blessing; it changes my perspective and helps me draw closer to God.
• Though my natural tendency is to analyze and try to figure things out, trusting Jesus is a far better way to live. I've realized how very limited my understanding is.
• When I turn to God in my weakness, I receive His help and compassion in abundant measure.
• Peace is inherent in Jesus' Presence; so the nearer I live to Him, the more I enjoy His peace.
• God sees His children clothed in the perfect righteousness of Jesus.
• Nothing can separate us from Jesus' love.
• There is, indeed, "fullness of joy" in His Presence (Psalm 16:11 NKJV).
GLORIA:
We know that you have suffered with some serious health issues, yet your writing is infused with such hope. What would you say to those who may be discouraged because of health problems or other issues? How do you feel that God strengthens you during the low points?
SARAH:
I've learned that hope shines bright in the trenches of adversity. This hope became my light shining in the darkness, and I nourished it by trusting in God's goodness, His unfailing love and His constant presence with me. I discovered that hope is a way of seeing, a form of vision that defeats discouragement. If I had been healthier I would not have been able to write
Jesus Today
, my latest book. I might have been able to write a different book, but not this one. This book really came out of the trenches.
GLORIA:
Have you been surprised by the broad appeal of your books? Why do you think they have resonated so strongly?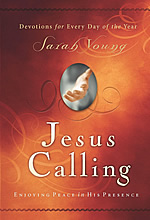 SARAH:
I
never
imagined that God would use
Jesus Calling
to impact so many people. I continue to be thankful and amazed by this phenomenon! I consider it both a responsibility and a great privilege to pray at length each morning for readers.
I think the message resonates so strongly because of the need for hope. We are all looking for it. Many people these days are feeling insecure and anxious because of economic problems in the United States and Europe, the instability of governments around the world, natural catastrophes, and the constant threat of terrorism, among other things.
There seems to be a hopelessness creeping into the mindset of many people as they look at problems in their lives and all around them. But the hope we find in the Bible is a sturdy reality—no matter what is happening in the world or in our lives. I want my books to be a lifeline for people who feel as if they're sinking in hopelessness, as well as a source of encouragement for people whose lives are not so desperate.
My books tend to speak to different people in different ways, meeting them right where they are. I think that's because the books help people connect with Jesus and He meets us right where we are.
GLORIA:
Can you give a preview of any upcoming books?
SARAH:
I'm currently working on a new writing project with Thomas Nelson that will be out in 2015. It's a full-year devotional written in the same format as
Jesus Calling
. I've heard countless stories about how well a specific reading in
Jesus Calling
matched a reader's current circumstances—and how encouraging that was to the reader. So I wanted to write one more full-year devotional, and I'm slowly working on this project. I look forward to being able to write more consistently when I get settled in my new home. My husband and I are in the midst of relocating from Australia to the U.S.