Tanya Goodman Sykes and her mother, Billie Goodman, share a couple of their family's 'pass-down' favorites.
Mom incorporated these two recipes into our Christmas menu when my sister April and I were kids, and they are family favorites to this day. We don't recall where the Percolator Punch recipe originated, but my mom gave it her own special touch with the red coloring; it's just more festive that way. The Sausage Cheese Bits recipe came from the good old PTA cookbook. My mom bought copies for my sister and me and we've had them over 40 years!
We usually serve these goodies on Christmas Eve or Christmas morning but they are wonderful any time of the year! Percolator Punch warms you right up, and it makes the whole house smell fantastic! The Sausage Balls, as they're more commonly known around here, were my dad's absolute favorite. Mom could always count on his help for this one holiday cooking chore. He'd get all his wares spread out on the table and he was quite meticulous about making sure they were all uniformly sized — I mean, this was sacred stuff ! My girls (and Michael) also love these and it's probably the rst recipe they asked for when they left home. One year, we decided to mix it up a little with the holiday cooking and mentioned maybe leaving them off — massive protests ensued and the Sausage Balls prevailed! As the years have gone by, they've made more frequent appearances, NOT just at Christmastime. They're a big hit at any gathering, and easy to prepare. Hmm, wonder if we have any sausage in the fridge...!
Goodman Sausage Cheese Bits
Ingredients
• 1 lb. hot sausage (we prefer Jimmy Dean)
• 1 lb. grated sharp cheese (hand-grated works better than prefab)
• 3 cups Bisquick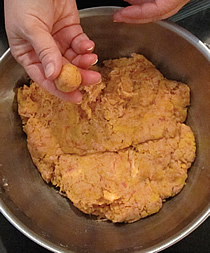 Directions
Work ingredients together and mold into 1-inch balls.
These may be frozen for later use or baked 20 minutes at 325 degrees. Serve hot.
~~~~~~~~~~~~~~~~~~~~~~~~~~~~~~~~~~~~~~~~~~~~~~~~~~
Billie's Percolator Punch
Ingredients
• 1 "old school" coffee percolator
• 2 cups water
• 1 ½ cups light brown sugar
• 1 large can pineapple juice
• 1 large bottle cranberry juice
• 2 drops red food coloring (optional, makes it more holiday-ish)
• 2 cinnamon sticks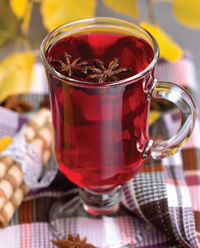 • 2 tablespoons whole cloves


Directions
Pour water, sugar, pineapple juice, cranberry juice and food coloring into the coffee percolator. Place the cinnamon sticks and cloves in the basket. Run the percolator through a cycle and serve punch hot.
Enjoy!