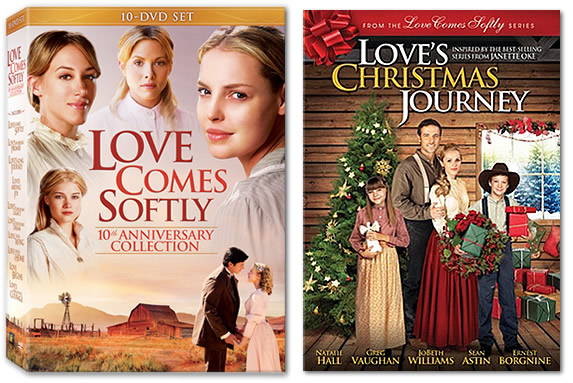 Welcome to
Homecoming Magazine's "Sharing the Love" contest
! We are giving away three great prize packages, each of which will include the brand-new DVD,
Love's Christmas Journey
and also the
Love Comes Softly 10th Anniversary Collection
, both by Twentieth Century Fox Home Entertainment.
These wonderful family films are based on Janette Oke's saga about the Davis family's trials and triumphs as pioneers in the 19th century American southwest. You can read more about these inspiring stories
here
, and here's how to enter for your chance to win them!
Since the Love Comes Softly series is set in the past, we were inspired to come up with this writing challenge for you:
If you could visit any era (and anywhere in the world) in history, when would it be? Tell us how you would spend a day there.
What would you do? Who would you talk to? What draws you to this place and time? Tell us about the sights, sounds, flavors, conversations and/or experiences you imagine … the things you'd most enjoy exploring. It can be only a paragraph or as long as you want; judging will be based mainly on your creativity. ***Feel free to enlist the help of family or friends when writing your entry, if you wish!***
Email dpatterson@salempublishing.com with your name, mailing address, and story.
We will judge the three winning entries in two weeks, on Tuesday, October 30, so you have some time to think creatively! Best wishes to everyone, and we hope you'll have fun with it!